Klosterhof Medingen Elite Auction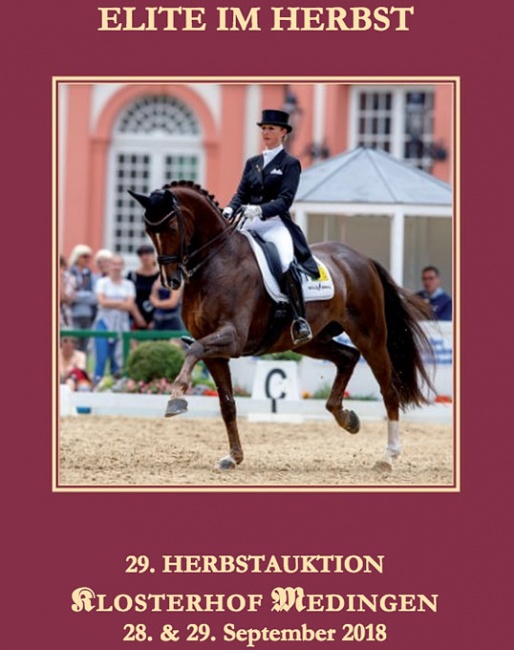 Burkhard Wahler is proud to present a stunning collection of young sport horses and foals that will be up for auction at the 2018 Klosterhof Medingen Elite Auction on Saturday 29 September 2018. 
Over the years the Klosterhof Medingen Elite Auction has set a standard of being the source of top quality young dressage talent. The Medingen auction boasts an impressive list of auction horses that made it to international Grand Prix and FEI level: Danilo (Shelly Francis), Du Soleil (Kristy Oatley), Degas (Jill Irving), First Class (Andrea Timpe), High Five (Anabel Balkenhol), amongst many others. Six of the stallions standing at Klosterhof Medingen sired dressage horses that competed in the 2018 CDIO Aachen finals.
"To make sure that we'll stay continuously successful in the future, we selected a first class riding horse collection," said Wahler. "For the first time this year we hand picked some foals with an elite jumping pedigree by Westfalian champion stallion Karajan for the foal collection."
Stunning Quality
The 2018 Klosterhof Medingen auction collection includes several stunning highlights amongst the riding horses and foals.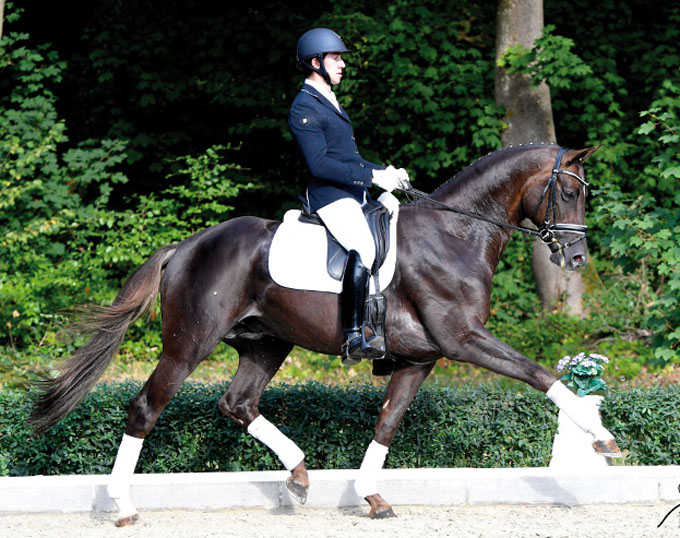 Catalog nr 1, the 4-year old Hanoverian gelding Quite Fantastic (by Quantensprung x Hohenstein) has been victorious in the riding horse tests. He comes from a highly successful dam line that produced licensed stallions Christ and Secret.  
Catalog nr 2, the 4-year old Hanoverian mare Que Sera (by Quantensprung x Florencio) is an impressive and classy mare with three remarkable basic gaits. She is also a winner in the young horse tests and descends from the dam line that provided licensed stallions De Value and Weltano.
Catalog nr 4, the 4-year old Hanoverian gelding For Honour (by Don Olymbrio x Londonderry) is a long-legged eye catcher with three very good, convincing gaits. He has already placed in the young horse tests.
Catalog nr 10, the 4-year old Hanoverian gelding Dance with Me (by Danone I x Weltruhm) is an exceptional horse with an outstanding pedigree that brought no less than 15 licensed stallions and successful sport horses, including Grand Prix horse Anatol (Martin Christensen).
Catalog nr 22, the 4-year old Hanoverian gelding Quattroporte (by Quantensprung x Stedinger) became a premium licensed stallion at the 2016 Hanoverian Licensing. He has won the riding horse tests and is the reserve Hanoverian Young Horse Champion. He has qualified to compete at the 2018 Bundeschampionate. This meaningful, wonderful Quantensprung offspring has exceptional gaits. A horse with unlimited potential.
In the foal collection are also some real highlights, like catalog nr. 25 Bond Girl (by Borsalino x Fidertanz), catalog nr 49 Bertoni (by Borsalino x De Niro). For the first time there are four jumper foals in the collection, all by Karajan. 
Don't Miss the Action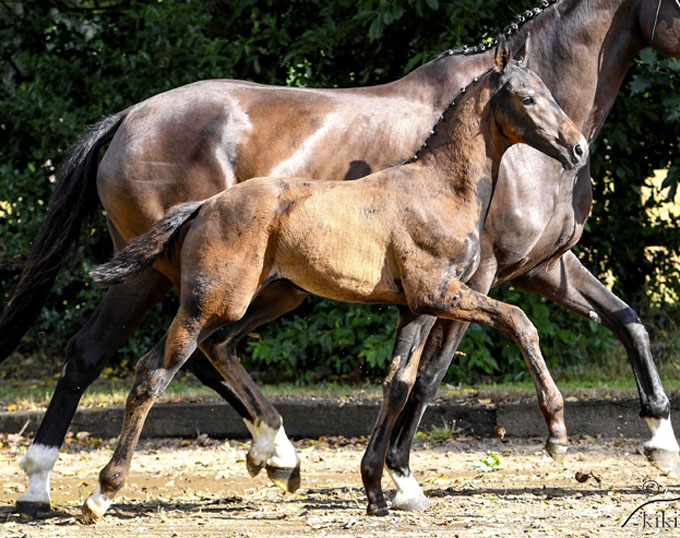 Don't miss the action during the Klosterhof Medingen sales week. On Saturday 22 September and Wednesday 26 September the riding horses will be presented under saddle at 18h00. 
From Wednesday through Friday 26 - 28 September the 19th "Medinger Auktions Cup" competition takes place for former auction horses and descendants of Klosterhof Medingen stallions.  On Friday 28 September the foals will be presented at 16h00, followed by a gala presentation of the riding horses at 19h30 and the Grand Prix Kur to Music Final of the Medinger Auktions Cup.
On Saturday 29 September the riding horses will appear in the ring one final time at 10h30, while the foals are presented at 11h30. The auction begins at 15h00.
All horses can be seen in the daily training as of 1 September. The training sessions take place between 10-12 AM and 3-5 PM, but not on Saturday and Sunday. Try outs can be done by appointment via phone. Contact + 49 5821 - 98 680 to schedule your try-out.
Discover the entire collection at www.klosterhof-medingen.de