Danish Warmblood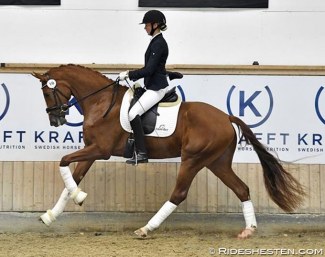 The 3-year old chestnut mare Grevens Fakina was named the champion mare of the 2018 Danish warmblood elite mare and foal show in Vilhelmsborg, Denmark, on Sunday 26 August 2018. 
The judging committee awarded 19 bronze medals, 10 silver medals and four gold medals to the mare crop this year. The "medal" system is based on a confirmation and gaits score in combination with the mare performance test score. 
Four mares took top honour this year with the chestnut Grevens Fakina being named the champion. Bred by Dorit Greve and Svend Skov, Fakina is by Blue Hors Farrell x Jazz. The mare was praised for being feminine, elegant and expressive, impressing much under saddle with a supple trot and a ground covering, uphill canter.
Breeder Dorit Greve celebrated major success this year at the annual mare show with no less than three of her mares decorated with medals. Grevens Superball (by Furstenball), owned by Lars Petersen, and Grevens La Choi (by Blue Hors First Choice) both won a bronze medal.
The other three gold medal winning mares were Schwarze Schwalbe Macohl, Gozzip and Atoftens Zehavia.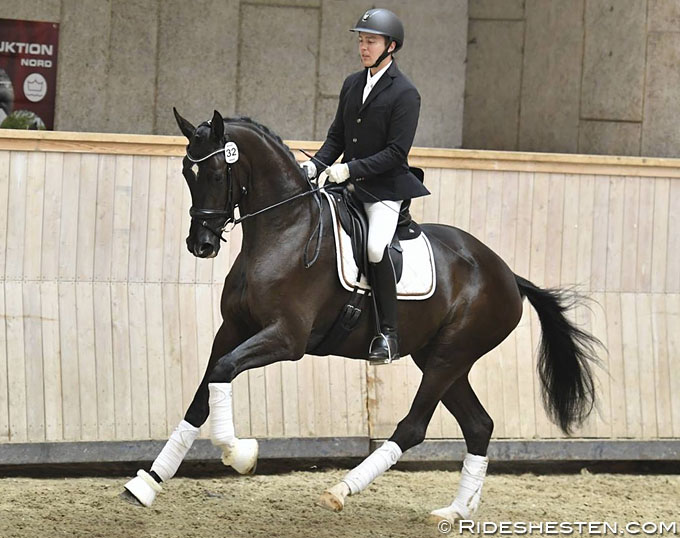 Schwarze Schwalbe Macohl is by Sezuan x Schwadroneur. Bred by Frank Jensen and Thomas Bach Jensen, this black mare was the 2016 Danish Warmblood Filly Foal Champion and sold at auction to Anne Lyngbye at the time. She was the highest scoring 3-year old at the mare performance test this year with 883.5 points. 
Gozzip (by Sezuan x De Noir) is bred by Bente Michaelsen and owned by Ditte Gilkaer. The judges praised the black for her unlimited potential.
Atoftens Zehavia (by Blue Hors Zack x Benneton Dream) comes from the same dam line as World Young Horse Championship bronze medal winning Fursten-look. Zehavia is bred by Annette Bugge and Claus Hansen and she was praised for her cadenced trot and uphill canter. Andreas Helgstrand is co-owner of the mare together with the breeders.
Photo © Ridehesten
Related Links
Skovens Tzarina Named Champion of the 2017 Danish Warmblood Elite Mare Show
Sezuanna Named 2016 Danish Warmblood Mare of the Year 
Delicious, Mildura, Schwarze Schwalbe, Tebaldo Winners of 2015 Danish Warmblood Elite Show
Lillevangs Pari-Diva Named 2014 Danish Warmblood Mare of the Year
Stigma Named 2013 Danish Warmblood Mare of the Year
Tirana Named Danish Mare of the Year 2012
Prima Donna Named Danish Mare of the Year 2011
Sirikit, 2010 Danish Warmblood Mare of the Year
Fabrix Miss Ésandri, 2009 Danish Warmblood Mare Champion
Bøgegaardens Don Romina, 2006 Danish Warmblood Mare of the Year