2018 U.S. Young Horse Championships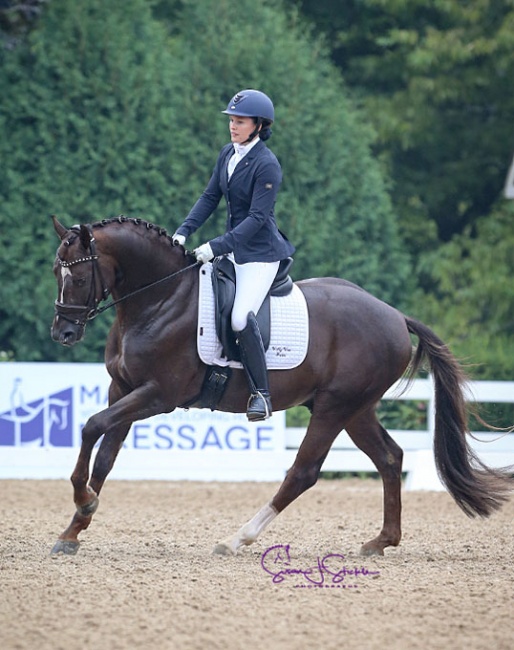 The 4-year old Sole Mio, the 5-year old SenSation, and the Developing Prix St Georges horse Lucky Strike captured the first national titles at 2018 U.S. Young Horse Championships, which were held at the Lamplight equestrian centre in Wayne, ILL, U.S.A. on Saturday 25 August 2018.
Sole Mio Wins the 4-year old Championship
Emily Miles (Paola, Kan.) and Sole Mio (by Stanford out of Donna-Rafaela (by Donnerschwee)) capped off their 2018 U.S. Young Horse Championships experience by winning the U.S. Four-Year-Old title. The Hanoverian stallion owned by Leslie Waterman exhibited his strong, steady, natural flowing gaits and smooth trot work to solidify the title following their win in the 4-year old test on Thursday.
Rebecca Rigdon (Cardiff By The Sea, Calif.) and Jagger (by Apache out of Volumia), her KWPN gelding, earned the Reserve champion's title, and Sarah Lockman (Aliso Viejo, Calif.) and Jupiter (Jazz out of Twinkle R), Gerry Ibanez's KWPN gelding, placed third overall.
The U.S.-Bred Award went to Davos CF (by Dante Weltino out of Roselea), an Oldenburg stallion ridden by Anna Keenan and owned by Nancy Holowesko.
On success in these championships:
Miles: "We riders, horses, and owners work all year long and it comes down to two seven minute tests, so it's a blink in time, but it's something you'll never forget. This means so much, but everyone has worked really hard to get here, and it worked out really well for me today. I have a fabulous horse, so it feels pretty good."
Rigdon: "It's absolutely fantastic; I couldn't have asked for more. I have had him a [less than] five months. Every experience I have had with him has been a new one, and he's never put a foot out of place. It's such a great environment … it's a super experience for the horses' development."
On the importance of owner's in young horse development:
Miles: "It's so important to support the owners in this process. There isn't enough credit to how much [investment] owners all over the United States [give] and how much investment is made to horses who didn't make it here. It takes a lot of things to get here, and it's the owners that have to stand behind it. In the end, they are responsible for taking care of their horses, and they are just as emotionally invested as the trainers and riders. We need to take a step back and thank those owners, even the ones who didn't make it here."
Rigdon: "Christine Traurig has done a phenomenal job with this program and USEF for making this all happen. To have such a large country, the training has become so systematic; therefore, the quality of horses is going up because the training and riding quality is getting better."
Lockman: "We really want to encourage this young horse program and appreciate the people who support our careers and horses. We have super owners who care about horses and their well-being, and we're lucky that this gets us here."
On plans for the rest of the year:
Miles: "I plan to give them a two good weeks of lunging, maybe some cavalettis; I don't plan to sit on them for two weeks. They'll have some nice, easy down time coming up. They have to do a Hanoverian approval in November. I want to solidify the strength and connection, the suppleness, and build on the foundation of quality gaits to make it to the five-year-old division."
Rigdon: "We will go home and do some cavaletti work and have a couple of weeks off. Gradually, we'll get to where we are working on the five-year-old, but my horse has grown quite a bit lately, so he needs to get stronger but needs a good break."
Lockman: "We have been building their strength up to this point. I do a lot of trail riding and hill work that they don't know is work, and it's fun. He will spend a lot of time out in the field, a little jumping. We have regional championships coming up in a month, and then he'll get some well deserved time off."
SenSation HW Wins 5-year old Championship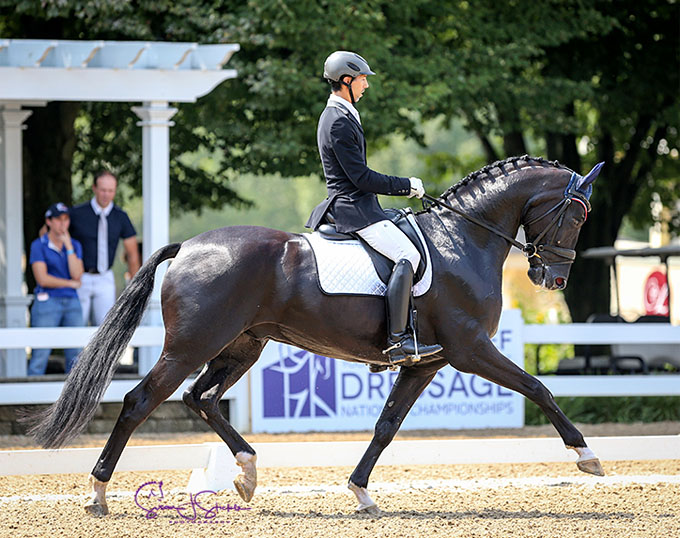 After placing second in the Preliminary Test on Thursday, Michael Bragdell (Colora, Md.) and SenSation HW (by Sunday out of Donata) placed first in the Final Test to win the 2018 U.S. Young Horse Five-Year-Old Championship. Placing sixth overall in the 2017 four-year-old division, the Westphalian gelding owned by Carol McPhee, showed his exponential growth over the past year, scoring an 8.71 overall.
Alice Tarjan (Oldwick, N.J.) and Fairouz (by Franziskus out of Diva), her Oldenburg mare, earned the Reserve Championship followed by Rebecca Rigdon and Iquem (by Charmeur out of Tres Bien Sijgje), her KWPN mare.
The U.S.-Bred Award went to Flash Dance (by Furstenball out of Solar Eclipse), an Oldenburg mare owned and ridden by Kathy Priest.
On the progression of SenSation HW from last year:
Bragdell: "Thank you to the facility and staff who works hard to make this happen. Everybody does such a tremendous job of putting this together and making it such a fantastic event. It's so exciting to come here. I want to thank Carolyn Scott and her entire family … this year has really solidified the training behind him. He has grown more and more; almost every week he surprises me. I thought we had a fabulous trot coming in, but I felt we kicked it up a notch in the championship classes. He really tries for me and puts his heart out for me, and that feels great when I'm in the ring."
On aspiring to bring a young horse to these young horse championships:
Bragdell: "As you train them up [through the levels], it is good markers where we would like the horses to be at that age. It will not necessarily work for every horse at that age. You have to pay attention to what the horses are telling you; where are they physically and mentally, and are they ready to be at this level … you stick with your program and believe in it, and I think that's important."
Rigdon: "Follow the training scale and listen to the horse. Some horses are meant to do this and some are not. Take your time; the whole point is that these horses end up being international grand prix horses … so if that's what you really want and expect and that's the quality that lies potentially within your horse, then you have to have these challenges like the five-year-old test, and then know when to back off so you don't put too much pressure [on them]."
Lucky Strike Captures 2018 U.S. Developing Prix St Georges Horse Title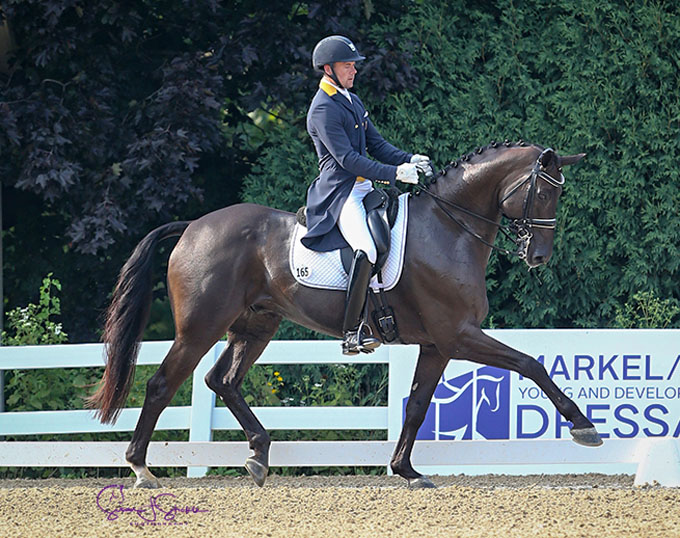 Endel Ots (Wellington, Fla.) and Lucky Strike (by Lord Laurie out of Heidi) increased their accolades at the Festival of Champions. With a 2017 U.S. Developing Horse Prix St. Georges Dressage Reserve Champion's title and 2015 U.S. Six-Year-Old Champion's to their names, they added a U.S. Developing Horse Prix St. Georges Horse Champion's title on Saturday. He and the eight-year-old Hanoverian gelding owned by Max Ots earned an overall score of 73.264%.
Christopher Hickey (Wellington, Fla.) and Straight Horse Zackonik (by Blue Hors Zack out of Romanik), Cecelia Stewart's eight-year-old Danish gelding, earned the Reserve title followed by Heather McCarthy (Prairie Grove, Ill.) and Au Revoir (by Ampere out of Lara), Sandi Chohany's seven-year-old Oldenburg gelding.
The U.S.-Bred Award went to Sternlicht Hilltop (by Soliman de Hus out of Rhapsody GGF), an eight-year-old Hanoverian stallion ridden by Michael Bragdell and owned by Hilltop Farm Inc. 
On the horses' development:
Ots: "He's such big horse … I think he needs to develop even more and get stronger. I have a good relationship with him; I've shown him here enough times that I know how he thinks. I usually don't have to school through a bunch of the different movements."
Hickey: "She's a very special mare. She comes out and works; she has a wonderful mind … [preparing] for this show, I've been working horses outside and getting them acclimated to the heat because I didn't know what the temperatures would be like … I was very glad that my horse was fit to the heat. I think it is important to have the consistency of help all year. I trained with Anne Gribbons and being able to have that consistency and have eyes on the horse makes a major difference. It's easy to get low thinking it's better than it is if nobody is keeping eyes on you and honest, so I'm very thankful to my sponsor that enables me to get regular help.
McCarthy: "He is a very special horse. He was a late bloomer physically and mentally. He did pretty well in the five-year-olds. Last year as a six-year-old he was too immature to compete against some of the others. This winter was a big for him as far as maturity and finding himself. He grew up; he's a big boy now. He looks so mature, finding his balance and power."
On the horses' plans moving forward:
Ots: "He will get a little bit of time off. We'll start playing with the I [Intermediate] One and getting a Freestyle for him, and we'll do some CDI's in the Florida season, but he'll get to be a horse for a couple months.
Hickey: "She'll have some time hacking and trotting over some cavalettis. She is quite close to doing I-1, so she'll do the Florida CDI's. She's started some piaffe passage. My goal is do some [Prix] St. Georges and I-1. The Pan American [Games] are next year, so we'll see how that all shakes out."
McCarthy: "He is going to regionals and then hopefully nationals. My goal will be Florida, not this winter, but next winter and start a CDI circuit with him. He'll have a break after regionals before legging him up to get him ready for nationals."
Photos © Sue Stickle
Related Link
Scores: 2018 U.S. Young Horse Championships
Sole Mio, Fairouz, Lucky Strike Win on Day One of 2018 U.S. Young Horse Championships
Habanero CWS and Candescent Make First Stand at 2018 U.S. Young Horse Championships