2018 U.S. Dressage Championships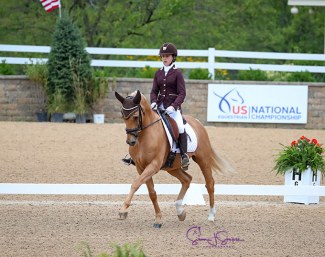 Pony rider Ellanor Boehning and Kabam and young rider Callie Jones and Don Philippo earned the first two national champion titles of the 2018 U.S. Dressage Championships in Wayne, ILL, on Friday 24 August 2018.
The Grand Prix division continued their quest for top honors, while the junior riders performed their first tests of the competition.
Boehning, 2018 U.S. FEI Pony Champion
Ellanor Boehning and Kabam firmly held on to their lead from Thursday to claim top honors in the USEF Pony Rider Dressage National Championship. Twelve-year-old Boehning (San Diego, Calif.) and the 15 year-old German Riding Pony gelding she owns with Ann Boehning showed off their four-year partnership with a solid test, winning the FEI Pony Rider Individual Test with a score of 68.468%.
"Well I didn't really expect to come here and do as well as I just did," said a shocked Boehning. "Honestly, it feels kind of like, 'What just happened!?!'"
Fourteen-year-old Abby Fodor (Bloomsbury, N.J.) and Slip and Slide, Marie Fodor's Quarter Horse/Haflinger cross gelding, placed second, and 15-year-old Jordan Osborne (Kennett Square, Pa.) and Cinderella, her 11-year-old German Riding Pony mare, placed third.
Overall Results 1. Ellanor Boehning and Kabam – 69.996% 2. Abby Fodor and Slip and Slide – 66.307% 3. Jordan Osborne and Cinderella – 66.030%
On their rides:
Boehning: "When we first went in, Kabam was super throughout the entire test, but then when we got to the centerline eight-meter circle, he hit his leg on the arena fence and did a flying change, so then we stopped and had to redo it. We also picked up the wrong canter lead when we went to do the second eight-meter circle, but I realized it. Other than that, he was amazing."
Fodor: "'Slide' was very good. He was less chatty today; he was more focused. We got our [trot] lengthenings better today. He was really listening."
Osborne: "'Ella' was really good. She tried her little heart out for me, but she was tired, so basically the whole test I had to keep telling her, 'Go, you have to move.' But she really tried and she was in a much better frame today, and we didn't break in any of our trot lengthenings, so that was really good."
Asher Off to a Good Start in Junior Division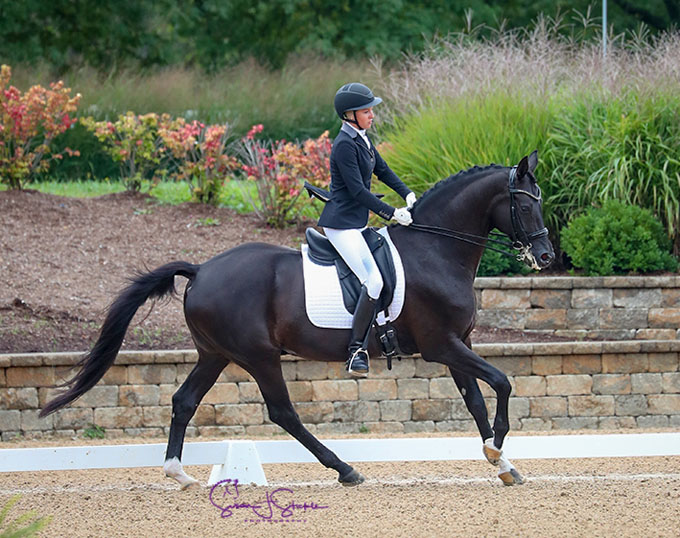 Emma Asher dominated the Junior Team Test by clinching the top two places in the class with Traneenggaards Akondo and Don Fredo HD, respectively. Asher (Greenwood Village, Colo.) and Traneenggaards Akondo, Seeley Equestrian Ventures' 16-year-old Danish Warmblood gelding, were the first pair to go in the class and captured the lead from the start, winning with a score of 70.859%. Behind Asher and her mounts were Melanie Doughty (Cocoa Beach, Fla.) and Fascinata, a 10-year-old Rheinlander mare, in third place.
On their tests:
Asher: "On Traneenggaards Akondo, there were a lot of highlights in my test, the stuff I have really been working on, that were better. We did have a couple bobbles in our canter tour and our first halt, but he was really fantastic. He is a really good boy. With Don Fredo HD, he was on fire today. In the warm-up he was really tense, and around the outside [of the arena] he was pretty spicy, but he was really good in the test until the last extension when he had to add some pizazz. But he was really good today; I am really happy with both of them."
Doughty: "My mare Fascinata was really good today. She was really listening to me with everything going on, so I was really proud of her for that. Her trot work was a lot better than it has been in a while, so I was really proud of here for listening and being with me the whole time."
On the things they can approve upon:
Asher: "With 'Akondo,' I want to get him more relaxed and supple for the [FEI Junior] Individual [Test]. With 'Fredo,' it's the same thing – relaxation and less tightness and anticipation."
Doughty: "With Fascinata, I think we can get more expression and her walk pirouettes can be more flowing, so I would like to work on that."
Jones Becomes 2018 U.S. Young Rider Champion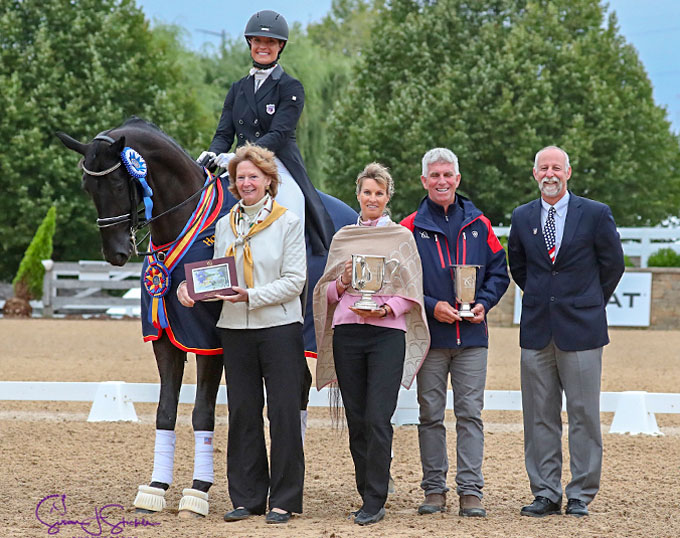 Callie Jones and Don Philippo claimed top honors in the FEI Yong Rider Dressage National Championship. Jones (Henderson, Ky.) and her 10-year-old Hanoverian gelding had a strong test to close out a successful season. Veronica West (Marina del Rey, Calif.) and Nobleman, her 19-year-old Hanoverian gelding, place second and Nicole Scarpino (Mims, Fla.) and Lambada 224, her 11-year-old Hanoverian mare, placed third. 
"It just feels amazing. This was another goal of mine; I wanted to win the Young Rider division so achieving that goal just feels amazing," said Jones. "I couldn't have done it without my parents, my trainer Angela Jackson, and, of course, my horse 'Phil.' He is just incredible and he gave me his all this year so I couldn't have asked for more."
Lexy Donaldson was the recipient of the The Anita Owen Perpetual Silver Stirrup Trophy. This trophy is presented to the Junior or Young Rider competitor who best displayed sportsmanship throughout the event. 
On their rides:
Jones: "I was super happy with today's ride. Like Wednesday, he was really fired up; he was probably more fired up than he as on Wednesday, so I did get a little nervous. I had to remind myself to stay calm and relax to give him the confidence. Our trot work was super, and we did have one mistake in the canter transition, but, again, I had to remind myself it was okay. After that, we kept it together and it was really nice ride, so I couldn't be more proud."
West: "Overall, I was really happy again with my ride today. My horse wasn't quite as fired up so we were able to put together a more solid, clean ride, which I was really excited about. There were a couple things that could've been improved, like tightening up the canter pirouettes a little bit, but, overall, I was really happy with him; he was very honest and forward in the ring."
Scarpino: "I was very happy with my ride today. I was really happy with the trot work; it just felt more dynamic today than it did the other day. She got pretty fired up in the canter, but I was really happy with how well she handled herself; she stayed with me and didn't ignore anything. I was really happy with the canter pirouettes; she was very honest in them. She let me set them up, she let me ride them. Overall, I was very happy with how she handled it and handled the environment this whole week."
Jorst Continues to Rule Grand Prix Division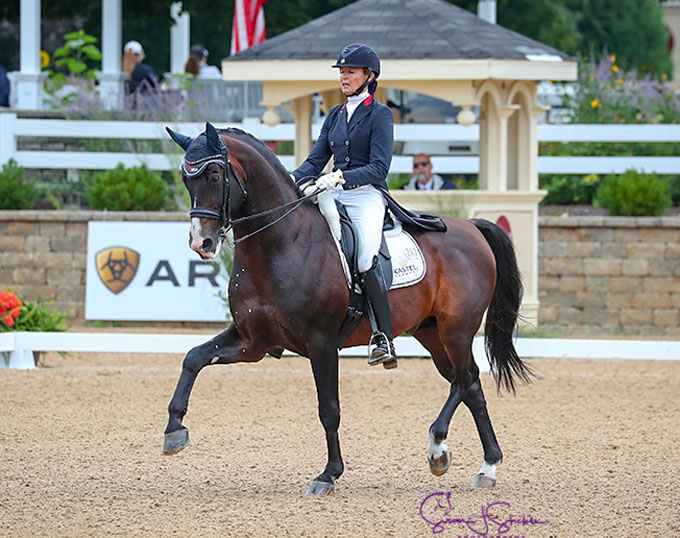 Charlotte Jorst and Kastel's Nintendo had a respectable test to win the Grand Prix Special with a score of 68.809%. While there were a few bobbles in the test, Jorst (Reno, Nev.) was happy with Kastel Denmark's 15-year-old Dutch Warmblood stallion. The pair leads the USEF Grand Prix Dressage National Championship heading into Sunday's FEI Grand Prix Freestyle.
Jennifer Schrader-Williams (Yelma, Wash.) and Millione, Millione Partners LLC's 15-year-old Danish gelding, in second, and Nick Wagman (San Diego, Calif.) and Don John, Beverly Gepfer's 10-year-old KWPN gelding, placed third.
On their rides:
Jorst: "My test was really great. I still didn't achieve my goal of no mistakes, so I am still working on that. I am very angry with myself for that, but, as usual, Nintendo was doing his very best and being out ther for me. It is going on five years now, I can't believe it, what a great horse he has been to me. I am just so incredibly grateful to own him."
Schrader-Williams: "Today I was really hoping to keep the same consistency from the Grand Prix yesterday. We wanted to put a little more power in the piaffe and passage, but 'Mickey' tries so hard that you have to keep everything pretty quiet and calm, so he had a couple little bobbles in the half-passes and the twos [tempi changes], but then, he started to really settle. You have to be careful with him just to keep him confident."
Wagman: "I thought my test started great; I was actually thrilled with the beginning part of it. Unfortunately, he started to anticipate the piaffe in the walk and that threw us off a little bit. And then, we had one other mistake in the half-passes where I missed the flying change, so those two mistakes cost us some points but there were so many highlights I can't be unhappy with it. It is only our second time doing the Special; we are still really new at this, so I'm thrilled."
Looking ahead to their freestyles:
Jorst: "I have new music that I have never ridden to … and new choreography that I also need to learn, so it will be really fun for me to get out there. I love things like that where it is all new and fresh. I am really excited about the music and seeing how it all pans out on Sunday."
Schrader-Williams: "I love my freestyle; I love the music. It is just a lot of fun. He is a horse that can get internally hot, but, in general, he is not a horse that is spooky. He loves the music; it is a lot of fun. I just try and go in there and have a great time, make him feel proud of himself, and let him show off."
Wagman: "My freestyle I will be riding for the second time as well, so this is also kind of new for us. It is to new music that my husband's nephew composed, so it is an original piece of music with some samples of Depeche Mode in there. It is really fun music and it is a fun freestyle, so I am just excited to go out there one more time and get more experience at this."
Photos © Sue Stickle
Related Links
Scores: 2018 U.S. Dressage Championships
Boehning, Blitz, Harrison, Jorst Rule Day Two of 2018 U.S. Dressage Championships
Jones, Blitz, Harrison In the Lead as 2018 U.S. Dressage Championships Kick Off