2018 U.S. Young Horse Championships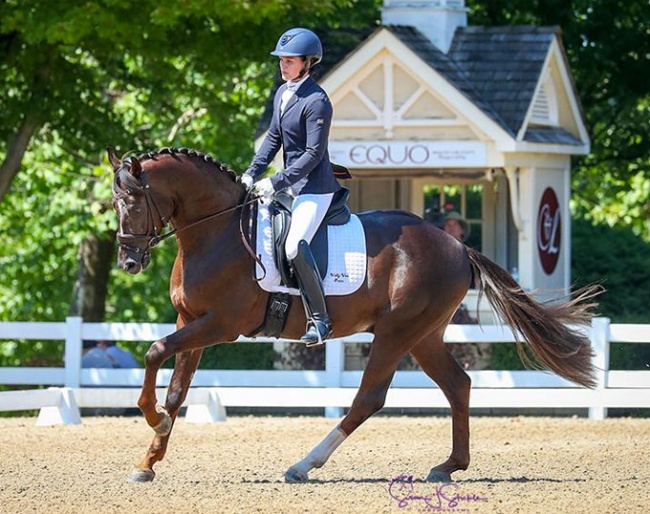 The 4-year old Sole Mio, the 5-year old Fairouz and the developing Prix St Georges horse Lucky Strike became the winners on day one of the 2018 U.S. Young Horse Championships held at Lamplight equestrian centre in Wayne, ILL, on Thursday 22 August 2018. 
Sole Mio Wins 4-year old Warm Up Round
Emily Miles (Paola, Kan.) and Sole Mio (Stanford x Donnerschwee) grabbed the early lead in the Markel/USEF Young Horse Dressage Four-Year-Old Championship. She and the Hanoverian stallion owned by Leslie Waterman earned a score of 8.4. Anna Keenan (Trappe, Md.), a newcomer to the U.S. Dressage Festival of Champions, and Davos CF (Dante Weltino x Roselea), Nancy Holowesko's Oldenburg stallion placed second followed by Sarah Lockman (Aliso Viejo, Calif.) and Jupiter (Jazz x Twinkle R), Gerry Ibanez's KWPN gelding.
On today's ride:
Miles: I was super happy with Mio today. The trot work is usually his highlight, and it was today. I got a bit greedy in the lengthening trot, but I think the judges liked how supple and fluid he can be. The canter work felt a little bit lazy, but he stayed with me.
Keenan: I was really proud of Davos. I had a lot of horse when I went into my ride, but he let me ride him. I could improve on transitions, but overall I was very happy.
Lockman: I was super happy with Jupiter. We are a new combination. I have had him since March, so we're still trying to figure each other out in terms of energy and focus in the ring. Today he showed super focus for a four-year-old that hasn't been exposed to a lot of big venues. His highlight is generally his canter and walk, and it was today. We have a nice trot for a four-year-old, but we are working to improve his strength and balance.
On the importance of the U.S. Dressage Festival of Champions in developing young horses:
Miles: It is not about winning these championships and having the best four-year-horse. I think it is really important that this gives us a guideline and a good comparison. I think every rider who rides a four-year-horse should be streaming these to understand what is a good expectation for a four-year-old. I think it is great that the the [US Equestrian] coaches are here watching, helping us tweak things as riders.
Lockman: I think as a trainer, coach, and competitor, I think it is very important for the U.S. to be watching these championships. This is a foundation, training scale and goal. I think it is awesome that USEF provides the coahing throughout the country, watching the horses of the future. As our country's history shows, our best horses come from combinations that have been together for years. So, even though you may miss a year or be ready for a [August championship], I think this is great to encourage our country and our riders and trainers that riding young horses is just as important as having a CDI horse
Fairouz Wins 5-year old Preliminary Test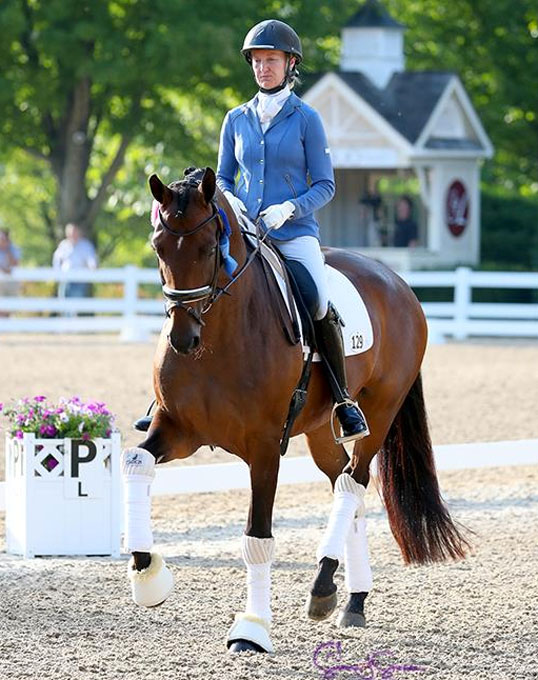 Alice Tarjan (Oldwick, N.J.) currently leads the U.S. Young Horse Dressage Five-Year-Old National Championship following the USEF Five-Year-Old Preliminary Test. She and Fairouz (by Franziskus out of Diva), her Oldenburg mare, earned a score of 8.78.
"The quality of the horses overall is the highest I have ever seen it. The quality when you [compete] here, the scores are higher across the board, I think it is a reflection of the horses' improvement. I think this is awesome for the sport and U.S. Dressage," said Tarjan
Michael Bragdell (Colora, Md.) and SenSation HW (Sunday x Donata), Carol McPhee's Westphalian gelding, narrowly trail, placing second, followed by Rebecca Rigdon (Cardiff By The Sea, Calif.) and Iquem (Charmeur x Tres Bien Sijgje), her KWPN mare.
"I think he has developed nicely over the past year. I was really happy with the trot today, getting a 10. It is a super feeling when you get a score like that," said Bragdell. 
Rigdon stated: "She's quite green for her age and quite spicy sometimes. We were still in lunge lines at horse shows in January, so she has come a long ways. The canter and trot work felt better than it ever felt in a test in moments. The submission can be a lot better; she just needs more experience, but overall I am happy with the progression, and to be in this group with these three great horses it is very exciting."
On why this event is important in the horses' development:
Tarjan: You get good judges, the footing is supurb, and the facility is awesome. It's a lot of fun and a great show grounds.
Rigdon: I don't care how they do in the end especially for my five-year-old. For her, it's a good growing experience and I wouldn't trade it for anything. I know in the development for her future, that it will make her that much more solid. With all the divisions, what a better prescedent can you set for the kids that they then see. Christine and all of USEF has done a super job of creating a pipeline and a more cohesive, systematic training system of the young horses.
Bragdell: It's a great environment for young horses to take the big step into a bigger show environment. It is a beautiful facility and they do a fabulous job putting this together. Not just the show grounds but the USEF staff; it's very rewarding to come here. You truly feel like you made it to the top.
Lucky Strikes Wins First Round of Developing PSG Horse Championship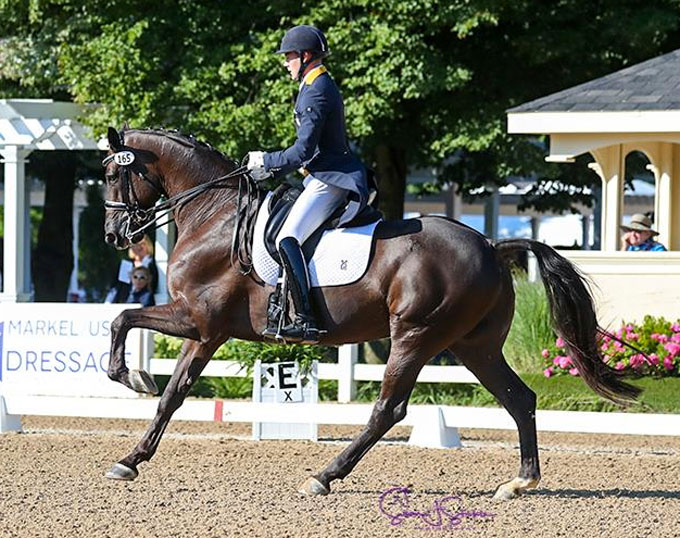 Endel Ots (Wellington, Fla.) and Lucky strike (Lord Laurie x Heidi) continued to build on their previous success at the U.S. Dressage Festival of Champions. He and the eight-year-old Hanoverian gelding owned by Max Ots took the top spot in the Prix St. Georges Test with a score of 72.794%.
"Last year I was traveling quite a bit, so it was difficult focusing on my riding," said Endel.  "This year, I could focus on videotaping my rides and trying to improve everything. The trot work is very solid; in the warm up, I try to focus on the canter transitions and getting him a little more connected in the snaffle reign. He has a lot of power and go, but sometimes he needs to wait a little more, so I try to do a lot of transitions in the canter work to get more control."
"I was very happy with my ride today," Ots continued. "The highlight was the trot work. He tried really hard and had a lot of good energy."
Christopher Hickey (Wellington, Fla.) and Straight Horse Zackonik (Blue Hors Zack x Romanik), Cecelia Stewart's eight-year-old Danish mare, placed second followed by Heather McCarthy (Prairie Grove, Ill.) and Au Revoir (Ampere x Lara), Sandi Chohany's seven-year-old Oldenburg gelding.
"I am very pleased with my horse," said Hickey. "This is the first time she has traveled long distance for a championship. She is a horse that is strong in her collective work. and tries very hard. I've had good mares before, and she is a wonderful mare. She's a worker bee. For a young horse, she has super pirouettes. This horse is a lot of fun to ride because I can sit an equitate."
McCarthy rang in, "I was very happy with my ride. My horse can get a bit hot in the ring, so my goal was to put in a clean test. He did not make one mistake. My goal was to be in the top-10, and if we could do that, I would be thrilled. He exceeded my expectations of coming in third today. He was really with me and let me ride him. He has a lot of power, and sometimes it is not 100 percent solidified in the collective trot. He can get a bit ahead of himself, so the trot work got a little quick at times, but he let me ride him back to 'B'. I could not ask for anything more this morning."
Photos © Sue Stickle
Related Link
Scores: 2018 U.S. Young Horse Championships