2018 U.S. Dressage Championships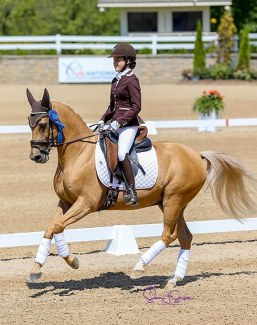 Pony rider Ellanor Boehning, small tour rider Heather Blitz, Under 25 rider Codi Harrison, Grand Prix rider Charlotte Jorst ruled the classes on the second day of competition at the 2018 U.S. Dressage Championships in Wayne, ILL, on Thursday 23 August 2018. 
Boehning Has Pony Power
Ellanor Boehning and Kabam won the Pony Rider Team Test with a score of 71.524%. Twelve-year-old Boehning (San Diego, Calif.) and the 15 year-old German Riding Pony gelding she owns with Ann Boehning demonstrated flashy movements to lead the USEF Pony Rider Dressage National Championship.
""It was definitely one of my best test that I have had on him. Everything was really solid. I thought his half-passes, his lengthenings, and basically the entire test were amazing," said Boehning. "I kind of feel like everything was solid today and it was basically what I wanted him to do, so I don't think there is anything I want him to improve upon. Maybe just get him a little more in front of my leg, but he was pretty good today."
Fourteen-year-old Abby Fodor (Bloomsbury, N.J.) and Slip and Slide, Marie Fodor's Quarter Horse/Haflinger cross gelding, placed second. 
""He was really good. His walk pirouettes were a lot better," said Abby. "His trot lengthenings by pushing him forward and getting him more uphill."
The 15-year-old Jordan Osborne (Kennett Square, Pa.) and Cinderella, her 11-year-old German Riding Pony mare, placed third.
"I was really happy with my pony. She was really good. We had a few bobbles; usually her trot extensions are one of her strongest points but she broke into the canter, so that was a little bobble. But other things like the walk pirouettes, the shoulder-ins, and the rein-back, which we have trouble with a lot, she was really solid on them and we didn't have any hissy fits in the middle, which is always a bonus with her," said Osborne. "I want to work on getting 'Ella' more in front of my leg too, and maybe a little bit more up and steadier in her poll. She really just needs to shift her weight off her forehand to the back to try and get that extra push."
Blitz Adds Inter I Win to her Tally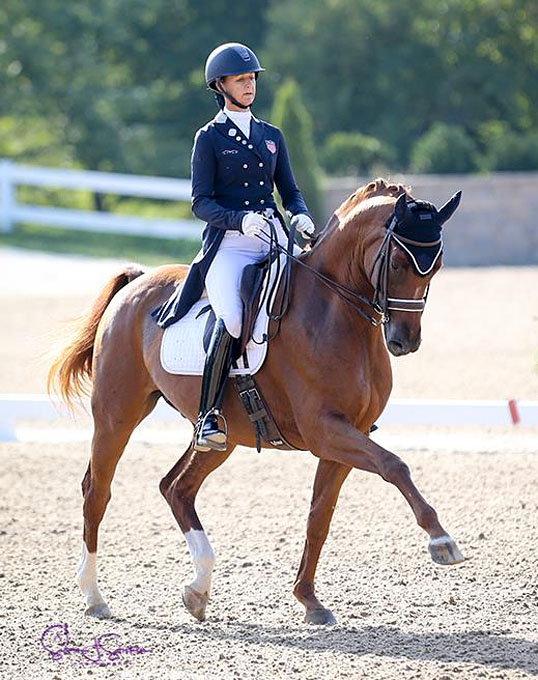 Heather Blitz and and Praestemarkens Quatero clinched another win, this time topping the leaderboard in the FEI Intermediate I Test with a score of 73.529%. Blitz (Wellington, Fla.) and her nine-year-old Danish Warmblood gelding lead the overall standings in the USEF Intermediaire I Dressage National Championship.
"My test had a bit more power and go-for-it," said Blitz. "Today he was on, and for him, I like that because the hotter he is the better. He's a really passionate horse. When he wants to do something, he does it with more passion than any horse I have ever ridden. I feel like that was really present in my test today. I'll never forget that test because of the feeling. He was giving me 200 percent on every single step. He's such a good horse, and I'm a lucky person to be able to ride him."
Jennifer Baumert (Wellington, Fla.) and Handsome, Betsy Juliano LLC's 13-year-old Hanoverian gelding, placed second. 
"I was super pleased with my horse. We had a little distraction right in the beginning … and he was quite preoccupied with it throughout the test," said Baumert.
Jodie Kelly-Baxley (Destin, Fla.) and Caymus, Beth Godwin's 11-year-old KWPN gelding, placed third.
 "I was so happy with my horse today," said Kelly-Baxley. "I have been getting this really amazing feeling at home and in the warm-up, just a whole new level of quality of gaits. Yesterday, we had it in the warm-up, then we went into the ring and had a nice clean ride but I didn't take the quality with me. This was the first time that I really took everything I had from the warm-up into the show ring and it was just such an amazing feeling that I even had a few moments where I spaced thinking, 'Wow, this is amazing!' and then it was like, 'Wait circle.' I was so happy with it."
Harrison Does the Double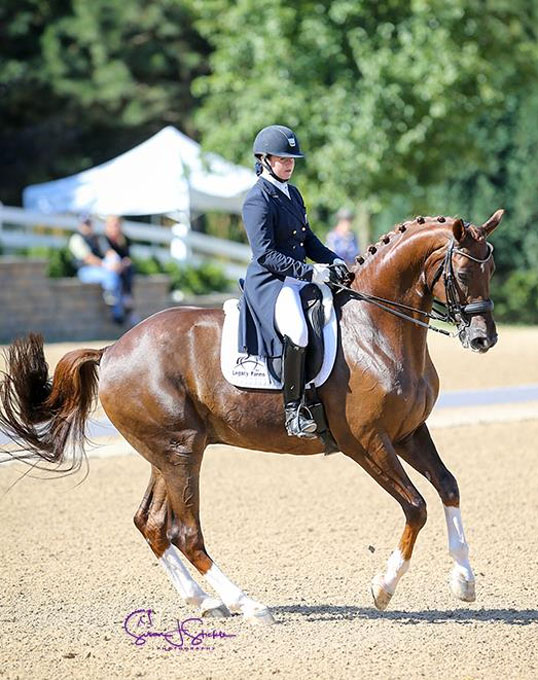 Codi Harrison and Katholt's Bossco won the Short Grand Prix 16-25 Test, the second class of the Under 25 Championship, which in the U.S.A. is called the Young Adult 'Brentina Cup' Championship. They scored 72.744%. Harrison (Loxahatchee, Fla.) and her 11-year-old Danish Warmblood gelding top the overall leaderboard heading into Saturday's freestyle.
"I was so proud of Bossco today," said Harrison. "He's such a big horse, and it was a lot to ask of him two days in a row. However, I was happy with the overall feeling. He's a good boy, and I hope he can continue it on Saturday. The last piaffe [passage] took a little bit to get into, but it was a good feeling once I had it on the centerline."
Molly Paris (Charlotte, N.C.) and Countess, her 16-year-old Danish mare, placed second, while Claire Manhard (Cardiff, Calif.) and Wilfonia, her 15-year-old KWPN mare, placed third.
"The test was much more subtle today. She felt more with me today, and I'm really happy with her," said Paris.
Jorst Leads Smallest GP Field Ever
Charlotte Jorst and Nintendo laid down a respectable test to win the Grand Prix Test with a score of 70.217%. Jorst led the smallest ever field competing in the American Grand Prix Championship, ever! Only six combinations are vying for the senior Grand Prix title.
While it was not a mistake-free test, Jorst (Reno, Nev.) was thrilled with the performance from Kastel Denmark's 15-year-old Dutch Warmblood stallion. The pair leads the USEF Grand Prix Dressage National Championship heading into Friday's FEI Grand Prix Special.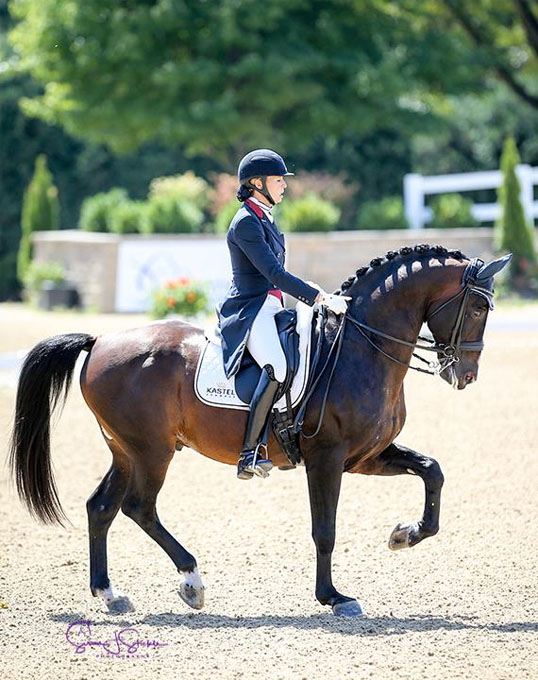 "Nintendo has just had three months off so he is very fresh and really excited to be back in the ring," said Jorst. "He was really forward and nice and through in the piaffe and passage. Everything was really balanced and nice. Because he was fresher than he usually is I had some mistakes. Overall, he was just on fire. We just had a lot of fun and I have been looking forward to getting back in the ring with Nintendo as well, so it was a great day!"
Jorst didn't mind traveling to Wayne, ILL, instead of the traditional Gladstone, NJ location for the Nationals. 
"The best part about the riding is really the journey, the journey for all of us, and seeing other people succeed, how other people develop, and the enjoyment at all the levels. I don't think one is more than the other than the others or less than the others, it is all the same. I think watching other people's journeys and how the ride after a failure or enjoy their success, I think it is wonderful to share that will all these wonderful people."
Nick Wagman (San Diego, Calif.) and Don John, Beverly Gepfer's 10-year-old KWPN gelding, placed second. 
"I'm still so new at the Grand Prix with him that I am just so thrilled to get through the test pretty cleanly as we did," said Wagman. "Some of the highlights today were his trot extensions, my right trot half-pass was really good, an certainly, my pirouettes, for us, were some of the better pirouettes we have done. For him, the piaffe is getting more and more secure, so I actually felt more comfortable keeping him on the spot and risking a little bit, and he seemed to be comfortable with that."
Jennifer Schrader-Williams (Yelma, Wash.) and Millione, Millione Partners LLC's 15-year-old Danish gelding, in third.
"He was very confident today," said Jennifer. "This is a horse is new to the Grand Prix; it is his first season. He is 15 and came in as a 13-year-old sales horse, so he has come a long way in the last two years. Our goal has been to get him confident and calm in the ring and put in steady, consistent test. Today, he went in and did a very consistent test with moments of real relaxation and starting to show a little bit of his brilliance, so I am really thrilled with going in and putting in a mistake-free test today."
Photos © Sue Stickle
Related Links
Scores: 2018 U.S. Dressage Championships
Jones, Blitz, Harrison In the Lead as 2018 U.S. Dressage Championships Kick Off