Great Britain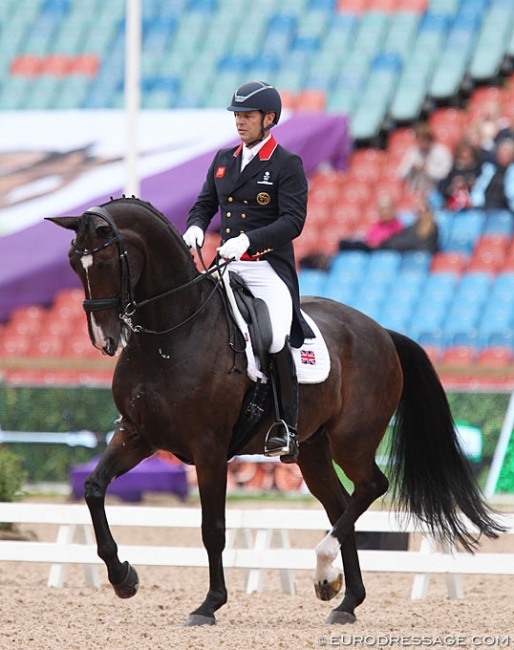 The British Equestrian Federation (BEF) has today confirmed the dressage team, selected by the British Dressage selection panel, for the 2018 World Equestrian Games in Tryon, North Carolina (USA), 12 - 15 September 2018.
The athletes selected are:
Charlotte Dujardin with the Mount St John Stud's Mount St John Freestyle
Emile Faurie with Hof Kasselmann KG's Dono Di Maggio
Carl Hester with Lady Anne Evans, Ann Cory and his own Hawtins Delicato
Spencer Wilton  with Jen Goodman and his own Super Nova II
The selected reserves have been confirmed as;
Emile Faurie with Elena Knyaginicheva's Delatio, as a direct reserve for Dono Di Maggio
Lara Butler with Dr Wilfried and Mrs Ursula Bechtolsheimer's Rubin Al Asad
British short listed riders had to wait a long time for the relieving phone call which was not ideal for their preparation towards WEG. Gareth Hughes and Briolinca were the sixth short-listed WEG combination that did not make the final cut.
Dressage Performance Manager, Caroline Griffith comments; "It's very exciting to be working with a team of riders that have such a wealth of experience between them and I know that they will use that experience to best effect.  We have seen some great scores this year from those on the short list, which, for me, underlines the strength of the four athletes and horses that will be travelling to Tryon.
"If anyone can prepare this high calibre group of young horses for a World Equestrian Games, we know Carl, Charlotte, and Emile can. Add to that Spencer and we have capacity for some truly exciting team scores and a great competition."
Chief Executive of British Dressage, Jason Brautigam adds; "We're exceptionally lucky to be in a position to field four riders with Olympic experience in Carl, Charlotte, Emile and Spencer. In our team for WEG we have three exciting young horses making their Championship debut, alongside a fourth making his third consecutive team appearance.  They have all been carefully campaigned through the year to peak for Tryon - and with the team's vast experience of preparing for the big occasion; confidence in the camp is high. We are looking forward to seeing these combinations in action and wish them all the very best in the USA."
Commenting on their selection;
Charlotte Dujardin: "I'm delighted and really excited to be going. Tryon was my aim for this year and I'm excited to be heading there with her [Mount St John Freestyle]; she is still only nine and inexperienced, but I feel really lucky, the sort of atmosphere she is going to experience there I know she can handle, she's fantastic in that sort of environment. I think it's going to be an amazing experience."
Emile Faurie: "It was exciting to receive the call for the team and I can't wait to head out there and take in what is sure to be an amazing atmosphere. We've got a really strong team this year with everyone scoring over 74%. Dono is an exceptional horse and he's probably one of the best horses I've had at a championship."
Carl Hester: "It's an unusual situation because both of us [Carl and Charlotte] are taking out new horses, but I think they are very exciting, it will be an exciting championships. My passion is producing new horses so it is very satisfying when you get them to this level. From a team point of view, it's a very experienced team, with four riders who have all competed at an Olympics. I am really looking forward to getting out there."
Spencer Wilton: "I'm so happy for Jen; she has invested a lot of time and money and this really means a lot to us. We had a tricky start to the season with injuries but we've come back and performed well and Neville [Super Nova II] feels amazing.  I'm very optimistic about this year and the team we have. Carl, Charlotte and Emile have all got bags of championship experience and I've got a couple of championships under my belt, and I think we could really impress people in Tryon."
Photos © Astrid Appels
Related Link
Eurodressage Coverage of the 2018 World Equestrian Games