2018 Dutch Dressage Championships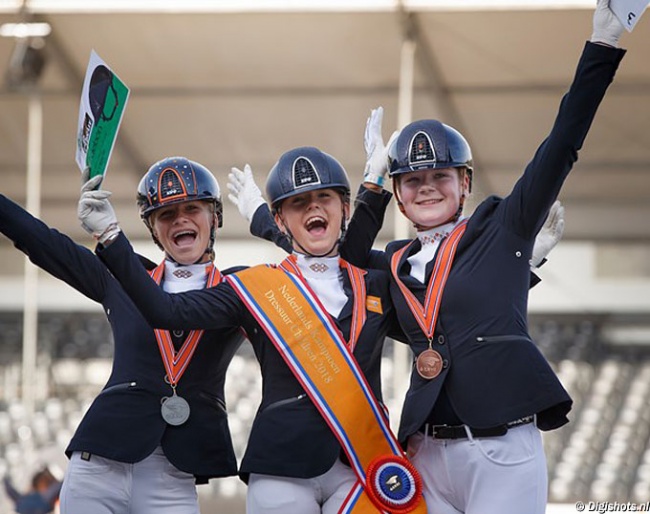 Children rider Sanne Buijs, junior Daphne van Peperstraten, young rider Thalia Rockx, under 25 rider Jeanine Nieuwenhuis, and senior Grand Prix rider Edward Gal became the winners of the 2018 Dutch Dressage Championships held in Ermelo, The Netherlands, on 26 - 29 July 2018. 
The Dutch Nationals took place one week after the CDIO Aachen and right before the World Young Horse Championships. With temperatures still soaring, only the Grand Prix riders were given credit and their championship rounds were reduced from three to two. The senior class also saw several withdrawals of horses such as Zanardi, Voice, and Apache. The youth classes, which featured two rounds, were thinned out with just six children, juniors and young riders competing, whereas the under 25 division had a nice field of 10.
In the children's division 2017 and 2018 European Children's Champion Sanne Buijs was also the high scorer at the Nationals. Aboard the 11-year old Dutch bred Happy Feet (by Tuschinski x Animo), Buijs topped the board twice with 75.705% and 76.964% for gold. The silver went to Lara van Nek and the bronze to Sanne van der Pols. 
"This is just incredible," said the 14-year old Buijs. "I came here without expectations and it's amazing that it worked out so well. I'm still nervous for each show. Now I'll try to make the move to juniors with Happy Feet. It was a lot of fun in the children's division. I learnt a lot the past year and I'll miss Monique Peutz, our team trainer. I had a good connection with her."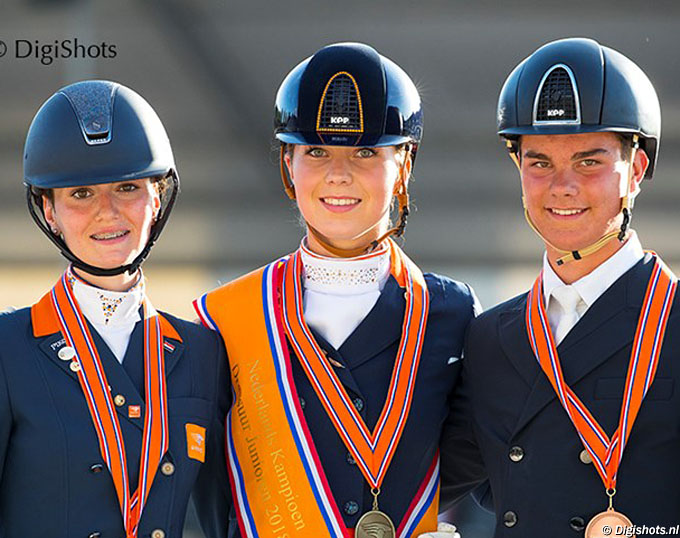 In the junior division and in the absence of three further Dutch junior team combinations (Rockx on Golden Dancer, Milou Dees and Kimberly Pap were all missing), the 2018 European Junior Riders Champion Daphne van Peperstraten and her 11-year old Dutch bred Cupido (by Johnson x Duko) freewheeled to victory leaving all competition far behind them. The pair scored 77.727% and 77.960% for gold, while Thalia Rockx and Gerda Nova de la Fazenda got silver and Marten Luiten on Fynona ended up with bronze. 
"It's a bit unreal. I lost a bit of control in the test. My coach Coby van Baalen just told me that if you can win with not the best test, than you are really the best. Cupido really went so well everywhere; triple gold at the Europeans and now this. I could only be very proud. This is my last show as a junior and I'll make the transition to Young Riders. That is really a new challenge. I'm ready for it and looking forward to it."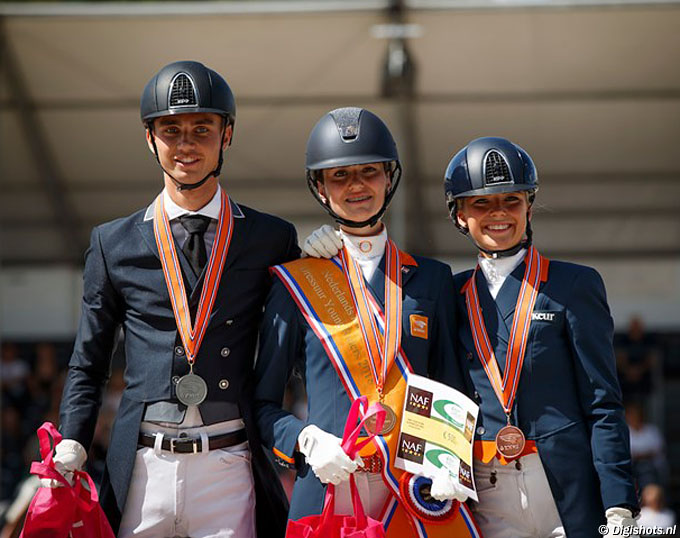 Thalia Rockx also contested the young riders division and her double start paid off as she won the national title aboard her father Johan's Grand Prix schoolmaster Verdi de la Fazenda (by Floret As). Rockx scored 72.235% and 76.000% and barely felt the heat from her competitors on the way to gold. Robin Bernoski scored silver, while Dutch YR team rider Laura Quint got bronze. The other three Dutch team riders at the Europeans in Fontainebleau (Van Zwambagt, Donkers, Van de Bovenkamp) did not compete at the Nationals which took place two weeks after the Euros.
"It's so cool that Verdi is a family horse. He's born at our place and trained there. My dad competed him at Grand Prix and my mom (Penny Zavitz) also rode him. He has a great character and I learn so much from him. He's definitely not auto pilot. I have to ride him," said the 17-year old Thalia. "This was my last show as a junior so I wanted to ride in that division as well as possible and finish my time there well. At Young Riders level I just wanted to have a nice ride and look what happened. It had been a while since I last rode a YR freestyle so I had to get into the swing of things, but it went really well and I'm super happy. I have also ridden him at Grand Prix. It's just all so much fun and it's a great experience for me."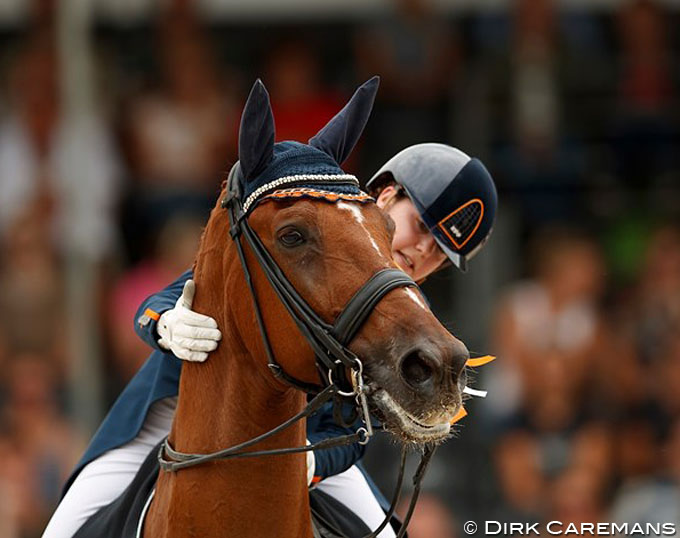 Fortunately the Dutch Under 25 riders came out full force and ten combinations appeared at the starting line. The CDIO-U25 Aachen winner Jeanine Nieuwenhuis and Tim Coomans' 13-year old Dutch warmblood gelding TC Athene (by United x Jazz) was also the best pair on home turf and won the gold medal with a 73.308% and 77.175% earning test. Maxime van der Vlist landed silver and Jill Huybregts ended up with bronze. 
"He is so impressive when he travels round the ring," said Jeanine about Athene. "I was super happy with him that he was there for me so quickly after Aachen. He always tries his best and goes for it. He goes into the arena and then impresses enormously; also when you are on him and not just to look at. He always is so engaged. It was my own clumsiness that the ones didn't work out. I can't blame him."
For the senior Grand Prix riders, the Dutch Nationals were the second and last mandatory WEG team selection trial so Dutch Grand Prix power was on the scene to compete for that team spot. Edward Gal and Gaston Glock's 10-year old Danish warmblood stallion Zonik (by Zack x Romanov) received the clear favour of the judges, an all Dutch panel of five with one 5-judge officiating.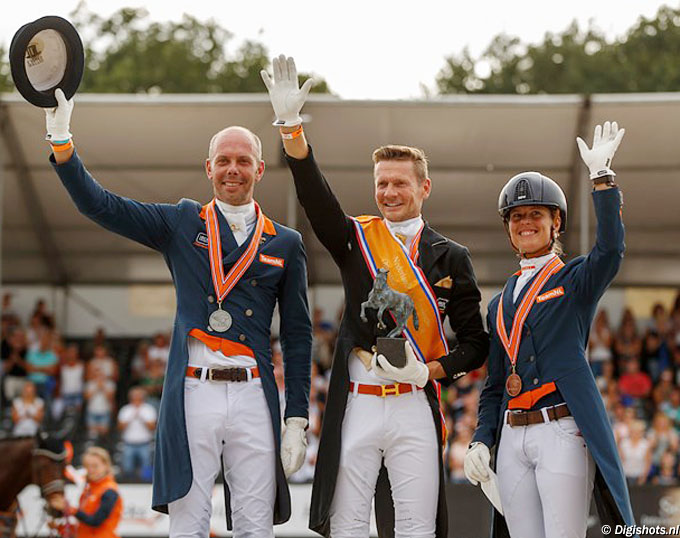 While Gal and Zonik performed a very strong Grand Prix test in the pouring rain (79.435%), the Kur to Music was a challenge for the stallion who was against the leg and made several mistakes. The judges did not seem to notice any of that and rewarded the horse with a strong 83.435%. Gal scored the gold and national title. Gal's life partner Hans Peter Minderhoud and his top pick, Dream Boy (by Vivaldi x Ferro), got silver after scoring 74.717% and 81.435%, while Adelinde Cornelissen edged out Madeleine Witte-Vrees for the bronze medal. Cornelissen and Aqiedo (by Undigo x Metall) were third overall with 73.717% and 79.000%.
"Stupid those mistakes in the ones. It didn't rain today and then I make this kind of stupid mistakes. What a pity. I could have scored 86%. It just seemed that Zonik saw things today that weren't there yesterday. He was a bit less focused, a bit distracted. I just need rain," Gal joked after the freestyle. "I'm absolutely happy though. It's always nice to get good scores. Now there will be a break and then we build up towards WEG."
Photos © Digishots - Dirk Caremans
Results - 2018 Dutch Dressage Championships - Ermelo
Children
1. Sanne Buijs - Happy Feet - 75,705 - 76,964 --- 152,669
2. Lara van Nek - Fariska - 72,500 - 74,405 --- 146,905
3. Sanne Van der Pols - Excellentie - 72,885 - 72,976 --- 145,861
4. Milou Ekkel - Uvonia - 65,321 - 69,107 --- 134,428
5. Koosje Visser - Umbra - 68,526 - 65,774 --- 134,300
6. Lynn Corts - Femme Fatale of Wild Rose Stables -  62,974 - 67,738 --- 130,712
Junior Riders
1. Daphne Van Peperstraten - Cupido - 77,727 - 77,960 --- 155,687
2. Thalia Rockx - Gerda Nova de La Fazenda - 73,333 - 77,650 --- 150,983
3. Marten Luiten - Fynona - 71,616 - 73,050 --- 144,666
4. Annelotte Felix - Amos -  69,242-  72,850 --- 142,092
5. Kim Noordijk - Cees - 71,465 - 70,175 --- 141,640
6.  Aimée Meddens - Torricelli Ls - 69,192 - 70,575 --- 139,767
Young Riders
1. Thalia Rockx - Verdi de La Fazenda - 72,235 - 76,000 --- 148,235
2. Robin Bernoski - Velazquez - 69,471 - 74,300 ---  143,771
3. Laura Quint - Edison - 71,618 - 71,000 --- 142,618
4. Lisanne Zoutendijk - Zilverstar - 68,941 - 73,525 --- 142,466
5. Carlijn Vaessen - Fossbury - 68,912 - 70,450 --- 139,362
6. Fabienne Jongen - Botticelli - 68,588 - 68,875 --- 137,463
Under 25
1. Jeanine Nieuwenhuis - Tc Athene - 73,308 - 77,175 --- 150,483
2. Maxime Van der Vlist - Bailey - 69,974 - 74,725 --- 144,699
3. Jill Huijbregts - Enzos-Armani - 69,897 - 74,025 --- 143,922
4. Carlijn Huberts - Watoeshi - 70,000 - 73,150 --- 143,150
5. Jeanine Nieuwenhuis  - Charming Lady - 69,538 - 72,850 --- 142,388
6. Jasmien De Koeyer - Esperanza - 68,538 - 72,925 --- 141,463
7. Geert Hofland - Oswin - 68,769 - 70,775 --- 139,544
8. Jeroen Hamelink - Zanzibar - 66,744 - 71,025 --- 137,769
9. Yoeki Bos - Vivaldi - 65,564 - 71,225 --- 136,789
10. Charlotte Kruiniger - Uzzo 65,821 66,750 --- 132,571
Seniors
1. Edward Gal - Zonik - 79,435 - 83,435 --- 162,870
2. Hans Peter Minderhoud -  Dream Boy - 74,717-  81,435 --- 156,152
3. Adelinde Cornelissen - Aqiedo - 73,717-  79,000 --- 152,717
4. Madeleine Witte Vrees - Cennin - 74,348 - 77,400 --- 151,748
5. Anne Meulendijks - Avanti - 72,913- 78,825 --- 151,738
6. Diederik Van Silfhout - Four Seasons - 72,978 - 77,650 --- 150,628
7. Emmelie Scholtens-  Desperado - 69,891 - 78,200 --- 148,091
8. Patrick Van der Meer-  Zippo - 69,717 - 75,075 --- 144,792
9. Marlies Van Baalen - Ben Johnson - 70,717 -  73,925 --- 144,642
10. Danielle Heijkoop - Badari - 69,000 - 74,325 --- 143,325
11. Tommie van Puijenbroek - Chuppy Checker Cl - 69,935 -  72,600 --- 142,535
12. Denise Nekeman-  Boston - 67,783-  73,225 --- 141,008
Related Link
Apache Withdrawn, Programme Changed for 2018 Dutch Dressage Championships
Previous Winners
Van Peperstraten, Donkers, Maas, Meulendijks, Gal Win 2017 Dutch Dressage Championships
Oudhof, Nieuwenhuis, Gal, Meulendijks, Van Silfhout Crowned 2016 Dutch Champions 
Scores: 2015 Dutch Dressage Championships
Scores: 2014 Dutch Dressage Championships
Scores: 2013 Dutch Dressage Championships
Edward Gal and Undercover Win 2012 Dutch Dressage Championships
Minderhoud, Witte-Vrees, Krooswijk and Te Riele Proclaimed 2011 Dutch Dressage Champions
Gal Prolongs Grand Prix Champion's Title at 2010 Dutch Championships
Edward Gal and Totilas Conquer 2009 Dutch Championships
Adelinde Cornelissen, 2008 Dutch Dressage Champion
2005 Dutch Championships: Van Grunsven Star of Holland for 12th Time