2018 European Pony Championships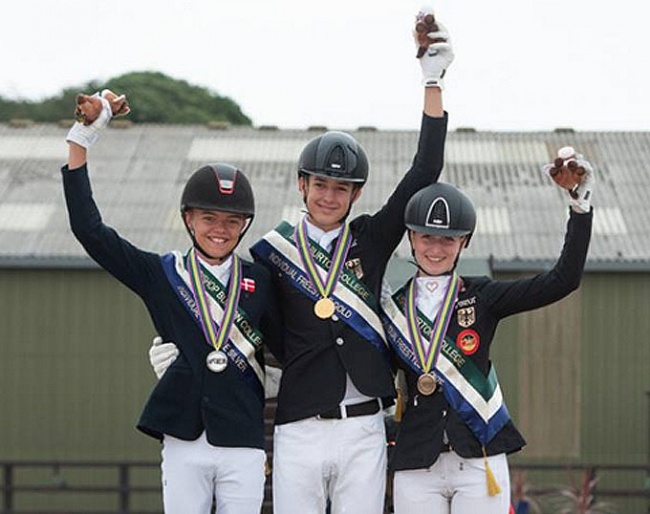 German Moritz Treffinger made it a triple feat and scored his third gold medal at the 2018 European Pony Championships in Bishop Burton, U.K. on Sunday 12 August 2018. 
After winning team gold and individual test gold, Treffinger and his 10-year old mare Top Queen H (by Top Anthony II x Dark Rubin) also won the Kur to Music on Sunday for a golden hattrick. Judges Jacques Van Daele, Yuri Romanov,  Isobel Wessels, Elke Ebert, and Maja Stukelj were unanimous in their verdict and all placed Treffinger first with an 81.875%. The 14-year old Moritz rode to David Guetta tunes. Treffinger is now the fifth male pony rider to win the European Pony Championships. He succeeds Heiner Rohmann, Pieter Jenniskens, Niklas Kröncke and Sönke Rothenberger.
Danish team new comer Alexander Yde Helgstrand had an exceptional run at his first European Pony Championships with triple silver. Aboard the 12-year old Rhinelander gelding Adriano B (by De Angelo B x Flying Dream) he won team silver, individual test silver after recalculation of the score sheets, and on Sunday he added another silver to his collection after scoring 80.275% in the freestyle. All five judges placed him second.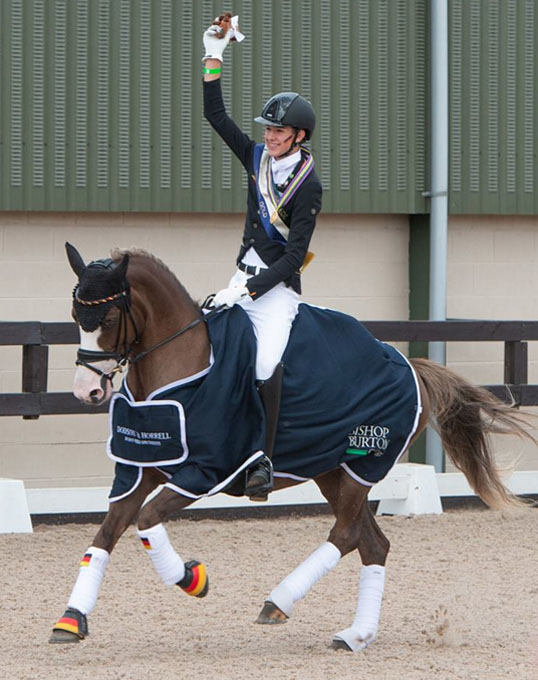 German Julia Barbian had a very successful show season on her 10-year old Rhinelander gelding Der Kleine Konig (by Dornik's Donovan x FS Don't Worry) and scored team gold in Bishop Burton, but in the individual test she was not yet able to reward her strong year with a medal. She turned it around in the freestyle and got bronze after scoring 76.725% for her Lion King freestyle. She ranked between third and sixth place with the judges. 
Dutch Thessa Gilbers and the 8-year old Westfalian Baumann's Despino (by Don't Worry x Rosedale Tiberius) has exceeded all expectations this week in Bishop Burton. Stepping into the team as last minute substitute, she won team bronze and then went on to be the best Dutch rider in the individual test with a fifth place. Gilbers upped the ante in the freestyle and finished fourth on her young pony with 76.500%. 
Denmark's team new comer Sophia Winther Andersen and her routinier Der Harlekin B, a 16-year old Rhinelander stallion by Golden Dancer x Dornik B, completed the top five with a 75.875% kur score. 
The highest placing rider from a nation that did not win a team medal was Belgian Zoe Niessen on Katrien Severijns' 14-year old Rhinelander gelding Minerva Bijou (by Boomer x Derbino). The combination posted 73.650% on the board and landed 9th place.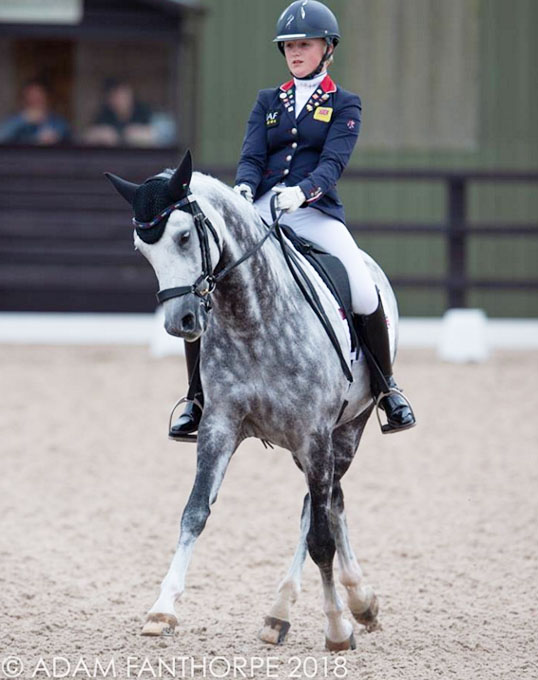 Germany's individual test bronze medal winner Jana Lang and the 12-year old Oldenburg bred Cyrill (by Champion de Luxe x Power Man) could not capture a third podium place. The pair had issues in their test as Cyrill got distracted by a loud speaker and dropped to an 11th place with 72.700%. 
For home team Great Britain, Sophie Taylor and the British bred grey gelding George Clooney B.S. (by Caesar), were the best scoring pair. They landed 14th place with 72.050%.
Photos © Equitaris -  Adam Fanthorpe for Bishop Burton Equine Centre
Related Links
Scores 2018 European Pony Championships
Eurodressage Coverage of the 2018 European Pony Championships