2018 World Young Horse Championships
Andreas Helgstrand's sales and training facility Helgstrand Dressage celebrated tremendous success at the 2018 World Championships for Young Dressage Horses in Ermelo, The Netherlands, on 2 - 5 August. With no less than 11 horses from the stables qualified and 10 competing in Ermelo, that achievement was even topped with two of them capturing the gold medal and World Champion's title: Revolution and D'Avie. 
Andreas competed Revolution, Zhaplin Langholt, and Ferrari; Severo Jurado Lopez rode D'Avie and Atterupgaards Botticelli, Victoria Vallentin showed Straight Horse Ascenzione, Simone Pearce was aboard Nexolia Feodoro and Lindballe's Just Perfect, Kenneth Damgaard qualified Stenagers Wyatt Earp and Rieke Schneider rode Devonport for Helgstrand Dressage.
"We are extremely happy with the results of this year's WYCH. It's hardly understandable and sometimes I have to squeeze my arm to understand that it's really true. Winning gold at the WCYH among the very best dressage horses is a huge achievement, but winning two times gold is almost impossible," said Andreas Helgstrand very proud.
It were especially the breeding stallions Revolution and D'Avie who claimed the spotlight and ended up winning the World title.
Revolution and Andreas World Champion
Despite his young age Revolution (by Rocky Lee x Rouletto) has already achieved much in his budding career. As 2-year-old he sold at auction to Helgstrand for the all-time record price of 1.2 million euro. Since then, the Westfalian bred stallion has been very positively received by the crowds at stallion shows, the Danish Young Horse championships and now in Ermelo.
"Revolution is something special. The stallion has stolen my heart from day one," said Andreas. "He has everything that a modern breeder asks for and with the results of this weekend, he once again showed that he has was it takes to be in the very top."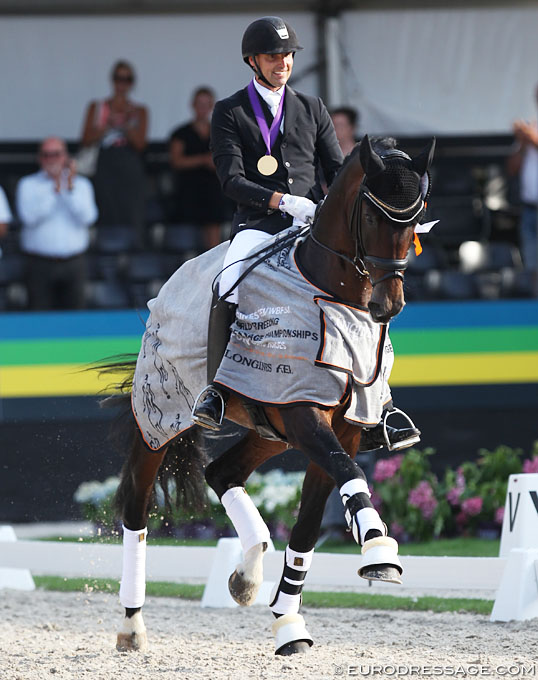 Revolution won both the 5-year-old preliminary test and the finals with impressive marks. In the finals the bay stallion achieved 10s for canter and perspective as well as 9.8 for trot, 9 for walk and 9.3 for submission. He totaled a winning 9.62.
Severo and D'Avie On Top!
Helgstrand Dressage's leading in-house trainer, Spanish Olympian Severo Jurado Lopez, returned to Ermelo on the Hanoverian licensed stallion D'Avie (by Don Juan de Hus x Londonderry). In 2017 they already were finalists at the World Championships and in the past year they have been training with the aim of winning a medal.
The pair managed to give it their all in the finals and they won the World Championships for 6-year-olds with 10 for canter, 9.8 for trot, 9.5 for perspective, 9 for submission and 8 for walk.
"D'Avie was amazing in the preliminary test, but I knew for sure that we should be even better if we should manage to win the finals - so we did," said Severo with a smile. "D'Avie is a unique horse, which I also hope to ride at next year's WCYH."
Helgstrand Dressage Massively Represented in Ermelo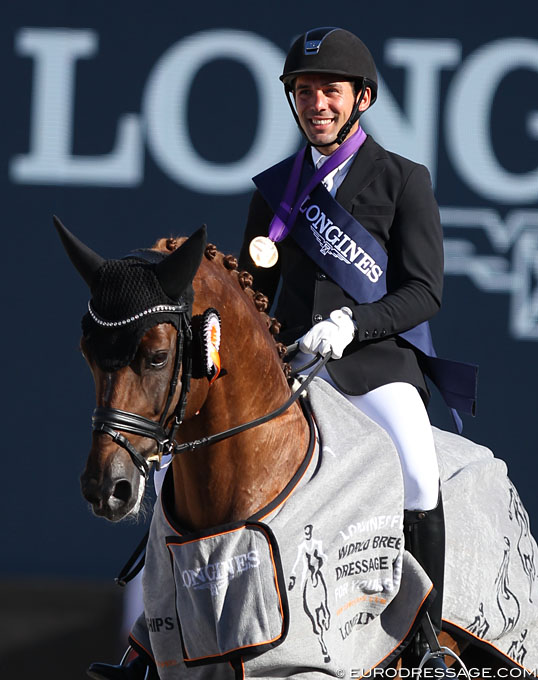 It was not only Revolution and D'Avie, who did well amongst the breeding stallions from Helgstrand Dressage. Also Atterupgaard's Botticelli (by Bennetton Dream x Caprimond) placed 13th in the finals with Severo, while Andreas finished 10th with Ferrari OLD (by Foundation x Blue Hors Hotline).
Just before the World Championships, Helgstrand Dressage also bought the 5-year-old Devonport (by Dancier x Ravello), which finished 11th in the finals with 8.54 under German Rieke Schnieder.
"Once again, we proved that we not only have some of the world's best horses, but also some of the best riders and grooms. It's an amazing team, which is stronger than ever before. Marianne and I are so proud of all of them, they are doing a great job and without them, this wasn't possible," Helgstrand added. "Helgstrand Dressage brought 10 horses to Ermelo this year, all of which except one went on to the finals. Although this will be difficult to accomplish again, we will definitely try to repeat the success next year."
-- Helgstrand Dressage press release - Photos © Astrid Appels
Related Links
Poster Boy D'Avie Enthuses and Wins 6-YO Final at 2018 World Young Horse Championships
Glamourdale Shining Star of 7-YO Final at 2018 World Young Horse Championships
Revolution Wins Thrilling 5-year old Finals at 2018 World Young Horse Championships