2018 Excellent Dressage Sales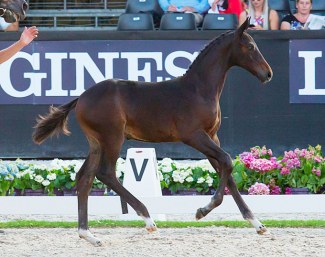 The bay colt Nr One SB became the price highlight of the foal edition of the 2018 Excellent Dressage Sales held on Saturday 4 August 2018 during the 2018 World Championships for young dressage horses in Ermelo, The Netherlands. 
Nr One SB (by Incognito x) sold for 41,000 euro to Italy. 
The second most expensive foal was colt Nikson W (by Ebony x Zatchmo) which sold to Dutch clients for 28,000 euro.
The third most expensive foal was Napoléon M (v.Geniaal) which sold for 23,000 euro. Sleepy Hollow de Tamise (by In Style) found new owners for 21,000 euro.
The filly Nescafey Texel (by Ferdinand x Jazz) switched owners for 17,000 euro. The same price was paid for Nash Sollenurg (by Foundation x Vivaldi) who will move to Dubai, as well as for Nanne Kort Grootenhout (by Just Wimphof).
Nice van de Watermolen (by Daily Diamond) sold for 15,000 euro, while Germans bought Nickelson (by Vivaldi x Charmeur) for 12,000 euro. 
The clever collaboration between Excellent Dressage Sales and the World Young Horse Championships ensured that a large international buyers' audience was present. A Canadian buyer purchased two foals, including Neomai van Kairos (by Bordeaux x Cabochon) for 8,000 euro. The colt Noran (by Geniaal x Apache) sold to Thailand for 8,500 euro. 
The average price for a foal at this auction was 12,950 euro. 
Related Links
Young Stallions Dominate 2018 Excellent Dressage Sales' Collection
Kapralis, Price Highlight of the 2018 Excellent Dressage Sales
Broadest Collection Ever for 2018 Excellent Dressage Sales