Saddlery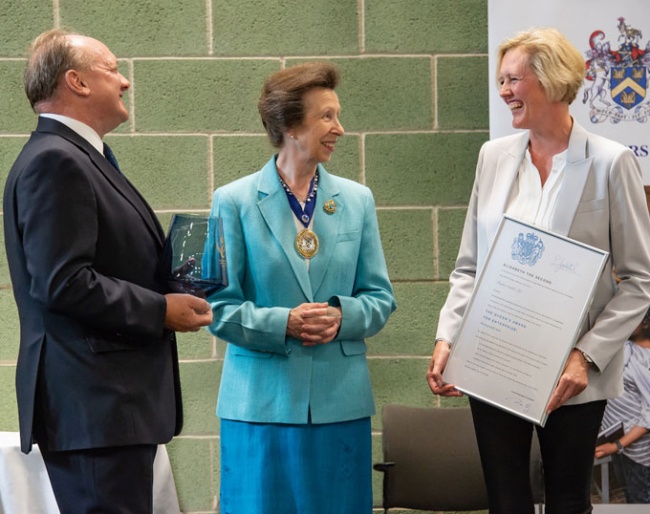 English saddle manufacturer Fairfax Saddles has been awarded a Queen's Award for Innovation. These are the highest business awards in the UK, recognising outstanding achievement and Fairfax Saddles is the only saddlery company ever to be recognised.
Fairfax has won the award for the research, testing and design of the revolutionary Performance Girth. The girth, the company's first Performance Product, was developed in conjunction with the British Equestrian Federation to give Team GBR members an advantage at the 2012 London Olympics. Since then, the UK manufacturer has continued to produce a range of performance-enhancing products that bring enhanced comfort and freedom of movement to many thousands of horses worldwide.
The Queen's Award was presented to Rupert and Vanessa Fairfax by Her Royal Highness The Princess Royal who visited the Fairfax factory in July. During her tour Her Royal Highness was able to learn more about the company's scientific research and speak to the staff who make the company's saddles, girths and bridles.
"It was a great honour that The Princess Royal visited Fairfax Saddles, said Rupert Fairfax managing director. "All the staff were thrilled to see her, and many of them were able to meet her."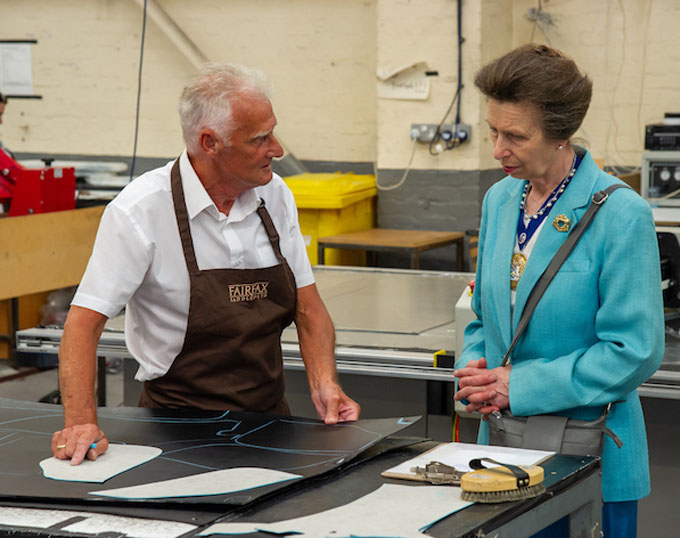 The patented girth design was the result of a lengthy study using state-of-the-art pressure mapping and gait analysis technology, which showed that girth pressure actually hinders the horse's natural movement.
Vanessa used her findings to design a girth that removes this pressure and allows the horse to move without restriction, transforming traditional tack into performance-enhancing equipment. The research and test results were published as a peer-reviewed paper in the Veterinary Journal. Fairfax's innovative approach of using technology and science, combined with traditional craftsmanship and British manufacturing, makes the company unique in the saddlery trade.
"Innovation based on rigorous research and testing has become something of an addiction for us," said managing director Rupert Fairfax. "After all, it's better to know something than just having to rely on guess-work."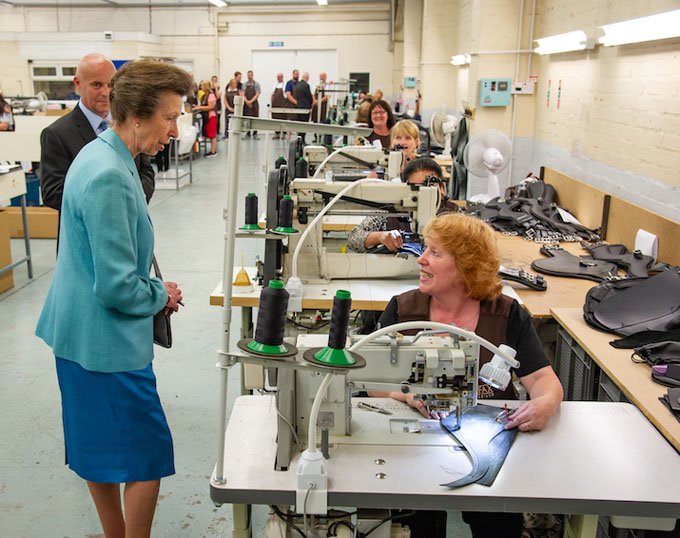 Related Links
Fairfax Performance Girth Now Available in 20" Narrow
Fairfax Performance Girths Stand Out by Science and Improved Horse Performance
Fairfax Classic Open Seat Dressage Saddle for Riders of More Shapes and Sizes
Fairfax Saddles Combine Science and Tradition
Fairfax Saddles Celebrates Success of its Scientifically-Proven Performance Panel
Fairfax Transit Headcollar, Designed for Horses Traveling
Fairfax Performance Bridle Now Available in The Netherlands
The Fairfax Rebecca Combines Exquisite Style with Scientific Success