2018 European Junior/Young Riders Championships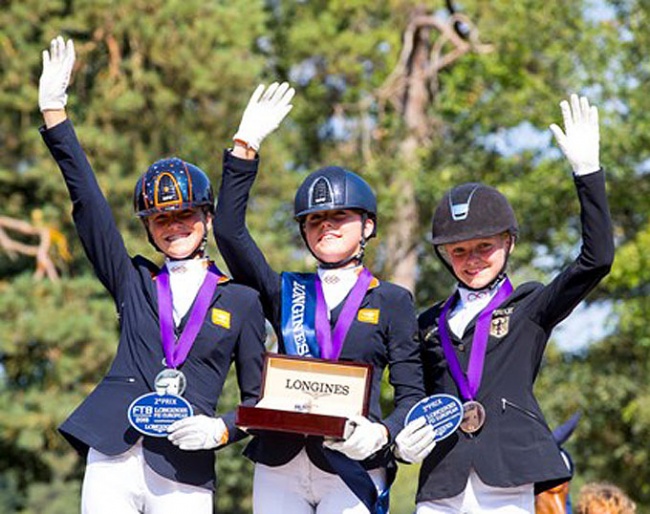 Young Dutch athletes proved the dominant force at the 2018 European Children Championships which drew to a close at Le Grand Parquet in Fontainebleau, France on Sunday 15 July 2018.
Team The Netherlands and Sanne Buijs were the gold medal getters after five days of competition at the Euro Championships, which featured three age classes (Children, Junior and Young Riders) in three disciplines (dressage, show jumping and eventing).
The Dutch gold-rush began with victory in Children's Team Dressage where Lilli van den Hoogen (Woodstock), Lara van Nek (Fariska), Sanne van der Pols (Excellentie) and Sanne Buijs (Happy Feet) pinned their German rivals into silver medal spot by a two-point margin while France claimed the bronze.
Dutch Chef d'Equipe, Monique Peutz said she felt "20 years older!" after the team competition, but there was plenty more to come.
"It already went very well in the team championshipcompetition, so the next day we shifted a gear back and trained lightly," said Peutz. "We changed little because they were all on top form. Yesterday we put our focus on the finals' test, which is a lot more difficult and trained specific parts. They all rode cleverly today and had their heads in the game. It was great."
Underpinning the supremacy of The Netherlands side, the 13-year-olds Buijs and van Nek went on to clinch individual gold and silver, and it was the second year in a row for Buijs to take double-gold. Germany's Kenya Schwierking (Dinos Boy) lined up third for bronze.
"The girls are best friends but in the arena they are each on their own and going for it, which is very good," Peutz added. "The atmosphere in the team was so cosy, not just with the Children, but in entire group. Everybody helps one another, we eat together and that's real team spirit."
Individual Ranking - Finals
1. Sanne Buijs (Heusden) - Happy Feet, 76,500 %
2. Lara van Nek (Wijdewormer) - Fariska, 75,143 %
3. Kenya Schwierking (GER) – Dinos Boy, 73,536 %
4. Alina Hahn (GER) - Riana, 72,393 %
5. Lilli van den Hoogen (De Meern) - Woodstock, 72,214 %
Photo © Digishots
Related Links
Scores: 2018 European Children, Junior, Young Riders Championships
Eurodressage Coverage of the 2018 European Junior/Young Riders Championships