2018 CDI Leudelange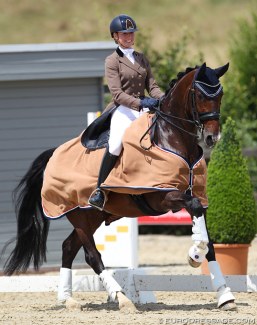 At the 2018 CDI Leudelange, Belgian Anke Moordtgat claimed her first CDI victory in her new, budding career as an international small tour rider. Aboard Estee Lauder, she won the Prix St Georges on Friday 6 July 2018, while routinier Steffen Peters and his new mount Donavan captured the Intermediaire I a day later. 
With the 9-year old Dutch warmblood mare Estee Lauder (by Santano x Rossini), Moordtgat showed a very fluent trot tour with good energy and balance. In canter her sympathetic mare became a bit hot and swung in the hindquarters in the tempi changes. They posted a winning  70.147% in the Prix St Georges. The next day the pair went off course in the Intermediaire I and made a further concentration mistake, which made their score plummet from 71% to a final 66.676 and 11th place.
"She's a fantastic horse and always give 100%," Moordtgat told Eurodressage. "Somehow I know that this is a real winner and she felt great in the test, but still I hadn't expected it. She has three super gaits and there is nothing she can't do. I have to say that she's probably best in the lateral movements and extensions, but also the collected work for the Grand Prix is no problem to her. We have picked that up quietly."
The 34-year old Moordtgat made her CDI debut in Lier in March just four month ago. At the CDIO Compiegne in May she gathered more mileage but in Leudelange she struck gold. Trained by Carmen de Bondt, Anke Moordtgat owns and manages equestrian centre De Kraal in Zandhoven, Belgium, where international dressage and show jumping competitions are being held.
"I bought Estee as a 4-year old at Dressage Stable Nijpjes in Holland. I tried her once and it was love at first sight. I want to stay at small tour level for another year and slowly train to Grand Prix.. and most of all enjoy her," Moordtgat added. 
The Intermediaire I victory was for Steffen Peters and Akiko Yamazaki's 10-year old Dutch warmblood Donavan (by Vivaldi x San Remo). In the Prix St Georges there were still some contact issues, with the horse not really stretching into the bridle over the back, which led to hiccups in canter. They were 11th in the Prix St Georges with 66.912%, but stepped up to the plate in the Intermediaire I and got  a winning 71.882% from the judges panel.
Peters and Donavan made their CDI debut at Del Mar last April and Leudelange was their first European show. The pair aims to qualify on the U.S. team for the 2019 Pan American Games, which are held at small tour level.
Photos © Astrid Appels - No reproduction allowed
Eurodressage was on the scene in Leudelange on Friday to photograph. If you are interested in prints or files for social media, send us an email.
Related Links
Scores: 2018 CDI Leudelange
Eurodressage Coverage of the 2018 CDI Leudelange