2018 French Pony Championships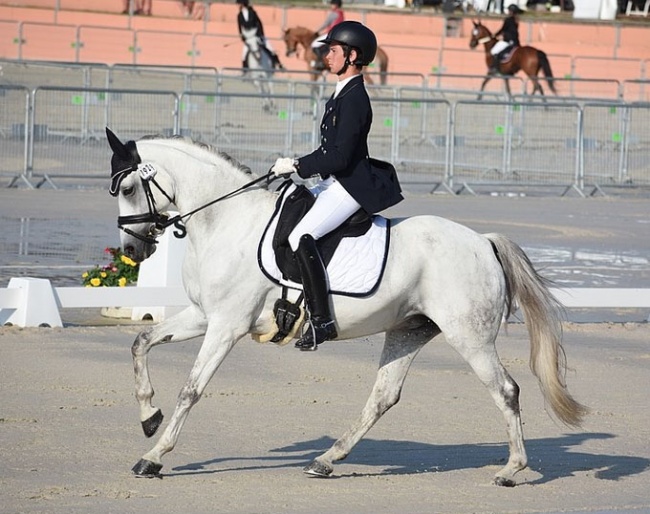 Alexandre Cheret became the brand new French champion at FEI Dressage Pony level at the 2018 French Pony Championships held annually in Lamotte-Beuvron. The 2018 French Pony Nationals concluded on 7 July 2018. 
Twelve combinations gathered in Lamotte to compete for the national title. 
Alexandre Cheret and the Belgian bred SBS registered Butterfly Dew Drop (by Florencio x Polaris Harold) claimed the highest step on the podium and the gold medal after winning both rounds. Cheret and his 11-year old grey mare scored 72.48% in the first test and 73.05% in the second test to finish on a total of 72.76%. 
The silver went to Aurore Thevenot on routinier Osbourne, a 14-year old German Riding Pony by Othello x Benetton S. Thevenot was second in the first round with 70.64% and third in the second round with 69.67%. They totaled 70.16%. 
The young partnership between Jade Leborgne and Beltmeyer Linaro (by Weltmeyer x FS Golden Highlight) was rewarded with a bronze medal at their first nationals together. Leborgne and the 7-year old pony scored 66.44% in the first round (3rd) and 70.89% in the second test (2nd) to finish on 68.67% overall.
Photo © Poney As
Results - 2018 French Pony Championships - Lamotte-Beuvron
1. Alexandre Cheret - Butterfly Dew Drop -  72,48% - 73,05% --- 72,76%
2. Aurore Thevenot - Osbourne - 70,64% - 69,67% --- 70,16%
3. Jade Leborgne - Beltmeyer Linaro - 66,44% - 70,89% --- 68,67%
4. Lou Morali - Swyn Barrade - 64,32% -  69,43% --- 66,87%
5. Astrid Antunes Millou - Bandro Hit - 66,01% - 67,68% --- 66,85%
6. Juliette Bayon - Dancing Boy AC - 66,03% - 66,42% --- 66,22%
7. Eloise Barriere - Pearcy Pearson Junior -  62,61% - 64,67% ---  63,64%
8. Charlotte Monteilhet - Dinky Toy van het Bloemenhof - 65,13%- 61,71% --- 63,42%
9. Laurick Hardy - Polhaars Daphne C -  62,65% - 60,56% --- 61,61%
10. Cassandra Massicot - Boyard Brianelle - 59,70% -  57,37% --- 58,54%
Cassandra Rouxel - Under Cover Fast - ELI - 67,80% --- /
Marine Desjardin - Domenik -  61,01% - RET ---- /
Related Links
Charlotte Palas Wins 2017 French Pony Championships
Manon Desjardins Wins 2016 French Pony Championship
Clarissa Stickland Wins 2013 French Pony Championships
Joy Albeck Renews Title at 2011 French Pony Championships
A Day at the 2011 French Pony Championships in Lamotte-Beuvron 
Joy Albeck Wins 2010 French Pony Championship