KWPN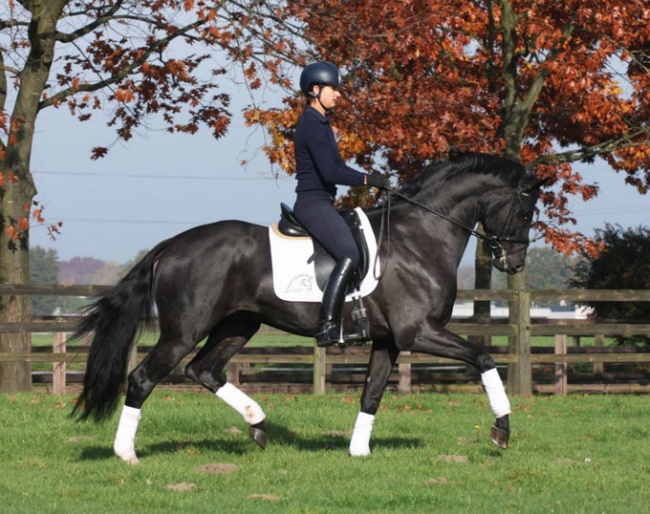 A third son of the popular Dutch warmblood breeding stallion Apache has tested positive as a carrier of the Warmblood Fragile Foal Syndrome. After Indian Rock and Jovian, Johann Hinnemann's Arango has now also been tested a carrier.
The 6-year old Rhinelander stallion Arango is by Apache out of Fia Mara (by Fidermark x Mephistopheles x Rembrandt). The same dam line also produced licensed stallions Furst Piccolo, Furst Fohlenhoff (by Fidertanz) and Brioni Pur (by Belissimo M).
The Dutch equestrian magazine De Paardenkrant published an article on 10 July in which they addressed the remarkability of Apache's negative WFFS status.
Andreas Helgstrand's Jovian, who is by Apache out of Zinith (by Tango x Fruhling), is positive, which prompted Jovian's breeder Eef ten Bosch  to have his mare band tested. Suprisingly dam Zinith tested negative! 
This can only mean that either a mistake has been made in the testing of sire Apache or dam Zinith, or a very unlikely gen-mutation took place. The owner of Apache's half sister Energy (by Special D out of Apache's dam Tolanda (by Krack C x Inspekteur) came forward on Facebook stating that her mare is positive, so Tolanda must be positive as well. 
The KWPN reacted to De Paardenkrant  that both Apache and Zinith will be retested. For the initial WFFS test, an older on-file sample of Apache was used. This means that the negative test was most likely a lab error.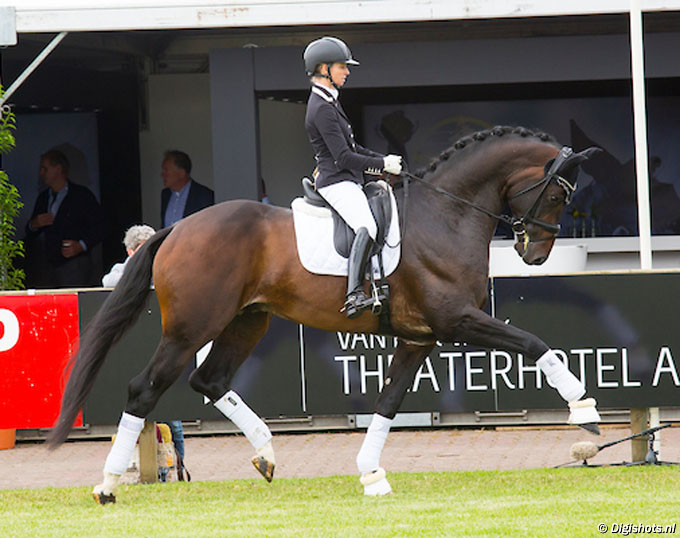 If the test proves to be wrong, the KWPN will have to review the validity of all tests done with old samples. The Dutch warmblood society, which is praised for its proactivity and modern day management, has made it mandatory for active KWPN licensed breeding stallions to be tested for WFFS. 
The powerful German studbooks, on the other hand, have turned out to be a crippled power as they merely witness how their German stallion owners deliberately refrain from  testing their stallions. Especially the owners of the big stallion stations refuse to test their stallions as they do not want to accept pontential economic consequences. Breeders are more careful to use a WFFS positive stallion. 
Ad Valk's Apache is one of Holland's most popular breeding stallions.
Photos © private - Digishots
Related Links
Jovian and For Sure Test Positive as WFFS Carriers
Seven KWPN Licensed Dressage Stallions Positive to WFFS
Two Everdale Sons Test Positive to WFFS, Dutch Stallion Owners Take Action, Germany In Denial
Everdale Confirmed WFFS Carrier, Van Olst Offers Free Testing to Its Breeders
KWPN To Test All Its Licensed Stallions for WFFS