2018 French Dressage Championships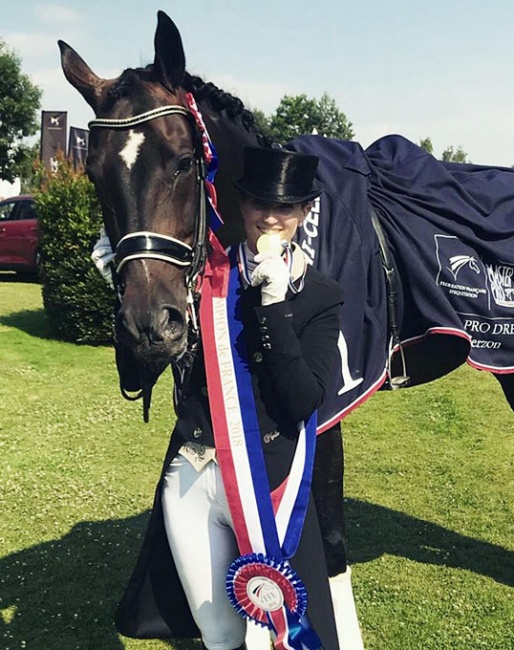 Brand new French FEI rider Morgan Barbançon Mestre exceeded her expectations and has claimed her first French Grand Prix Champion's title at the 2018 French Nationals in Vierzon on Sunday 8 July 2018. 
Morgan Barbançon Mestre switched from Spanish to French nationality in the spring of 2018 and has immediately taken a spot on the French team for several Nations' Cup legs. She has now firmly put her in the hot seat for WEG team selection after scoring the title in Vierzon.
Aboard her 12-year old Oldenburg licensed stallion Sir Donnerhall II (by Sandro Hit x Donnerhall), Barbançon showed consistency in Vierzon and finished second in Grand Prix with 71.891% and second in the Grand Prix Special with 71.553%. Her overall of 143.444 points, however, has put her on the highest step of the podium and made her the national champion.
Barbançon is stunned by her victory in Vierzon. "I didn't expect to win. I actually thought it would be impossible and I'm over the moon," she admitted to Eurodressage. Morgan added that Sir Donnerhall has been on best form. "He's been on his best behavior. The Grand Prix was my best test with him up until now. He's improved so much and is really willing and in the mood to give his best."
Barbançon has made leaps since beginning training with Alex van Silfhout and she's looking forward to more July and August competing. "I'm extremely pleased with him for the moment and I'm looking forward to the rest of the season," she said. "Next stop is Deauville. Then we will see for August."
The silver medal went to Arnaud Serre on Sylvain Massa's Lusitano cross bred Ultrablue de Massa (by Rubin Royal x Almonda Mac) with 143.405 points. The pair won the Grand Prix with 72.022% and was third in the Special with 71.383%.
The bronze medal was for the champion of 2017, Pierre Volla on his own 12-year old Dutch warmblood mare Badinda Altena (by Tolando x Goodtimes). The pair was third in the Grand Prix with 71.587% and won the Special with 71.702% to total 143.289 points. 
Eight combinations contested the Grand Prix Championship in Vierzon but quite a few prominent French combinations were absent from Vierzon, including Ludovic Henry, Marie Emilie Bretenoux, Virginie Gauthier, Anne Sophie Serre, Stephanie Brieussel, Marc Boblet, and of course Karen Tebar who hasn't been out to a CDI with Ricardo since November 2017 and with Don Luis since the 2016 Rio Olympics.
 This year France has not been invited by show director Frank Kemperman to compete at the CDIO Aachen, though, where most nations hold one of their final team selection trials for the 2018 World Equestrian Games. Instead France has been welcomed at the CDIO in Hickstead. 
Results - 2018 French Grand Prix Championships - Vierzon
1. Morgan Barbançon Mestre - Sir Donnerhall II - 71.891 % -  71.553 --- 143.444
2. Arnaud Serre - Ultrablue de Massa -   72.022 % -  71.383 --- 143.405
3. Pierre Volla - Badinda Altena -  71.587 %  - 71.702 --- 143.289
4. Alexandre Ayache - Zo What -  70.457 % -  71.000 --- 141.457
5. Bertrand Liegard - Star Wars - 69.435 % -  69.830 --- 139.265
6. Remy Issartel - Dark Pleasure -  68.891 % -  69.128 --- 138.019
7. Nicole Favereau - Ginsengue -   69.717 % -  67.043 --- 136.760
8. Maxime Collard - Cupido BB - 69.348 - 64.021 --- 133.369
Related Links
Volla Wins 2017 French Grand Prix Championships, Takes Second Consecutive Title
Karen Tebar Wins 2015 French Grand Prix Championships
Catherine Henriquet Wins 2013 French Dressage Championship
Jessica Michel Wins 2012 French Grand Prix Championships
Arnaud Serre Renews Title at 2011 French Dressage Championships
Arnaud Serre Captures 2010 French Grand Prix Title on Corellou's Helio II
Siat and Collier Win at 2009 French Dressage Championships
Marc Boblet, 2008 French Dressage Champion
Karen Tebar Wins the 2006 French Dressage Championships
Hubert Perring, 2005 French Dressage Champion
Odile van Doorn Reconquers French National Dressage Title 
Scores 2003 French Dressage Championships 
Van Doorn and Parodie van de Wateringhoeve, 2002 French Dressage Champions
Marietta Almasy, 2001 French Dressage Champion