2018 CDI Ponte de Lima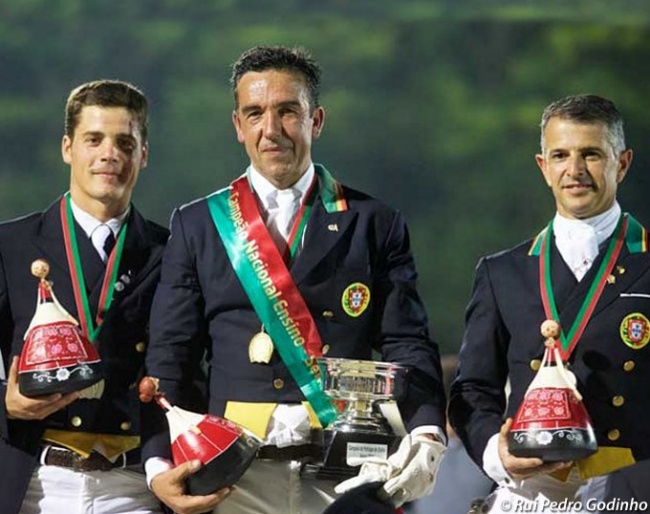 Daniel Pinto has become the 2018 Portuguese Grand Prix Champion in Ponte de Lima, Portugal, on Saturday 30 June 2018. 
The annual Portuguese Championships are traditionally held in September but this year they were pushed forward on the calendar to attract a larger crowd to Carlos Lopes' CDI in Ponte de Lima, which at the same time served as a WEG team selection and observation trial.
Eleven combinations competed in the big tour with Maria Caetano as biggest absentee as the 2017 European Championship team rider is currently based in Aachen, Germany, training with Ton de Ridder in preparation of the World Equestrian Games. The first two rounds of the Championhip - the Grand Prix and Special - were CDI classes, the Kur to Music was a national class.
Aboard Sylvain Massa's Trakehner x Lusitano crossbred Santurion de Massa (by Munchhausen), Daniel Pinto was the winner in all three rounds, scoring 71.587 in the Grand Prix, 72.298% in the Special and 77.290% in the Kur to Music. He totaled 221.175 points for the gold medal and national title.
For Pinto becoming national champion was a dream being fulfilled. "I'm very happy with this result on Santurion," said Pinto. "This is a result I tried to achieve at previous Portuguese Championships. In 2015 I got bronze, in 2016 silver and finally I have made the last step and achieved my goal, being Portuguese Champion."
The silver went to the young shooting star Vasco Mira Godinho aboard Christine Jacoberger's Lusitano licensed stallion Bariloche JGR (by Rouxinol x Hostil). The combination was a solid second in all three championship rounds, with 69.065% in the Grand Prix, 71.340% in the Special and 73.455% in the Kur to Music. He totaled 221.175 points for silver. 
Routinier Miguel Ralao Duarte steered the 15-year old Lusitano bred Xenofonte d'Atela (by Hostil x Cryptogamico) to bronze. The grey was initially competed at international GP level by Salvador Pessanha in 2015, but in 2016 Ralao took over the ride.  The pair now reached the third step of the podium after a rather unusual course of action to achieve his national championship scores. With Xenofonte he finished 10th in the CDI Grand Prix with 65,891%% in the Grand Prix. He then opted to keep his second big tour horse Disturbio in the CDI tour, so dropped Xenofonte to national level and got 69.638% in the national Grand Prix Special (3rd)  and then finished third in the Grand Prix Kur to Music with all the other riders on a score of 72.985% for his freestyle. He totaled 208,514 points.
Photo © Rui Pedro Godinho
Related Links
Scores 2018 CDI Ponte de Lima
Monteiro, Lopes, Meneres, Caetano Win 2017 Portuguese Dressage Championships
Bartz, Meneres, Castelo, Caetano, Godinho, Cancio, Carvalho Win 2016 Portuguese Championships
Goncalo Carvalho Wins 2015 Portuguese Grand Prix Championships
Maria Caetano Wins 2014 Portuguese Dressage Championships
Castelo and Ralao Duarte Win 2014 Portuguese Junior and Young Riders Championships
Maria Caetano Crowned 2013 Portuguese Grand Prix Champion
Goncalo Carvalho Wins 2012 Portuguese Dressage Championships
Maria Caetano, 2008 Portuguese Grand Prix Dressage Champion
Miguel Ralão Duarte, 2007 Portuguese Dressage Champion