2018 Swiss Dressage Championships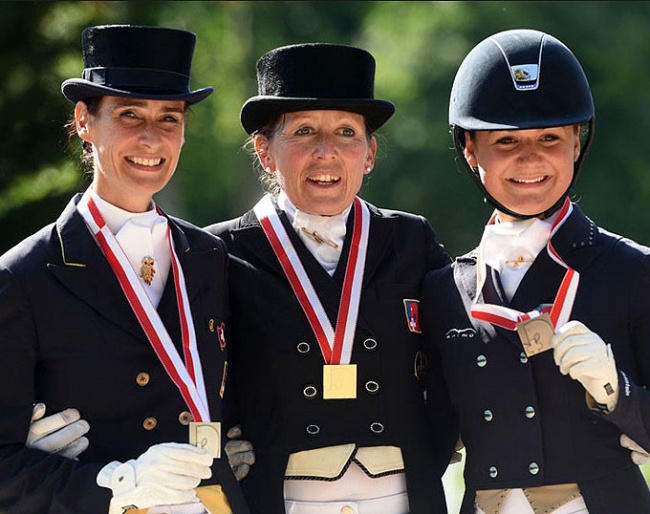 Pony rider Robynne Graf, junior rider Léonie Guerra, young rider Ramona Schmid, and Grand Prix rider Anna-Mengia Aerne-Caliezi became the grand champions of the 2018 Swiss Dressage Championships, which were held in Prangins, Switzerland, on 29 June - 1 July 2018. 
In the Grand Prix division Anna-Mengia Aerne-Caliezi claimed top honour and renewed the title, which she had already earned twice before in her career, in 2014 and 2015. Aboard her 17-year old Raffaelo va Bene (by Royal Diamond), Aerne-Caliezi produced two top rounds, scoring 74.81% in the Grand Prix and 76.80% in the freestyle to earn the title, champion's sash and the honour of mounting the highest step of the podium.  
Young star Estelle Wettstein grabbed silver aboard her second Grand Prix horse Friedrich der Grosse in her first year as a senior Grand Prix rider despite having the opportunity to still ride in the Under 25 division. 
Birgit Wientzek-Plage and the Livanos family's Robinvale (by ) scored bronze. 
Biggest absentees at the nationals were title defender Marcela Krinke-Susmelj and A-squad rider Antonella Joannou. Both their horses have been recovering from injuries and are behind on training schedule. 
Results Youth Riders Divisions
Pony Riders
Gold: Robynne Graf, - Dallas IV (223.45 pts)
Silver: Tallulah Lynn Nater, - White Love B (213.79 pts)
Bronze: Renée Stadler - Dolce Vita IV (212.69 pts)
Junior Riders
Gold: Léonie Guerra - Atnon (221.38 pts)
Silver: Carl-Lennart Korsch - Dias Desperados (214.02 pts)
Bronze: Meilin Ngovan - Dream of Night Fluswiss CH (213.10 pts)
Young Riders
Gold: Ramona Schmid, - Honeur (212.39 pts)
Silver: Naomi Winnewisser -  Daily Romance (209.29 pts)
Bronze: Lars Bürgler -  Remember Passion (204.81 pts)
Photo © Sepiphot.com
Related Links
Scheufele, Guerra, Rogerson, Suter, Krinke Susmelj Win 2017 Swiss Dressage Championships
Scheufele, Guerra, Winnewisser, Suter, Krinke Win 2016 Swiss Dressage Championships
Neuhauser, 2015 Swiss U25 Champion, Wettstein Stripped Of Title After Positive Doping Test
Korsch, Winnewisser, Wettstein, Aerne-Caliezi Win 2015 Swiss Dressage Championships
Winnewisser, Wettstein, Neuhauser, Aerne-Caliezi Win 2014 Swiss Dressage Championships
Huet, Winnewisser, Wettstein and Krinke-Susmelj Win at 2013 Swiss Dressage Championships
Wettstein, Lehmann, Krinke-Susmelj Win 2012 Swiss Dressage Championships
Surprise, Surprise: Markus Graf is the 2011 Swiss Dressage Champion
Corinth Did It Again at the 2010 Swiss Dressage Championships
Veronika Marthaler, 2007 Swiss Dressage Champion
Widmer, Reutimann and Wettstein, 2006 Swiss Dressage Championships