2018 World Young Horse Championships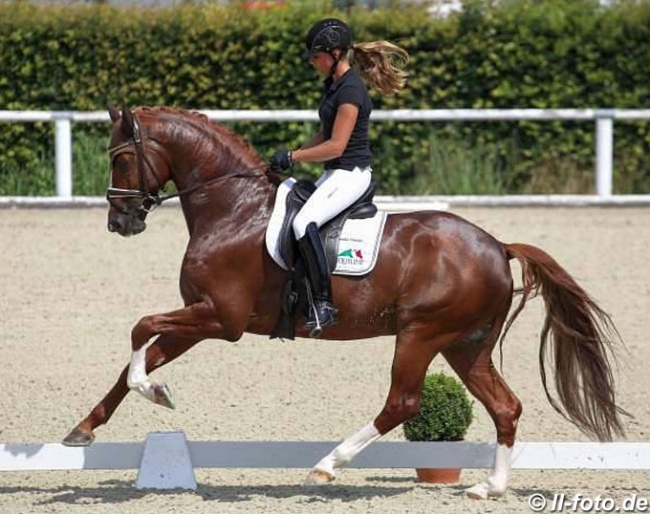 The German equestrian federation selectors have made their pick in horses that are allowed to move to the second and final round for German team selection for the 2018 World Young Horse Championships in Ermelo, The Netherlands, on 2 - 5 August 2018.
The German federation held its first selection trial at the DOKR headquarters in Warendorf on 19 - 20 June.
The 7-year olds went first on 19 June with a free training followed by riding the preliminary test in front of the selectors. The 5 and 6-year olds were assessed on 20 June. 
Striking absentees at the first selection trial were both World Champions of 2017: Don Martillo and Lordswood Dancing Diamond. 
Selected for the second and final WCYH trial on 3 July 2018 are:
5-year olds
Bonds, Oldenburger stallion by Benicio – Sir Donnerhall I (Beatrice Buchwald)
Candy OLD, Oldenburger mare by Sir Donnerhall I – Fürst Heinrich (Eva Möller)
Danubio OLD, Oldenburger gelding  by Dante Weltino – Laudabilis (Sandra Kötter)
Destacado, Hanoverian stallion by Desperados – Londonderry (Matthias Alexander Rath)
Devonport, Hanoverian stallion by Dancier – Ravallo (Rieke Schnieder)
Dimitroff MT, Hanoverian stallion by Dimaggio – Brentano II (Laura Strobel)
Drama Queen, Westfalian mare by Deveraux – Louis le Bon (Sabrina Geßmann)
For Emotion, Oldenburger stallion by Foundation – Sandro Hit (Kenneth Damgaard/DEN)
Revolution, Westfalian stallion by Rocky Lee – Rouletto (Andreas Helgstrand/DEN)
Rock'n Roll Boy, Westfalian stallion by Rock Forever I – Sir Donnerhall I (Nuno Castro Silva Palma Santos/POR)
Thiago, Oldenburger stallion by Totilas – Warkant (Eva Möller)
Zucchero, Oldenburger stallion by Zonik – Prince Thatch xx (Frederic Wandres)
Zum Glück, Oldenburger stallion by Zonik – Florestan I (Robin van Lierop/NED)
6-year olds
Bonita Springs, Rhinelander mare by Boston – Fidertanz (Kira Wulferding)
D'Avie, Hanoverian stallion by Don Juan de Hus – Londonderry (Severo Jesus Jurado Lopez/ESP)
Ferrari OLD, Oldenburger stallion by Foundation – Hotline (Andreas Helgstrand/DEN)
Fiesta Danza OLD, Oldenburger mare  by Fürstenball – Weltmeyer (Bianca Nowag)
Flying Dancer OLD, Oldenburger gelding by Fürst Romancier – Sir Donnerhall I (Dorothee Schneider)
Fuerst William OLD, Oldenburger stallion by Fürst Wilhelm – Lord Sinclair I (Beatrice Buchwald)
HBS Backround, Westfalian stallion by Boston – Florencio I (Ann-Christin Wienkamp)
Matchball OLD, Oldenburger gelding by Millennium – De Niro (Stefanie Wolf)
Riptide, Westfalian stallion by Rock Forever I – Show Star (Kira Ripphoff)
Sisters Act OLD vom Rosencarre, Oldenburger mare by Sandro Hit – Royal Diamond (Dorothee Schneider)
Villeneuve, Rhinelander stallion by Vitalis – Dancier (Laura Strobel)
7-year olds
Brianna, Westfalian mare by Bvlgari – Rohdiamant (Reiterin: Kira Wulferding)
Elfenkönig, Hanoverian gelding by Edward - Amerigo Vespucci xx (Alexandra Bimschas)
Flora, Hanoverian mare by Floriscount – Hohenstein (Ann-Christin Wienkamp)
Fürsten-Look, Hanoverian stallion by Fürstenball – Londonderry (Isabel Freese)
Hanami, Oldenburger mare by Dante Weltino – His Highness (Sandra Nuxoll)
Nymphenburg's First Ampere, Hanoverian stallion by Ampere – Weltruhm (Lukas Fischer), 
SilberStern, Rhinelander gelding by Silbermond – Raphael (Annabel Frenzen)
Sir Max, Hanoverian gelding by St. Moritz Junior – Del Piero (Alexandra Sessler)
Strellson, Hanoverian stallion by San Amour – Weltmeyer (Vera Nass)
Related Links
Participants for First 2018 German WCYH Selection Trial Announced
Eurodressage Coverage of the 2018 World Young Horse Championships