2018 World Young Horse Championships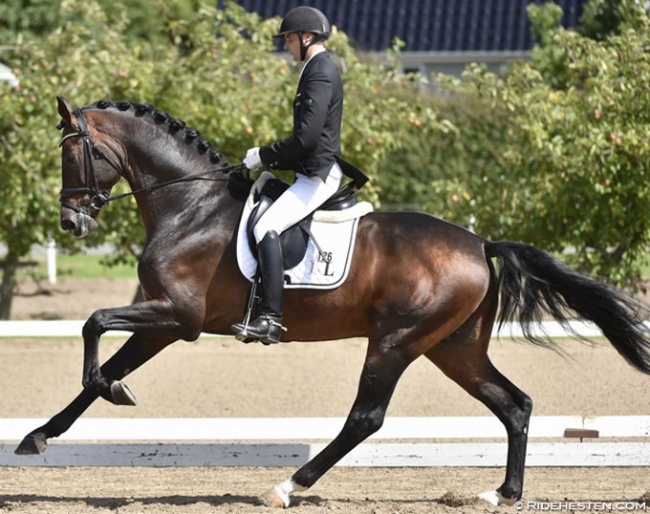 The German Equestrian Federation has released the names of the horse-and-rider combinations which have been entered to participate in the first of two German team selection trials for 2018 World Young Horse Championships in Ermelo in August. 
The German federation hosts two team observation and selection trials in Warendorf. The first is a three-day session on 18 - 20 June 2018 and the second is a one-day trial on 3 July. 
Several horses are prominent absentees from the list, including Don Martillo (the 2017 World Champion in the 5-year old division) as well as Lordswood Dancing Diamond (the 2017 World Champion in the 6-year old division).
Also Bundeschampion Dominy was supposed to be entered, but his Swedish rider Therese Nilshagen has been called to compete on the Swedish Nations Cup team at the CDIO Rotterdam.  This event is a Swedish team selection trial for the 2018 World Equestrian Games and Nilshagen is a strong team candidate with Dante Weltino. Rotterdam and Warendorf overlap on the same days.
Competing in Warendorf in the German selection trial are:
5-year olds
Kirsten Brouwer - Don Clorentino des Paluds
Bernadette Brune - Feel Free
Beatrice Buchwald -  Bonds
Kenneth Damgaard - Florentina, For Emotion
Juan de Dios Ramirez - Quarlito von Nymphenburg
Janine Drissen - Bob Marley
Sabrina Gessmann - Drama Queen
Jan-Dirk Gießelmann - Hudson
Andreas Helgstrand - Revolution
Geertje Hesse-Wadenspanner - Quaterline T
Severo Jurado Lopez - Foundator
Lisa Marie Koch und Akuna Matata CH
Sandra Kötter - Danubio
Carola Koppelmann - Farewell's Fritz
Robin van Lierop - Zum Glück
Hendrik Lochthowe - First Lady W
Catherine Mayer - Tocanto
Eva Möller - Candy, Thiago
Silke Ottenjann - For Deluxe
Nuno Palma e Santos - Rock'n Roll Boy
Matthias Alexander Rath - Destacado
Shereena Satzer - Scofield
Heiner Schiergen - Flawless Diamond, Semias
Rieke Schnieder - For Dance, Devonport
Charlott-Maria Schürmann - Florenz
Lars Schulze Sutthoff - Rock Revolution
Laura Strobel - Dimitroff MT
David Taylor - MDM Zodiac
Johanna Wadenspanner - Alouette
Frederic Wandres - Schokoprinz, Zucchero
Nicole Wego - Harrods, Sogno D'Amore
Lisa Wernitznig - Be My Hero, Dow Jones
Ann-Christin Wienkamp - Finley
6-year olds
Alexandra Bimschas - Bon Amour
Beatrice Buchwald - Fürst William
Javier Higuera Carmona - Fulvius
Carl Cyupers - Cafe's Casimir
Anna-Sophie Fiebelkorn - Le Vivaldi
Isabel Freese - Top Gear
Dr. Katja Galmbacher - Scarosso, Boss Hoss
Andreas Helgstrand - Ferrari
Marcus Hermes - Cinnemon FH
Nadine Husenbeth - Faviola
Severo Jurado Lopez - D'Avie
Charlotte Corinna Koeppen - Feiner Frosch
Ralf Kornprobst - Quietschbunt, Happy Day G
Susanne Krohn - Titolas
Lars Ligus - Dr. Sambuco
Maike Mende - First Class
Mareike Mimberg - DeeJay
Bianca Nowag - Fiesta Danza
Leonie Richter - Quality Quinzy
Kira Ripphoff - Riptide
Claudia Rüscher - Rockford Dreams
Dorothee Schneider - Sisters Act , Flying Dancer
Laura Strobel - Villeneuve
Pia-Katharina Voigtländer - Renegade S
Ann-Christin Wienkamp - Donna Bella, HBS Backround
Stefanie Wolf - Matchball
Kira Wulferding - Bonita Springs
7-year olds
Alexandra Bimschas - Elfenkönig
Dr. Ilka Boening - Vodka Absolut
Borja Carrascosa - Waitoni
Antonia von Dungern - Queen Rubin
Lukas Fischer - First Ampere
Isabel Freese - Fürsten-Look
Annabel Frenzen - SilberStern
Uta Gräf - Feriado
Geertje Hesse-Wadenspanner - Doctor Davidson
Emma Kanerva - Greek Air
Ilona Kress - Echt Stark
Vera Nass - Strellson
Sandra Nuxoll - Hanami
Laura-Katharina Pauli - Daraja
Juliette Piotrowski - Duke Rubin
Alexandra Sessler - Sir Max
Lena Stegemann - Rocco Granata
Kathrin Sudhölter - Sweet Hero
Ann-Christin Wienkamp - Flora
Kira Wulferding - Brianna
Photo © Ridehesten
Related Link
Eurodressage Coverage of the 2018 World Young Horse Championships