Hofauktion Borgmann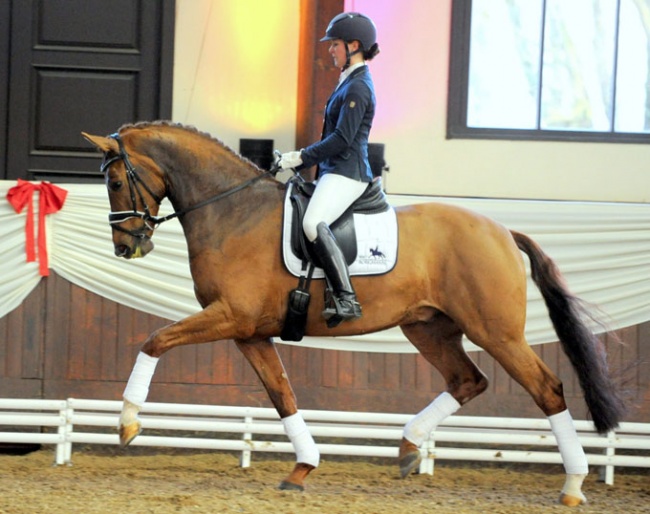 The 5-year old Westfalian bred Discover became the price highlight of the 2018 Hofauction Borgmann held on 16 June 2018. 
Hosted every three years at Stephan Borgmann's family yard in Ostbevern, Germany, the Borgmann auction featured a nice selection of home bred and/trained youngsters from proven bloodlines.
At the 2018 edition, the talented chestnut Discover (by Don Frederic x Ferragamo) was the top seller. The Swiss Flora Keller acquired the gelding for 390,000 euro and will move to Jessica and Benjamin Werndl's yard in Aubenhausen, Germany, for training. 
The second most expensive horse was the 3-year old stallion Triple Crown (by Triple X x Ferragamo) who sold for 160,000 euro. 
The 5-year old Dresscode (by Dankeschön x Florestan) fetched 150,000 euro and the 4-year old Braveaux (by Bordeaux x Florestan) moves to a new yard in Germany for 130,000 euro.
The 3-year old Eurovision (by Equitaris x Real Diamond) sold for 120,000 euro and will relocate to stallion station Rüscher-Konermann. The same price was paid for the 6-year old Veneciano (by Vivaldi x Insterburg).
Luxembourg clients paid 90,000 euro for the 3-year old Fallen in Love (by Fashion Maker x Bretton Woods). At the auction they were flanked by Finnish Grand Prix rider Terhi Stegars.
The 2018 collection included 28 horses of which one was a foal. One horse dropped out and four were not sold. The majority of the horses stay in Germany.
Related Links
The Wait is Finally Over: Hof Borgmann Auction on 16 June 2018
AC/DC, Top Seller of the 2015 Hofauktion Borgmann