Canada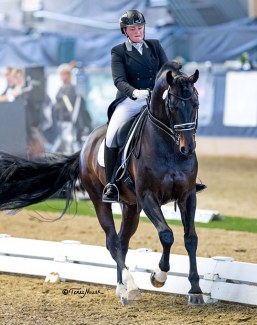 The Hanoverian, KWPN and Swedish warmblood licensed stallion Connaisseur (by Con Amore x Donnerhall) has tested positive as a carrier of Warmblood Fragile Foal Syndrome (WFFS). 
The 11-year old Canadian owned stallion made his international small tour level debut under owner Sara Pocock at the 2018 CDI-W Del Mar on 1 - 4 February 2018.
Before moving to Canada, Connaisseur stood up for stud in The Netherlands and Sweden. He has sired numerous successful offspring in the show ring. Dinja van Liere and Haute Couture finished 10th in the Finals at the 2017 World Young horse Championships and won the 2017 Pavo Cup Finals. Alice Tarjan's Dutch warmblood bred stallion Harvest (by Connaisseur x Ulft x Able Albert xx) became the winner of the inaugural North American Stallion Sport Test in 2017. In Sweden numerous talented Connaisseur youngsters are surfacing, including Zinzano (Malin Rinné), Chloé (Lotta Jerhammer), and Clynelish VH (Cecilia Kristoffersen). 
 Connaisseur has now tested positive to the WFFS gene.
"We believe the best way to proceed is to take a proactive approach and request that all mares be tested before being bred," said Pocock. "KWPN, along with a handful of other stud books, are now requiring that all stallions be tested which, in my opinion, is not only a positive step forward but also, the best way to manage this and prevent the very unlikely chance of having an affected foal. Please keep in mind, there is no risk to the foal unless both parents are carriers.
"As a breeder and mare owner, I have already started testing our mares and plan to test all of them to be able to make educated stallion choices in the future," said Sara. "As this issue has just become more relevant, please educate yourselves and understand that testing for this defect was not commonly practiced until very recently. Of course, we were not expecting this result for Connaisseur, but know we are taking all necessary precautions to ensure he continues to contribute to performance horse breeding in North America."
Photo © Terri Miller
Related Links
Look Who's Back: Connaisseur
Connaisseur's KWPN Offspring Inspection Cancelled
Connaisseur and Cover Story Approved by the KWPN Society
Verden Wild Card Requested for Connaisseur