2018 World Young Horse Championships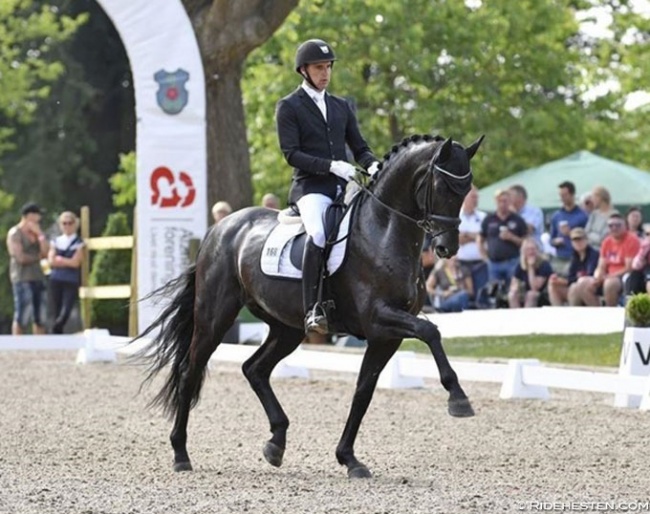 The Danish Equestrian Federation, Danish Warmblood Society and Danish Trakehner Society have hosted their first selection trial for the team nomination for the 2018 World Young Horse Championships in Ermelo, The Netherlands, on 2 - 5 August 2018.
Instead of working with a series of training and observation trials, this year Denmark worked with a competition format. Candidates for a team spot had to compete in the young horse classes at the 2018 Danish Dressage Championships in Broholm on 8 - 10 June 2018, where the selectors picked the best from the lot. 
The youngsters had to perform the preliminary and finals test and were judged by Dennis Fisker, Gunilla Nyman Faurby and Birthe Lyder Nielsen.
Twenty-four horses in three age divisions have been selected and are invited to the final WCYH team selection trial to be held in Vilhemsborg on 26 June 2018, where they had to ride the Finals test once more.
Selected for Vilhelmsborg are:
5-year olds
Kenneth Damgaard -  Straight Horse Sezuanna (by Blue Hors Zack x Blue Hors Don Schufro)
Anne Troensegaard -  Delizia  (by Furstenball x De Noir)
Selina Vittinghus -  Atterupgaards Delorean (by Bon Bravour x Sandro Hit) 
Susanne Barnow -  Sienna (by Sezuan x  Stedinger)
Andreas Helgstrand - Zhaplin Langholt (by Zonik  x Stedinger)
Simone Pearce -  Lindballe's Just Perfect (by Johnson x  De Niro)
Victoria Vallentin - Straight Horse Ascenzione (by Blue Hors Zack x Blue Hors Don Schufro)
Pernille Sigsgaard - Møgelvang Ferrari (by Sezuan x Come Back II)
6-year olds:
Jan Moller Christensen -  Hesselhøj Donkey Boy (by ERA Dancing Hit x Milan)
Kenneth Damgaard -  Stenagers Wyatt Earp (by Wilkens x Sandro Hit)
Anna Kromann -  Baunehøjens Detroit (by Blue Hors Don Olymbrio x Florencio)
Severo Jurado Lopez -  Atterupgaards Botticelli (by Bennetton Dream x Caprimond)
Maria Kristensen -  Brianna (by Bøgegårdens Boney M x Blue Hors Romancier)
Susanne Barnow - Hevringholms Delaya (by ERA Dancing Hit x Blue Hors Hertug)
Michala Damm-Frydenberg - Zippo M.I. (by Blue Hors Zack x Blue Hors Don Schufro)
Jan Moller Christensen - Vichy Pax (by Vivaldi x White Magic)
7-year olds:
Carina Cassøe Krüth -  Heiline's Danciera (by Fürstenball x De Niro)
Anette Jørgensen -  Amour Kilen (by Apache x Come Back II)
Michael Søgaard - Jukebox (by Jazz x Rubinstein)
Maria Anita Andersen -  Thybo's Laban (by L'Espoir x Michellino)
Jacob Norby Sørensen - Ellegaardens San Droneur (by San Amour x De Noir)
Andreas Larsen -  Springborgs Dunkelball (by Fürstenball x De Niro)
Jim Rasmussen -  Polka Hit Sensation Nexen (by Sandro Hit x Temple Wind xx)
Carina Cassøe Krüth - Red Diamant (by Blue Hors Romanov  x Dream of Heidelberg)
Photo © Ridehesten
Related Link
Eurodressage Coverage of the 2018 World Young Horse Championships