2018 World Young Horse Championships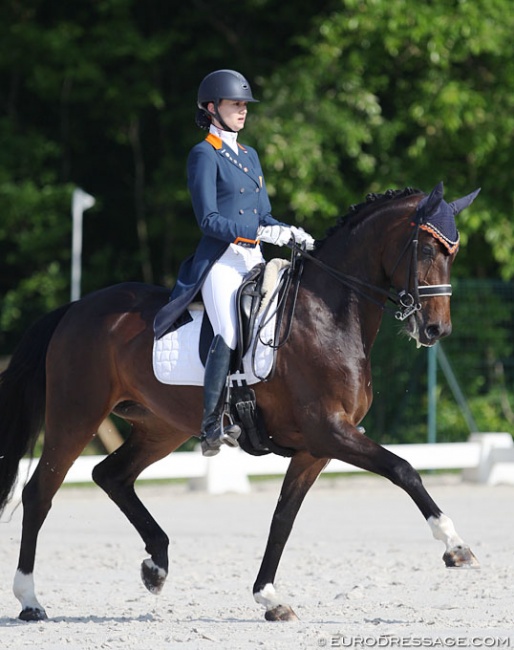 The Dutch Equestrian Federation has released the list of horses that will participate in the fourth and final Dutch selection trial for team selection for the 2018 World Young Horse Championships in Ermelo, The Netherlands, on 2 - 5 August 2018. 
The third selection trial took place on 6 June 2018 and the fourth will be held on 28 June 2018.
Selectors Bert Rutten, Rien van der Schaft and Monique Peutz assessed the combinations during the third selection day held at equestrian centre Van den Hoorn in Kootwijk, The Netherlands, and shortened the list of candidates even further.
Six combinations will not be going forward to the final trial. The drop outs are Diederik van Silfhout with Paul Schockemohle's German licensed stallion Furst Jazz (by Furst Romancier), as well as Vai Bruntink on Irabel (by Charmeur). Both horses were pulled out of the running by the owners. In the 7-year old division Dana van Lierop and Gunner KS (by Belissimo M) have dropped out, as well as Floor Van Kempen on Geronimo (by Bordeaux), Kirsten Brouwer on Ghandi (by Bojengel), and Jonna Schelstraete  on Grand-charmeur (by Apache).
Qualified for the final trial are:
5-year olds
Bart Veeze - Imagine (by Dream Bo) and Imposantos (by Wynton)
Emma Laarkamp - Inferno (by Everdale) 
Emmelie Scholtens - Indian Rock (by Apache) 
Femke De Laat - Intro K (by Apache) 
Jos Hogendoorn-  Icerole DVB (by Desperados) 
Joyce Lenaerts - Iconic B (by Bing) 
Juliane Brunkhorst - Ibiza (by Desperado) 
Krista Kolijn - Ivy (by Lord Leatherdale) 
Laura Reija - Imagine (by Chippendale) 
Renate Van Vliet - In Style (by Eye Catcher) 
Yessin Rahmouni - Impress Taonga (by Vitalis)
6-year olds
Adelinde Cornelissen - Henkie (by Alexandro P)
Diederik Van Silfhout - Habana libre (by Zizi Top)
Dinja Van Liere - Hartsuijker (by Johnson), Hermès (by Easy Game), and Haute Couture (by Connaisseur)
Emmelie Scholtens - Hero (by Apache) 
Esmee Janssen - Hummer (by Andretti) 
Esmee Van Gijtenbeek - Hot chocolate (by Apache)
Lars Op 't Hoog - Handretti (by Andretti)
Mara De Vries - Habibi DVB (by Don Schufro) 
Quinty Vossers - Hummer (by Charmeur)
7-year olds
Adelinde Cornelissen - Governor (by Totilas) and Goodman rwp (by Jazz)
Franka Loos - Giovanni (by Chippendale) and Crosby (by Chippendale)
Jeanine Nieuwenhuis - Genua TC (by Charmeur) 
Jennifer Sekreve - Gamante d (by Contango) 
Joyce Heuitink - Gaudi vita (by Apache) 
Lotje Schoots - Grace of Rose (by Jazz) 
Stephanie De Frel - Gladiator (by Totilas)
Thalia Rockx - Gerda Nova de La Fazenda (by Romanov) and Golden Dancer de La Fazenda (by Bretton Woods)
Photo © Astrid Appels
Related Link
Eurodressage Coverage of the 2018 World Young Horse Championships