2018 Asian Games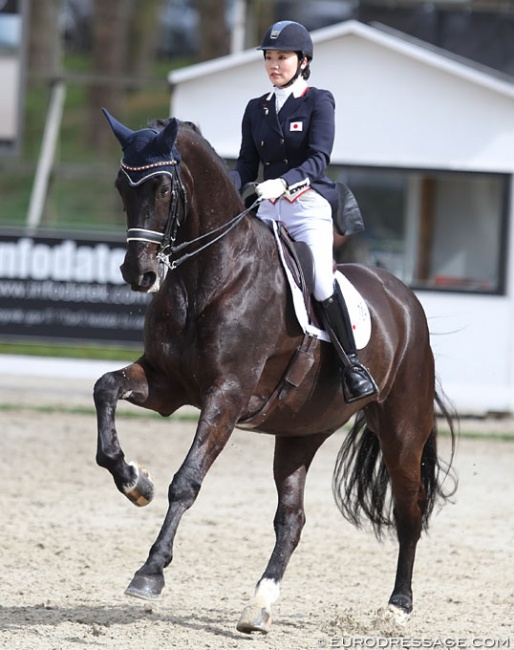 Akane Kuroki and her 18-year old Dutch warmblood Toots became the winners of the Japanese selection trial for team nomination for the 2018 Asian Games which will be held in Jakarta, Indonesia, in September 2018. 
The Japanese Equestrian Federation hosted two selection trials as its riders are spread out over Europe and Japan. The first trial took place at Hof Kasselmann in Hagen on 22 - 23 May 2018. The second trial was hosted in Japan on 28 - 29 May 2018. 
Five riders contested the European trial in Hagen: Akane Kuroki (Toots), Kazuki Sado (Djuice), Shinsuke Terui (Alias Max), Yoshie Ota (Boolya PB), and Ryunosuke Kuruoda (Bellatre DES).  Ten combinations competed in the trials in Japan: Masanao Takahashi (Fabriano), Toshiya Kawabata (Ramses der II and Haddington), Naoko Hieda (Fantastico and Don Luka), Shingo Hayashi (Zarino), Yasushi Shimizu (Winnetou DDH),  Satosjo Maeda (Edwardecrus) and Ryuma Hieda (First Lady).
The judges, both in Hagen and Japan, were Freddy Leyman, Susanne Baarup, Carlos Lopes, Clive Halsall and Jean-Michel Roudier. 
Akane Kuroki dropped her 2016 Olympic Rio ride Toots (by Jazz x OO Seven) down to small tour level to finish the horse's career with an Asian Games' start. She was the overall high scorer with 72.029% in the Prix St Georges and 70.941% in the Intermediaire I. Kuroki's stable mate at Bartels Academy in Hooge Mierde, The Netherlands, Kazuki Sado, rode the 10-year old KWPN bred Djuice (by Jazz) to a second overall place with 70.147% and 70.323%. Shinsuke Terui and the 11-year old Holsteiner bred Alias Max (by Aljano x Lorentin) was the third best scorer with 68.941% and 70.000. The highest scoring rider in Japan was Masanao Takahashi, who dropped his 2016 Rio ride Fabriano, also down to small tour level. He finished fourth overall with 69.000 and 68.117%. 
The actual Japanese team for the 2018 Asian Games will be announced by 7 June 2018.
Results - Japanese Asian Games 2018 Selection Trial - Overall Ranking
1. Akane Kuroki - Toots - 72.029% - 70.941% --- 71.485
2. Kazuki Sado - Djuice  - 70.147% - 70.323% --- 70.235
3. Shinsuke Terui - Alias Max - 68.941% - 70.000% --- 69.471
4. Masanao Takahashi - Fabriano - 69.000 - 68.117% --- 68.559
5. Yoshie Ota - Boolya PB - 66.794 - 67.176 --- 66.985
6. Naoko Hieda - Fantastico - 66.176 - 67.147 --- 66.662
7. Toshiya Kawabata - Ramser der II - 66.823 - 65.264 --- 66.044
8. Ryunosuke Kuroda - Bellatre DES - 65.705 - 65.647 --- 65.676
9. Naoko Hieda - Don Luka - 64.411 - 65.647 --- 65.029
10. Toshiya Kawabata - Haddington KHR - 64.588 - 65.352 --- 64.970
11. Shingo Hayashi - Zarino - 64.470 - 64.941 --- 64.706
12. Yasushi Shimizu - Winnetou DDH - 64.441 - 63.911 --- 64.176
13. Yasushi Shimizu - Soraya van het Trichelhof - 64.117 - 63.794 --- 63.956
14. Ryuma Hieda - First Lady - 61.558 - 64.882 --- 63.220
15. Satoshi Maeda - Edwardecrus - 61.888 - 62.411 --- 62.150
Related Links
Japan's Long List with 2018 Asian Games Team Candidates
HRH Princess Siri Aims for 2018 Asian Games with New Horses Franchise and Lord Lichtenstein
Asian Games Champion Young Shik Hwang to Ride Despino