Japan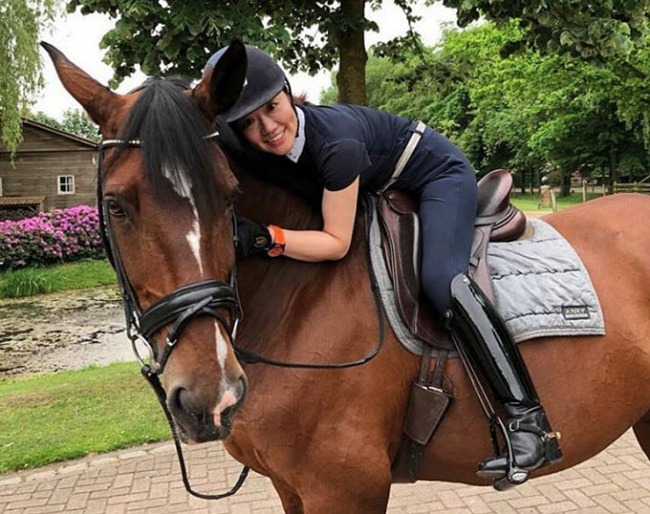 Tragedy has struck for Japanese Olympic rider Akane Kuroki. One month after acquiring the Lusitano mare Batuta as her 2020 Tokyo hopeful, she was forced to have the mare euthanized because of a fatal colic attack.
On the evening of Saturday 26 May Batuta developed a colic and was immediately transported to the equine clinic, where laparotomy surgery was performed.
"It was then discovered that a lipoma had developed in the large intestine and had caused necrosis of the colon. As the prognosis was dismal, Batuta was put to sleep. It was an excruciating decision for me to make," said a devastated Kuroki. "Our partnership came to an abrupt ending after only a month."
The 12-year old Lusitano mare Batuta (by Quixote x Icaro) was bred by Sociedade Quinta das Terras.
She was initially owned by Coudelaria Herdade das Figueiras and sold to the Portuguese's company International Sport Horse Investment (ISHI) in 2014. Gonçalo Carvalho took over the ride from Jose Antonia Garcia Mena and they represented Portugal at the 2015 European Championships and won the 2016 Portuguese Championships with her.
In the spring of 2017 Batuta almost sold to Japan as a ride for Kazuki Sado, but issues arose and the deal fell through. ISHI put the horse with Spanish Sergio Martin Palos. 
In April 2018 Kuroki purchased Batuta. She was the last Japanese team potential rider to invest in a new horse for the 2020 Tokyo Games. 
"She was the most amazing horse I had ever met," said Akane. "I am so sad that I have lost. So sad that I can not show how special she was to anyone anymore. Loosing her has also put a direct stop on my biggest dream ever, going to Tokyo Olympics. I don't know how to continue from here. It is a too big incident to overcome by myself."
Related Links
Batuta Sold to Akane Kuraki
Lusitano Grand Prix Mare Batuta Potentially Sold to Japan
Dujardin's Barolo Sold to Japan
Goncalo Carvalho's Batuta Tested Positive to Controlled Medication
Goncalo Carvalho Gets Ride on Batuta 
Jose Antonio Garcia Mena Loses Ride on Dragao Figueiras