Danish Warmblood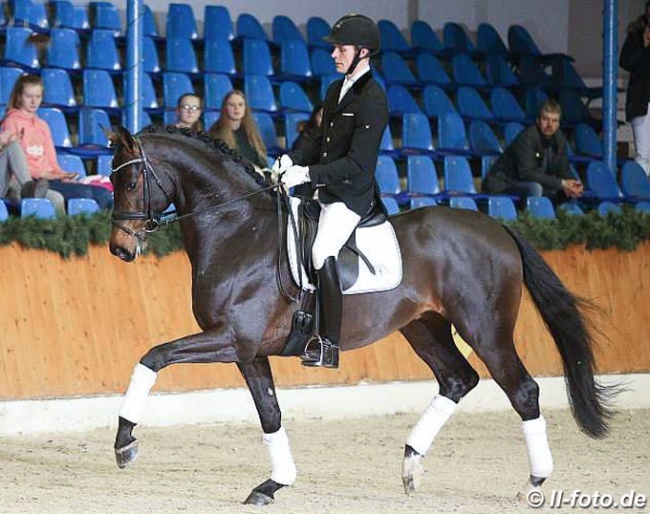 Danish stallion station Blue Hors Stud in Randbol, Denmark, has taken an exemplary position as breeding market leader in Denmark by testing its stallions for Warmblood Fragile Foal Syndrome (WFFS). Three stallions on their roster have returned positive as carrier of WFFS. Their breeding career has been put on hold for the moment. 
Blue Hors Londoner (by Londontime x Danone I x Sandro Hit), Blue Hors Veneziano (by Vivaldi x Donnerhall x Pik Bube I) and Blue Hors Emilio (by Escolar x Lauries Crusador xx x Hohenstein) have tested positive as carriers of WFFS. 
"In light of this we have decided to take these three stallions temporarily out of the breeding programme and in future will test our stallions for the WFFS gene before being inserted into our breeding program," said Esben Möller, who is Blue Hors stud's breeding director. "When three of our ten stallions test positive, the gene must be much more widespread than it has been aware of so far. We have made the decision to provisionally stop breeding with these three stallions."
Their other active stallions - Blue Hors Zackerey, Blue Hors Don Olymbrio, Blue Hors Farrell, Blue Hors Fifty Cent, Blue Hors Zack, Blue Hors Rockefeller, and Blue Hors St. Schufro - all tested negative. 
"We only tested the 10 stallions which we have for the fresh semen insemination," Esben told Eurodressage. "Don Schufro we didn't test because he hardly has any mares."
Blue Hors Veneziano already has four crops of foals on the ground, Emilio one and Londoner only recently got approved in the winter of 2017.
"For the future we recommend breeders to test their mares before putting them in foal," said Blue Hors veterinarian Jesper Møller Nielsen, adding that no breeders have reported foals with defects from these three carrier stallions. However Nielsen recommends to have their offspring tested.
WFFS foals exhibit extreme skin fragility, especially at the joints. The disease cannot be treated or cured and is invariably fatal, typically soon after birth.  Since WFFS is an autosomal recessive trait, a foal can only be affected when it inherits the recessive gene from both parents. A single copy of the gene can be "carried" through many generations without WFFS being expressed.
Photo © LL-foto
Related Links
Kareen Heineking-Schütte: "Two Cents About Warmblood Fragile Foal Syndrome"
KWPN To Test All Its Licensed Stallions for WFFS
Two Everdale Sons Test Positive to WFFS, Dutch Stallion Owners Take Action, Germany In Denial
Everdale Confirmed WFFS Carrier, Van Olst Offers Free Testing to Its Breeders
U.S. Breeders and Stallion Owners on Alert for Warmblood Fragile Foal Syndrome