2018 Preis der Besten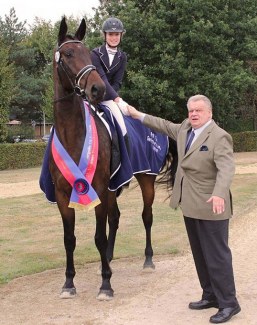 The German Equestrian Federation has announced the long list of riders who are invited to participate in three team selection trials for the 2018 European Children Championships this summer.
Fifteen combinations have been invited to participate following a 3-day training seminar with Hans-Heinrich Meyer zu Strohen in Warendorf at the beginning of May. Thirty-one riders from all over the country participated in this seminar.
"We saw many kids with good seats and effective aids and they rode with much feeling and overview," said Caroline Roost, who is the pony and children's youth selector for the DOKR. "The level was clearly better" than at the pilot training sessions last year in spring in preparation of the Children Nations' Cup at the 2017 CDIO-PJYR Hagen.
Roost added that the training seminar in Warendorf was very insightful and that the development of the riders differed much in the children's category, with really small children round the ages of 12 and already more mature, taller young girls aged 14. "All of them were on the same level though: they were on the ball with enthusiasm," Roost added. 
During the training session, the coach looked at how fast the kids were able to process tips and tricks. They also met with sport psychologist Gaby Bussmann and there was a vet check of the horses. 
Fifteen combinations have been invited to participate in the children's competition as team selection trial for the 2018 European Children Championships in Fontainebleau, France (10 - 15 July). The qualifiers are held at the 2018 CDI Wiesbaden (17 - 21 May), the Preis der Besten (25 - 27 May) and at the CDIO-CH Hagen (12 - 17 June).
The fifteen combinations are:
Shona Benner - Fräulein Sonnenschein
Jona Bomberg - Sinatra M
Linn Bretfeld - Hajanika
Isabelle Dülffer -  Ben Kingsley
Alina Hahn - Riana
Philippa Hodes -  Barolo
Marie Holtfreter - Desert Inn
Anabel Huther - Fürst Fidell
Tanja Kiesewetter - His little son
Lina Krüger - Desmond Tutu
Antonia Müller -  Wilandra
Olivia Schmitz Morkramer  - Tropensonne
Mette Schön - Weisel
Kenya Schwierking - Dinos Boy
Lisa Steisslinger - Havanna Negra
The reserve riders are: Hanna Schmidt (Solaia), Charleen Blome (Hannes U.J.), and Verena Freudenhammer (Status Son Shido).
The European Children's Championships have been taking place since 2015, but it will be the first time that Germany participates in them this year.
Related Links
Germany To Include Children's Dressage as of 2018
Germany Not Fielding Team to 2016 European Children's Championships
Team German Wins Children's Nations' Cup at 2016 CDIO-PJYR Hagen
German Team Selected for First 2016 CDIO Children Nations' Cup in Hagen
Holland To Consider Team for 2017 European Children's Championships