Germany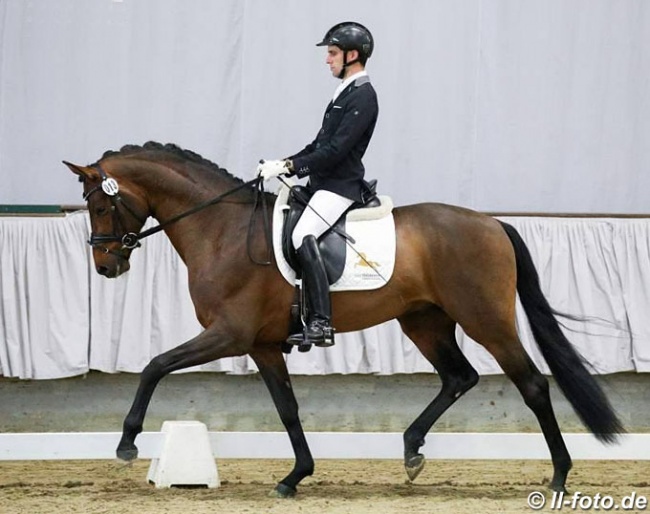 The 4-year old D'Alessandro and the 5-year old Caracciola MT became the high scoring stallions in the 2018 Stallion Sport Test held in Munster-Handorf on 24 - 26 April 2018. The Munter testing was an interesting one with many young colts failing to achieve the minimum or being pulled out for soundness issues.
Seven stallions participated in the 4-year old group and two of them dropped out after they showed up unsound and one failed the test (by scoring below the minimum of 7.5). D'Alessandro (by Don Frederic x Stedinger) was the high scorer with 7.75 points. Bred by Ludwig Fischer, he received 8 for trot, 7.8 for canter, 7.5 for walk, 7.7 for rideability and 7.8 for general impression. Best Secret (by Belantis x Brandenburger) was the runner-up with 7.66 points. He got 8.5 for trot and canter, a low 5.5 for the walk, 7.9 for rideability and 7.9 for general impression. 
In the 5-year old group, the jumper bred Caracciola MT (by Chin Champ x Calido x Literat) was the top scorer with 8.39 points. Sissy Max-Theurer's stallion got 7.4 for trot, 9 for canter, 7.8 for walk, 9 for rideability and 8.5 for general impression. Paul Schockemohle and Joop van Uytert's KWPN bred Furst Jazz (by Furst Romancier) was the second highest scorer with 8.27 points. The chestnut, who was originally named Inverness P, received 8.5 for trot, 8.3 for canter, 8 for walk, 8.2 for rideability and 8.5 for general impression. Gestut Sprehe's De Niro Gold (by De Niro) scored a totl of 8.04 points. 
Failed Despite Active Breeding and Foals on the Ground
The Munster sport test was quite interesting, as  quite a few stallions, which have already been actively breeding and with first foals on the ground did not pass the testing and are in principle not eligible to breed. 
The 4-year old Quando Unico (by Quantensprung x Fidertanz) failed the testing again for the third time. The Sprehe and Moritzburg state owned stallion was bought at the 2016 Hanoverian Licensing for 280,000 euro but has been struggling to pass the testing. In 2017 he did not score high enough and in 2018 he failed twice. 
The same counts for Kerstin Klieber's Sensation (by Sir Heinrich) who has now thrice failed the test, even though he already has a big amount of foals on the ground this year. In 2017 Sensation was withdrawn from the 14-day test in Adelheidsdorf and pulled out of the 50-day test in Adelheidsdorf after day 48 due to soundness issues.  Sensation breeders are now in a pickle as they will not get full papers for their offspring.
Klaus Plönzke's Crimetime GT (by Chambretto GT) also ended the sport test as he was lame.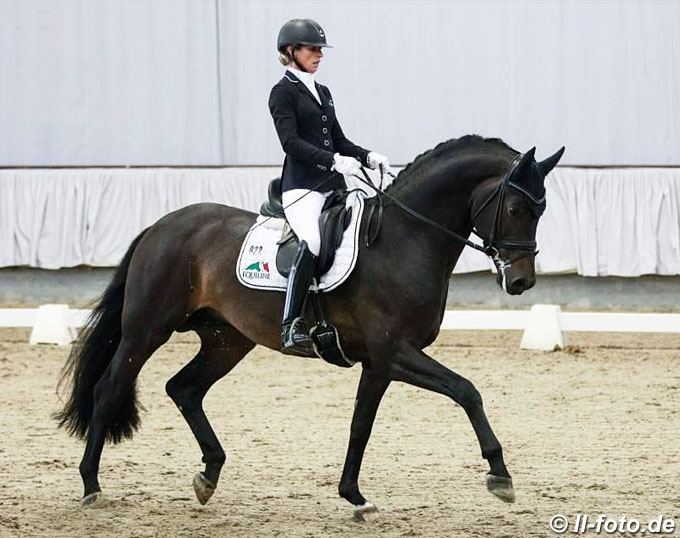 Two 5-year old stallions ended the test prematurely for soundness issues: Marbach state stud's Lemercier (by Lemberger) and Eckhard Wahler's Martinez (by Millennium x Laurentio). Three other stallions failed the test: Schockemohle' Feinrich (by Furst Heinrich) with 7.17, the Trakekhner Fellini (by Berlusconi x Grafenstolz) with 7.14 and Gestut Peterhof's Sam (by Sezuan) with 6.59 points. 
Photos © LL-foto
Related Links
Jovian and For Final, High Scorers at the 2018 Stallion Sport Test in Verden
Daytona and Da Costa, High Scorers at 2018 Munich Stallion Sport Test
Zoom and Duracao, High Scorers at Second 2018 Munster Stallion Sport Test
Dante Quando and Bonds, High Scorers at 2018 Stallion Sport Test in Munster