U.S.A.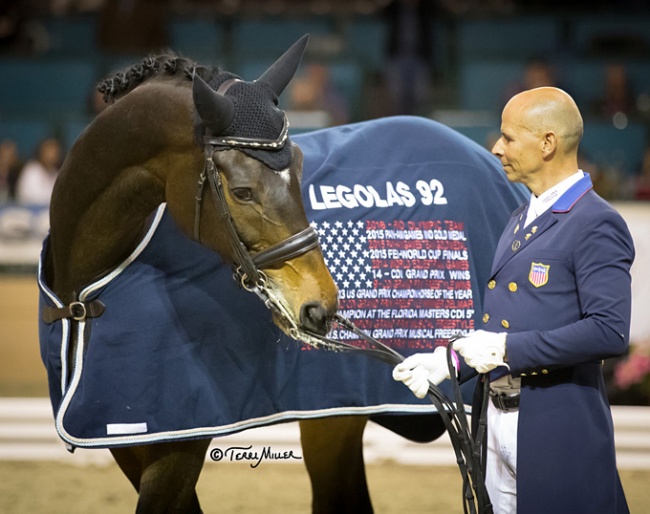 American Rio Olympic team horse Legolas has been retired from competition sport in a special ceremony held on Saturday evening 28 April 2018 during the CDI-W Del Mar. 
The Westfalian gelding Legolas (by Laomedon x Florestan II) is 16 years old.
For his retirement, a tribute video was shown (see embedded video), followed by Steffen riding Legolas to their freestyle music. The ceremony ended with the traditional, public unsaddling. Legolas then got a special cooler and wreath of roses around his neck. 
"His wonderful owner, Akiko Yamazaki, read a lovely poem about what Legolas meant to her and her family," U.S. Team Trainer Robert Dover explained. "The best was left to the very end when Shannon Peters drove into the arena with the 4-wheeler which every horse Steffen rides knows all too well. The minute he saw it, Legolas went from slightly nervous to downright thrilled as he pulled Steffen over to the back of the vehicle where his treat box sat next to his home arena every day of his life so that he could immediately go to open the lid himself and get his treats. The love between Steffen and all his horses, Legolas included, was totally self-evident in that moment to the hundreds of people cheering for this great horse in his final exit from the international stage."
Akiko Yamazaki and her husband Jerry Yang, founders of the internet company Yahoo, acquired Legolas as a 9-year old at Hof Kasselmann in Germany, as the successor for Ravel.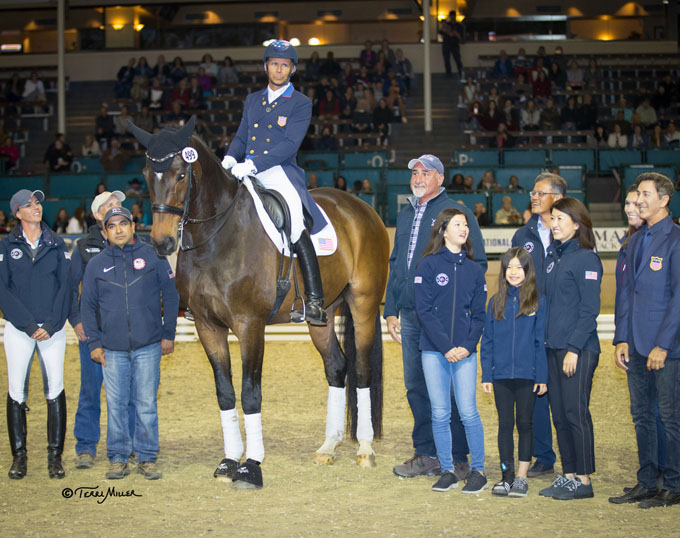 Steffen and Legolas made their CDI debut in Burbank in February 2012 and won the Grand Prix and Special straight away. Between 2013 and 2016 Peters and Legolas were a fixed member of the U.S. dressage team. They were 10th in the Kur at the 2014 World Equestrian Games in Caen, they rode at the 2015 World Cup Finals in Las Vegas but unfortunately got eliminated in the Kur for some blood after placing third in the Grand Prix. They won team and indivdual gold at 2015 Pan American Games in Toronto and placed 12th at the 2016 Olympic Games in Rio de Janeiro. He was named US Grand Prix Horse of the Year in 2013, 2014, 2015 and 2016.
In 2017 Legolas became a schoolmaster for Peters' assistant trainer Dawn White-'O Connor. She rode him in CDI's in Wellington and California. They were rung out at the CDIO Rotterdam though, but returned a month later at the CDI Cappeln where they were 5th in the Kur. Dawn and Legolas competed at three California CDI's in 2018, their last being in February in Del Mar.
Legolas has now been retirement in a special ceremony. He will continue on as a sport horse but no longer compete at international top level.
Photos © Terri Miller
Related Links
Legolas: "He Has More Than Done His Share of Work"
White-O'Connor Rides Legolas to Pair's First Grand Prix Victories at 2017 CDI San Juan Capistrano
Dawn White-O' Connor Takes Over Ride on Legolas
Steffen Peters Wins 2015 Pan American Games Individual Gold
Legolas Named 2016 USDF Grand Prix Horse of the Year
Legolas, 2015 USDF Grand Prix Horse of the Year
Legolas, 2014 USDF Grand Prix Horse of the Year
Legolas, 2013 USDF Grand Prix Horse of the Year
Double Whammy for Peters and Legolas at 2012 CDI-W Burbank
Steffen Peters Does the Double 80% at 2012 CDN Thermal
Legolas, New Grand Prix Ride for Steffen Peters