U.S.A.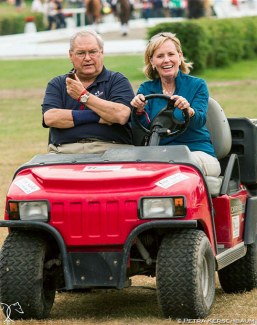 Louise Leatherdale, owner of Leatherdale farms in Minnesota and of German team horse Damsey, has acquired Thomas and Signe Kirk Kristiansen's Wellington farm for a reported $5.9 million.
Thomas Kirk Kristiansen is son of Kjell Kirk Kristiansen, owner of Lego toys and the family are avid horse lovers. Thomas' sister Agnete is member of the Danish Grand Prix team, while his wife Signe is a Grand Prix dressage rider.  Thomas and Signe purchased the U.S. WEG short listed team horse Her Highness O in 2015.
Their property on Garden Point Trail in Wellington was built in 2006 and the Kristiansens bought the 5-acre estate in 2014 for $5.4 million.
In December 2017 Signe and Thomas decided to stop their business "Kirk Arabians" in Denmark. They started their business of rearing and training dressage Arabians in 2007 and they will close their activities in the spring of 2018. Their most successful horse was Zonyx ox, which they bought in 2010.  At the time it was announced that the couple has decided to spend more time in other areas. Thomas will be more involved in the family business (LEGO). The Kirk Arabians' yard in Denmark will be taken over by Stutteri ASK, the show jumping division of Blue Hors Stud (which is owned by the Kirk Kristiansen family).
Louise Leatherdale is owner of licensed stallion Damsey, who is being competed by Helen Langehanenberg. She also sponsors Canadian Diane Creech and runs her own breeding farm in Minnesota. She also stands licensed stallions Herzensdieb, First Dance, Fairbanks, Hampton, and Beltano. She and her late husband Doug discovered His Highness at the 2002 Hanoverian Stallion Licensing, where they purchased him for the then record price of 515,000 euro.
Photo © Petra Kerschbaum
Related Links
Louise Leatherdale Named 2016 USDF Breeder of the Year
Doug Leatherdale Passed Away
Leatherdale Moves Four Stallions to the U.S.A.
Doug Leatherdale, 2006 Dressage Canada Owner of the Year
Hanoverian Stallion His Highness Put Down
Signe Kirk Kristiansen Wins Piaffe Performance Adult Amateur Achievement Award
Caroline Roffman's Her Highness O Sold to Denmark
What's Happening: December 2017 - Part 2