2018 World Cup Finals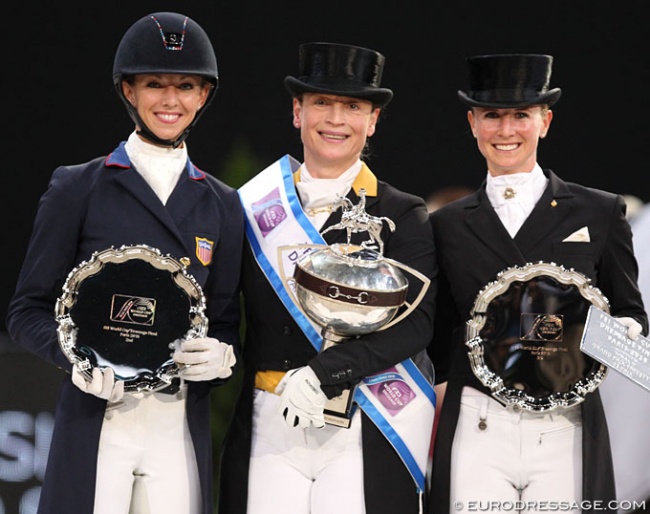 German power duo Isabell Werth restored balance in their dressage world by winning the 2018 World Cup Finals in Paris, France, on Saturday 14 April 2018. Werth's fourth World Cup title demanded total concentration as she had American sweetheart Laura Graves on Verdades biting at her heels, more fiercely than ever before.
Werth's winning streak on Christine Arns-Krogman's 13-year old Oldenburg mare Weihegold (by Don Schufro x Sandro Hit) was awe-inspiring. Unbeaten at the 2017 World Cup Finals and 2017 European Championships and ever single CDI she has competed in this year, Werth so far has only felt serious heat from one rider: American Laura Graves, who was able to topple her from the top spot in the 2017 CDIO Aachen Grand Prix Special, and yesterday once more in the Grand Prix at the 2018 World Cup Finals. 
The Game Is On
However, Werth thrives and excels on pressure and her insatiable appetite for victory can be read from her face. Today in the Grand Prix Kur to Music, which determines the winner of the 2018 World Cup Finals, Werth entered the arena with her game face on. She has an idiosyncratic expression which can not be missed and which means only one thing: business. Her eyes are on tunnel focus, her lips are taut with one corner of her mouth higher than the other, and her experience and routine carry her through the test like no other rider. Werth is unique and she proves that over and over again, no matter the quality of her horse. 
All riders in the 2018 World Cup Finals rode much better today, which made the competition an exciting one, but Werth and Weihegold were undoubtedly on form and the deserved winners of the class.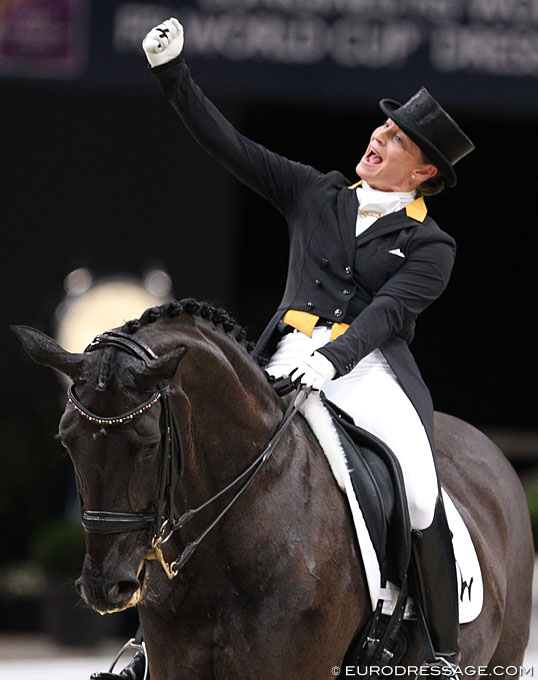 Riding her 2016 Rio Olympic freestyle "Tanze Samba mit mir", Werth began with top class, bouncy passage work, a very nice first piaffe which showed the improvement the mare has made in the piaffe overall (more on the hindlegs). The left half pass could have been more elastic. The passage half passes floated, the extended walk had two hooves overstep and good relaxation, the collected walk was ok. The canter half passes were correct and Werth took a lot of risk in the extended canters (almost too much as the quality of the canter reduced), the double pirouettes were small. She rode a ton of one tempi changes on the bent line; they were a bit short and lacked ground cover but no mistakes were made. In the final piaffe pirouette Isabell looked at the audience and gave a glance of approval, as if she seemed to confirm that for her balance had been restored. She invited the crowds to jubilate with her. After her salute it was not the "I am number one" finger in the air like she did last year in Omaha, but it was a strong, pumping fist that proved her confidence in an excellent ride. 
The panel of judges for the kur included Evi Eisenhardt (GER), Irina Maknami (RUS), Francis Verbeek (NED), Isabelle Judet, Susanne Baarup (DEN), Maribel Alonso (MEX), and Janet Foy (USA), and all but one were in unison about Werth's number on spot on the leader board. They awarded the test 90.657% and their individual marks ranged from 88.225 (Judet) to 91.825 (Alonso). 
This was fourth's World Cup title in her career, a back to back one on Weihegold (2017 - 2018) and two more on Fabienne (1992) and Warum Nicht FRH (2007). The rider was thrilled with her achievement.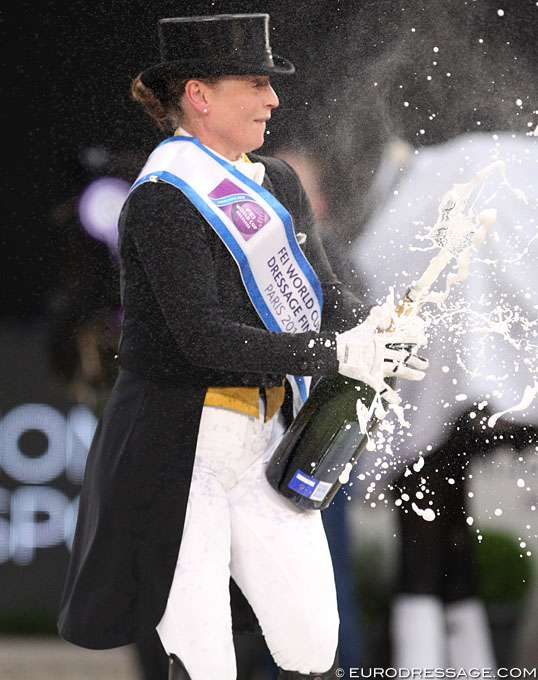 "Merci for Weihe," she said at the press conference. "It was a fantastic performance of us, Weihe was really focused, with me. It was one of her best freestyles! She went forwards, backwards, piaffe, passage, whatever I asked from her she did." Werth visually seems to thrive on pressure, which she acknowledged. "Of course it's motivating. It's always a pleasure to have a tough, close battle."
When asked what her battle strategy was coming in to the freestyle, Werth explained that she sat down with team trainer Monica Theodescu. "We decided to bring Weihe forward again, to make her free again, so we went into the big warm up. A lot of people think it's easy, you win and you win again, but it's not like that. You have to think about it all the time and keep listening to your horse. Yesterday was not our day, but today we could solve it. And this is what I really like to do, and that's the reason why I love to compete!"
"To have experience is an advantage if you use it in the right way, and I think we did that from yesterday to today," she said. "After a lot of years in the sport you know how many things can happen, how things can change very quickly. It gives you the confidence to go in the ring and to try your best - you know what your horse can do and you know what you can do. This was just a great day today," Werth smirked at the end of the press conference.
Graves and Verdades Second Second in World Cup Finals
For American pair Laura Graves and her 16-year old Dutch warmblood Verdades (by Florett As x Goya) the chance of becoming the third ever American to win a world cup title (after Debbie McDonald in 2003 and Steffen Peters in 2009) was within reach, and the pair certainly delivered in the Accor Arena in Paris.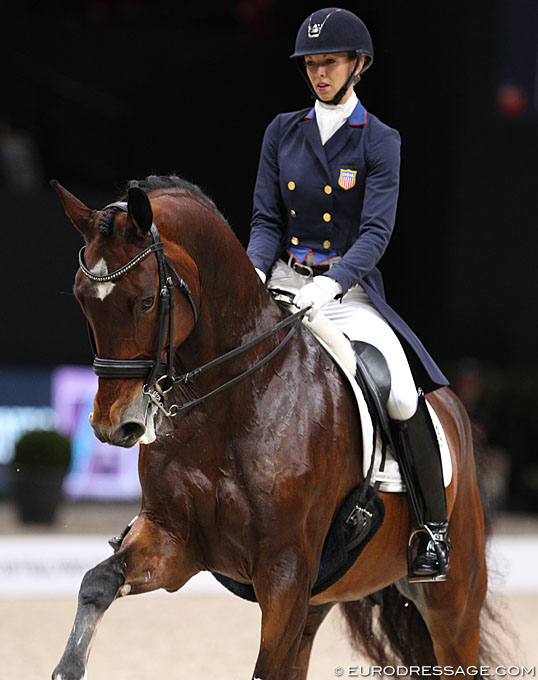 Verdades is such an amiable, gentle giant. A powerful mover with an affable temperament, the Westfalian x Gelderlander cross bred KWPN gelding looked far less hectic today in the electric atmosphere of this big indoor stadium. The trot half passes were beautiful, but in the passage half passes the bay got slightly stuck in the rhythm. The trot and canter extensions were huge, the passage was much more controlled and well carried. In the extended walk, there was plenty of overtrack but Verdades hardly stretched the nose out. The canter half passes were sweeping, the tempi changes outstanding. There was a little hiccup in the flow of a left double pirouette and the horse changed behind in a right double pirouette at G. Verdades is always light and soft in the contact (though could stretch a bit more to the bit). The piaffe was still insecure and hurried, with the horse electrically picking up the legs but not swinging in suspension on the diagonals. Also in the final, difficult piaffe pirouette, Verdades swayed in the hindquarters, swinging the hindlegs out from under the body. Still, it was a more than beautiful ride, far better than the Grand Prix, and the epic, filmic music, which reminds of a modern day Western, suited the pair. 
The combination scored 89.082% to finish second. Her marks ranged from 87.075 (Alonso) to 90.550 (Foy). Graves is in her fourth year competing internationally and has already become a runner-up twice at two, consecutive World Cup Finals. 
"I spent a lot of time studying even before I made it to Grand Prix, riders like Isabell," Graves explained about her stellar rise on the international show circuit. "I keep myself in that position every day. You need a top horse that wants to learn and allows us to learn. Without it it would be impossible."
Laura tweaked the floorplan of her freestyle to increase the degree of difficulty. "We are in a disadvantage in Florida as we are not using the DOD (freestyle judging system) there. This freestyle I put together round Christmas. It's the same music. I try to be very competitive, so it got to be very difficult and technical. Today we were second, but with a personal best."
Graves will be Werth's hottest rival, most likely alongside Sönke Rothenberger and Cosmo, at the 2018 World Equestrian Games in Tryon (USA) in September. "I never practice my Freestyle as much as my other tests," Graves stated, "so I think now I have a bit of homework to do and I think there are many more points to be earned in the future", she said, clearly marking Werth's card for the next time they meet.
Von Bredow-Werndl and Unee BB, Third Time Third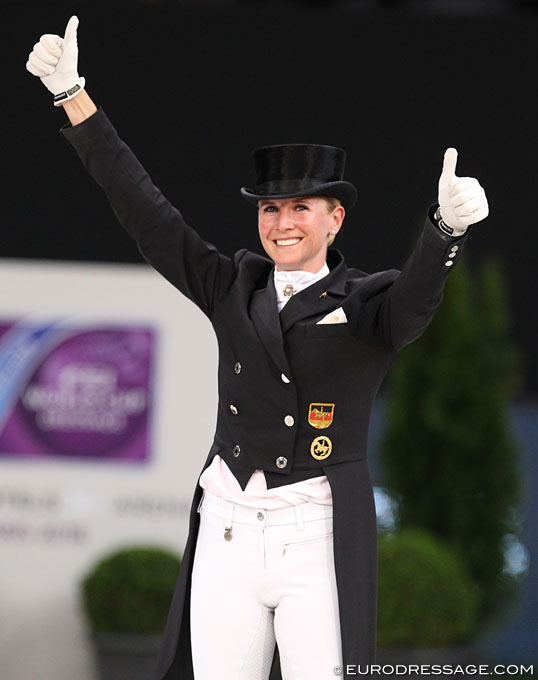 German duo Jessica von Bredow-Werndl and the Swiss owned 17-year old Dutch warmblood stallion Unee BB (by Gribaldi x Dageraad) achieved their third World Cup finish in their career (2015, 2016, 2018). 
Riding her Martin Luther King "I have a dream" freestyle, Von Bredow-Werndl had Beatrice Burchler-Keller's stallion on form today. She began her kur with a technically very difficult canter tour, with lots of double pirouettes, extensions, and tempi changes. The piaffe was the best the horse had shown in Paris, despite a few back-stepping moments, and in the passage the horse was regular. On several occasions, Jessica gave the horse the reins to make sure he would not get tight in the throat latch as he especially tends to drop behind the vertical in the trot extensions. Only in the final piaffe-fan the horse lost a bit of steam.  They finished on 83.725% with marks going from 81.350 (Foy) to 86.500 (Eisenhardt).
"It was extremely motivating to ride after Laura and Isabell. I could only ride my very best. I am so proud of Unee BB," said an emotional Werndl who confirmed that this would be Unee's last World Cup campaign. "He's my partner in crime and he did his very best freestyle today."
Deja and Sammy Davis Jr Complete Top Five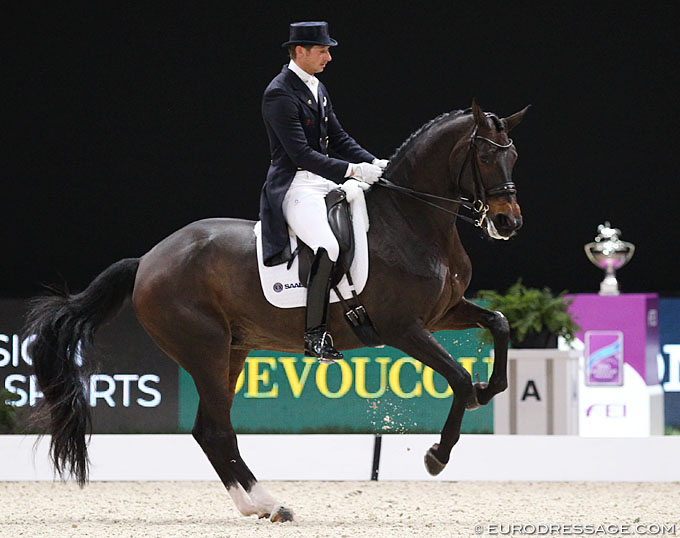 Swedish Patrik Kittel and Marie Haward's 14-year old Swedish mare Deja (by Silvano x Don Schufro) peaked today as the combination danced to the very pleasing funky, motown tunes, including the ballad "Isn't She Lovely". Deja was very obedient and tried her heart out, also in her most difficult movement: the piaffe. The passage was bouncy, and there was a very good dynamic and rhythm in the trot work. Also the extended walk was lovely in overstep and relaxation. Some of the canter work appearzs a bit more laboured and hectic, especially the tempi changes, but the mare made no major mistakes. They finished with a very elegant, final passage and posted 83.146% on the board. 
Dorothee Schneider and Sammy Davis Jr did not have an ideal start to their freestyle. The music system hung up as soon as she lifted her hand to let her music roll. It took a couple of minutes for the people in the sound room to solve the problem. Schneider's Tango freestyle is very appealing, with a modern touch. Probably five riders today had current and uplifting music, while the majority of the field seems stuck to a format of freestyle music used in the 1990s and 2000s. Yawn! 
Matthias Herbert's 12-year old Sammy Davis Jr (by San Remo x Wenckstern) lacked a bit of elasticity in the left half pass, but the right one was better. The passage was very lightfooted and there was good ground cover in the trot extensions. Schneider always had the refined horse soft and chewing on the bit. The extended walk was ok in overtrack, but the rhythm was mediocre. In the collected walk he just got very short. There was a small hiccup in a right double pirouette. The left pirouettes were better even though Sammy Davis Jr is almost counter bent in them. The final piaffe fan had good rhythm. They finished on 81.843% with marks going from 79.275% (Judet) to a whopping 86.150% (Eisenhardt). 
Further Down the Line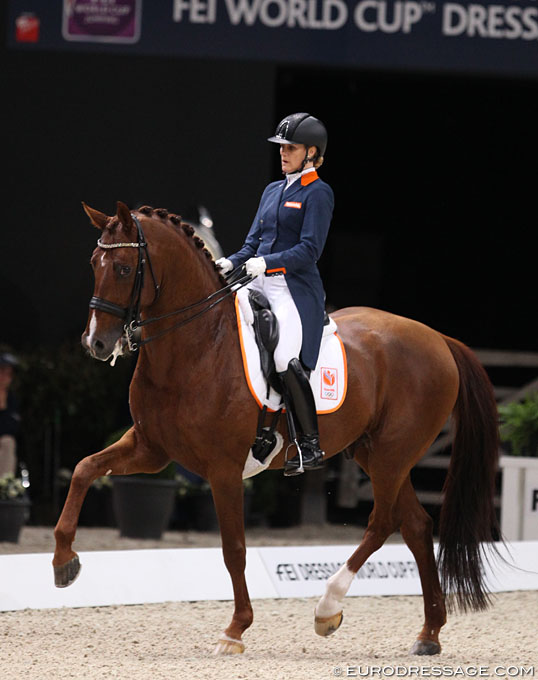 The best Dutch pair of the day was Madeleine Witte-Vrees on her husband and J Cuppens' 11-year old KWPN stallion Cennin (by Vivaldi x Donnerhall). Cennin used to struggle with the piaffe, dropping on the forehand a lot, but in Paris he showed considerable improvement, which explains the score hike. The walk, trot and canter extensions are impeccable, the left trot half pass was hurried. Witte-Vrees made no major mistakes, but the total image would improve if the rider would be more quiet and subtle with her half halts so the contact with the bit can get more elastic. Today they scored 81.336% to place sixth. 
Danish Daniel Bachmann Andersen rode the 14-year old KWPN stallion Blue Hors Zack (by Rousseau x Jazz) with much energy, always forward thinking. The passage was engaged, the piaffe had a good rhythm, and the two tempi changes were big. Overall the horse was bent a bit too much to the right and the transitions between movements, as well as the straightness, need more polishing.
Edward Gal had his foot on the throttle today aboard Gaston Glock's 10-year old Danish warmblood stallion Zonik (by Zack x Romanov). The trot extensions were excellent, the half passes scopey, and the extended walk was very nice. In the canter half passes the black stallion dropped behind the vertical and one left double pirouette was unbalanced. In the two tempi changes the horse swung in the hindquarters, but the ones were straighter. The majority of the piaffes were executed on the track for support. They finished their first World Cup Final in 8th place with 79.654%. Gal's individual marks ranged from 74.500 (Eisenhardt) to 82.850 (Judet)!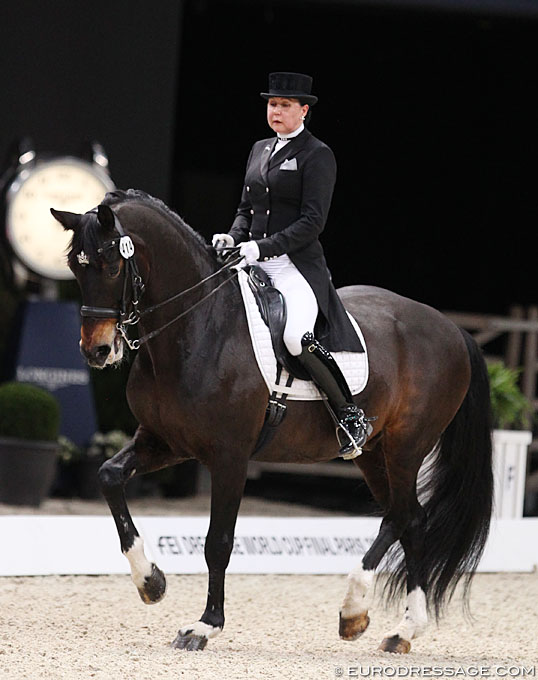 Russian Inessa Merkulva and her 14-year old Russian Trakehner Mister X (by Egeus) had the crowds putting their hands together in her first piaffe. The bay gelding is a piaffe-passage wonder and with the clapping of the audience, he performed them with metronome perfection. Merkulova has shown quite some improvement in the saddle this past winter and her efforts are rewarded. She finished 9th with 79.139%. 
Spanish Morgan Barbançon Mestre and her 12-year old Oldenburg stallion Sir Donnerhall II (by Sandro Hit x Donnerhall) completed the top 10. The long legged stallion was very obedient and showed sweeping half passes and a wonderful extended walk. Overall the straightness in the body needs to improve as the stallion often tilted the head. They scored 76.207%
Text and Photos © Astrid Appels - No Reproduction Allowed - Contact us if you are interested in obtaining photos for websites, social media and prints!
Related Links
Scores 2018 World Cup Finals
Eurodressage Coverage of the 2017-2018 World Cup Finals and Qualifiers