Health Care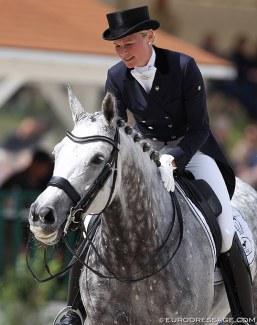 For Swedish Grand Prix A-team rider Anna Blomgren-Rogers there is no doubt about that the natural feed supplement Equine 74 Gastric has become a fixed supplement in her feeding routine for long term ulcer management, which keeps her horses in peak condition. 
Her husband, Australian dressage rider and natural horsemanship trainer Will Rogers, was first introduced to Equine 74 Gastric by a student and the couple was first sceptical to add another feeding supplement to the diet of their athletes. They began investigating this natural product, which prevents ulcers in horses, before giving it a try. 
"I met the founder of Equine 74 Gastric, Christian Dietz, at a clinic up in Denmark and I really questioned him about the product," Blomgren admitted. "I´m always curious about how products work, why they work, what´s the idea behind, what´s the active ingredients, etc. Everything what Christian told me made perfect common sense to me. Therefore I wanted to try the product myself."
With a barn full of high quality young horses as well as FEI level confirmed competition horses, Anna is well aware that gastric ulcers are common with sport horses. Medication like omeprazole is no long-term solution, so she wanted to find a sensible alternative. 
"No one can function or perform their very best with any pain or irritation in the stomach," said Anna. "Horses are different from humans produce stomach acid 24h around, if they eat or not, though horses are designed to eat all the time. Any traveling or change of environment/feed is a kind of stress to the body. A lot of horses don´t eat as well during travel which makes the acid level go really high,which gives pain/more stress. Therefore I now always give Equine 74 Gastric during travel and competitions, and at least a month leading up to."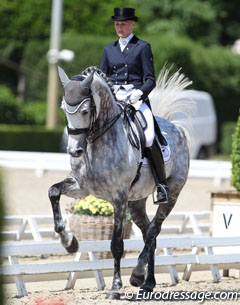 Anna wanted to find a safe and effective alternative to treating her horse for recurring ulcers and began testing the product on a string of them in May 2017.
"I did try Equine 74 Gastric on many of my horses just to see the effect," she explained. "I had a few horses that were eating a lot of food to stay in a good condition, or still didn't´t look their best. I also often had trouble to keep my horses looking really good in the skin and condition coming out of winter. After giving Equine74 Gastric we find that almost all of them started to look way better and we could even give them less feed but they gained weight and muscles. This year I must say all our horses looks great coming out of the winter season!"
Equine 74 Gastric buffers acid instead of just blocking it and creates a healthy ph balance in the horse's stomach.
"Now since I've had such great results I keep all my competition horses on Equine 74 Gastric and any horse who I don't think looks absolutely great in condition or who could be susceptible to stress," she stated. "The absolute advantage with Equine74 Gastric is that it is a 100% natural product. Therefore the body can absorb it easily and fully. It is also easy to feed, small pellets which our horses eat mixed in the normal feed. You can also get it as a powder which is very handy to mix with a bit of mash if your horse is fussy. I have never had as great results with any other product in this category."
For Blomgren the 2018 show season is a very promising one as her top Grand Prix horse Tørveslettens Quattro is A-squad listed and in the running for the Swedish team place for the 2018 World Equestrian Games, even though the ultimate goal is the 2020 Olympic Games in Tokyo.
"She is only 9 years old and had her first season in Grand Prix last year which was very successful with a couple of international victories," said Anna about her dapple grey mare. "We take it show by show, but our goal for this year would be a place in the swedish team for the WEG. I have a sister to this mare who I hope pretty soon will do her debut in national Grand Prix."
For more information, visit Equine 74 Gastric
Related Links
Will Rogers: "With Our Horses on Equine 74 Gastric They Look, Feel, and Perform Better"
Anne Troensegaard: "Equine 74 Gastric Made Kipling More Relaxed and In Front of the Aids"
Anke ter Beek: "Modern horses are often sensitive to their stomach. I always look for ways to keep them fit"
Tinne Vilhelmson-Silfven Relies on Equine 74 Gastric for Her High Performance Dressage Horses