France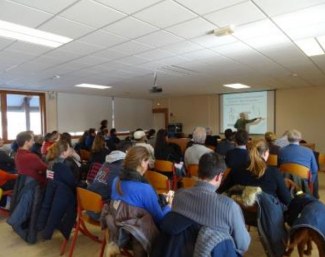 The French Equestrian Federation (FFE)  hosted its annual dressage trainers seminar at the national equestrian centre in Lamotte-Beuvron on 19 - 20 March 2018. 
Emmanuelle Schramm, the FFE's Technical Dressage Director, and 4* judge Lionel du Tranoy, head of the French dressage committee, brought together almost 50 trainers. They were joined by team trainers Jan Bemelmans (seniors), Ralp-Michael Rash (junior/young riders) and Muriel Leonardo (children/pony riders) as well as by Florence Lenzini, head of dressage for the eventing youth.
On the first day there were several technical sessions with speakers such as Benjamin Aillaud (director of equestrian shows), Patrick Teisserenc (Chief rider at the Cadre Noir), Véronique Bartin (specialist in the optimization of operations), Vital Lepouriel (former director of the driving section at the National Riding School ENE). There were also practical workshops led by Jan Bemelmans.
"We are aware that the development of our discipline is first and foremost the responsibility of the trainers, so it is important to give them the maximum of tools and information to help them," said Schramm.
 "The goal is to have a common tool to improve the coherence between a technical discourse and practice," Lionel du Tranoy added.
"The difficulty of our discipline is to be judged. We must accept it and not be too negative about this judgment. You have to know to question yourself and persevere. It's important to learn from our mistakes, "explains Jan Bemelmans. The Belgian-German trainer stressed the importance of giving riders automony and learning on their own.  "A coach needs to know when to shut up and just watch. Just as at the end of a test, it is often better not to analyze straight away and let a little time before the debriefing."
Four riders of all levels were invited to Lamotte for the practical sessions. "We do not look for perfection, we look for the right path to get to what we are looking for," said Jan Bemelmans.
Benjamin Aillaud covered the aspect of routine in training as well as relaxation of the rider. He insisted on the message the rider sends to his horse: "The routine is generated by the rider who prepares himself to execute a movement that the horse will eventually anticipate. It is essential to keep the willingness and the motivation. From there, everything we feel we pass on to the horse. The horse is a real exemplifier of our emotions. The rider must be the reference point for the horse and we must be aware of the importance of the effect of relaxation on him, positioning and balance are fundamental." 
Related Links
French Grand Prix Squad Attends First Team Training Session of 2018
2017 French Dressage Trainers' Meeting at Lamotte-Beuvron
First French Olympic Team Training Seminar of 2016 in Le Mans a Success