2018 CDIO Uggerhalne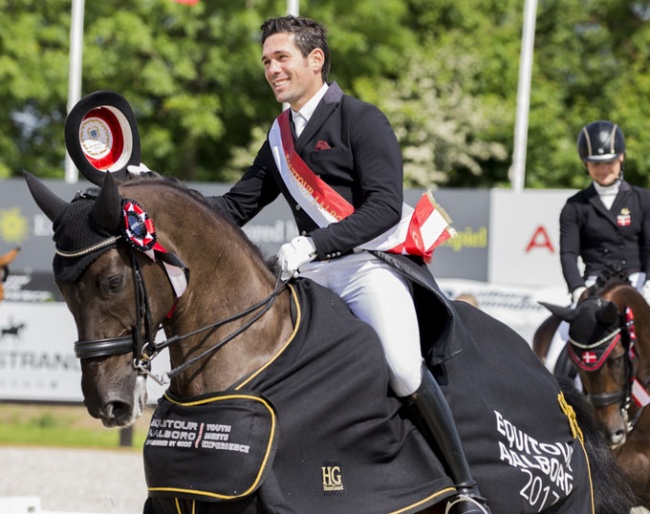 The schedules for both the dressage and jumping programme at the 2018 Equitour Aalborg on 23 - 27 May 2018 in Uggerhalne, Denmark, have been approved by the FEI and are now officially posted on the FEI Calender. The definite entries close on 1 May 2018 so remember to enter on time for this unique equestrian event in Denmark.
"We very much look forward to seeing as many riders and spectators as possible at our show in Uggerhalne, and to conduct another successful show for all the participating riders," said show organizer Malou Trabjerg. 
The Equitour Aalborg took place for the first time in 2017 and the organizers were thrilled with the reception: "It were 5 amazing days of world class dressage and jumping. A huge folk festival with lots of activities for the whole family. It has been a pleasure to be at the showground and feel the amazing atmosphere that has been throughout the entire competition," they said at the time. 
Bigger and Better in 2018
Organizers Andreas Helgstrand and Jens Traberg hope to bring an even bigger and better version in 2018 as the Equitour Aalborg will be held for the second time including the FEI Nations Cup in both dressage and jumping.
The show, which is going to be the greatest and most attractive horse show in the North of Europe, gets participation from the absolute world elite in both jumping and dressage. Helgstrand and Trabjerg have a clear vision: to make Equitour Aalborg one of the most attractive Leg of the FEI Nations Cup series for both riders and audience.
Alongside the sports activities, different activity areas will be designed on the show ground for the families attending. These areas will among others include a children's fairground, a food market, a great exhibition area and a concert space. In other words, it is going to be a huge folk festival for the whole family with lots of atmosphere and visitors, that will help guarantee a world-class tournament – both in the equestrian sport, but also when it comes to the surroundings.
VIP Treatment
The Equitour Aalborg offers a unique VIP area in its 2-floor VIP area with balcony on both sides. One balcony has a view in the jumping arena and the other with view in the dressage arena. VIP guests can follow the competitions in comfortable surroundings. Tables with full catering are available to private individuals and companies.
More information and links to the schedules are found on www.equitour.dk/eng