Germany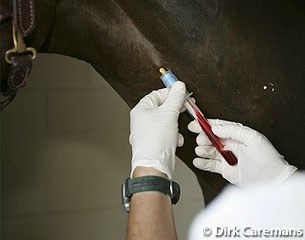 Two stallions have tested positive to doping or medication at the recent Munster Stallion Sport Test in February and at the 2018 South German Stallion Licensing in Munich in January. 
One rarely hears about positive doping/medication tests at German breed events, because the German equestrian Federation hardly carries out any control nor random tests at these events. If they do, only a very small number of stallions seem to get tested. 
At the Munster Stallion Sport test, which took place 6 - 8 February for jumpers and 13 - 15 February for dressage stallions, the German federation random tested four horses (15 jumpers participated, 18 dressage colts).  The show jumper Cruseon (by Casquetto x Cassino), bred and owned by Witt Pferdezucht Gbr and marketed by the Holsteiner Breed Society, tested positive to medication. He was the second highest scoring horse in the sport test with an 8.78 score. 
Viktoria Laufkötter from the breeding department of the German Equestrian Federation, confirmed to St. Georg that the horse tested positive and his licensed status has been immediately revoked. The stallion can be resubmitted to the studbook if he qualifies himself for the Bundeschampionate or redoes the test at the end of April.
Laufkötter added that the head numbers of stallions are drawn from a bag at the beginning of the testing. At least four stallions are drawn. Viktoria did not want to disclose whether it concerned medication or doping, but she minimized the incident by adding that "often this happened not with bad intention, but could be a management error. It can happen that the horse was sedated for clipping."
When asked more detailed information about the amount of horses tested at which stallion performance tests, Laufkötter told Eurodressage that "in every sport test, we test minimum one stallion for every discipline (dressage and jumping) and for every age-group (4- and 5-years old stallions)."
Roland Metz, organizer of the South German Stallion Licensing, confirmed the positive doping test one of the 34 licensed colts in Munich in January, but the identity of the stallion is not being revealed as the case is still being handled. Metz added that this is the first case in 15 years. 
"Since the first event we have been taken doping tests," Heike Blessing told Eurodressage in lieu of Metz. "It was the first time, that a stallion was positive. Each year we test six stallions."
Photo © Dirk Caremans
Related Links
Dante Quando and Bonds, High Scorers at 2018 Stallion Sport Test in Munster
Dante's Stern, Champion of the 2018 South German Stallion Licensing