2018 CDIO Wellington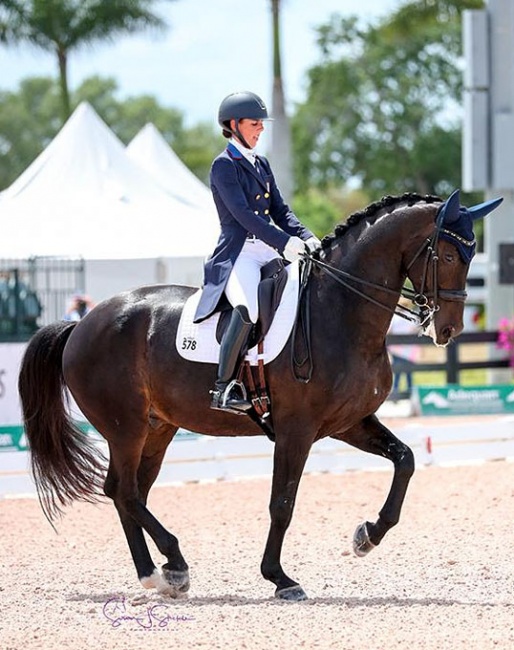 Kasey Perry-Glass (USA) came back with a bang with her Rio Olympic bronze medalist ride Goerklintgaards Dublet after an eight-month absence from the competition arena in the Grand Prix 3* which was held at the 2018 CDIO Wellington on Wednesday 28 March 2018.
The pair looked fresh and full of energy en route to their 73.217% victory from last draw of 18 starters. This was their highest score in this test for a year.
"He's had three years of really hard work; he did the Pan Am selection tour, straight into Rio, and last year being a really big year too," said the 31-year-old. "I felt like it was time for him to have a break and just be turned out and have down time — we both needed the reset. He deserved it and I'm so glad I did it. It's his third year at grand prix and he came back no problem. He works really well when you don't drill him. I started bringing him back in December with the aqua-tread and trail riding and then very slowly brought him back to work."
Kasey Perry-Glass (USA) and Goerklintgaards Dublet (by Diamond Hit x Ferro) return to the show ring after an eight-month break with a resounding grand prix victory — from last draw in a field of 18. Her partnership with the Diamond Hit son (who loves bananas) has gone from strength to strength, and this was their 11th international win together, having logged top placings the world over.
"He was hot in there today and it caught me a little off guard," added Perry-Glass, who trains with Debbie McDonald. "I haven't had that feeling in a long time. He's 15, but he felt like a young horse again, which made me really happy."
The pair will now contest the freestyle class on Friday, as will fellow American Arlene 'Tuny' Page, who finished second on Woodstock (71.435%) and the third placed rider, the Dominican Republic's Yvonne Losos De Muñiz, who scored 70.804% on Foco Loco W.
Text by Alice Collins (GDF press release) - Photo © Sue Stickle
Related Links
Scores 2018 CDIO Wellington
Long Awaited Come Back for Perry's Dublet at End of 2018 Wellington Season