Saddlery
Fairfax Saddles can now cater for dressage riders of more shapes and sizes with its new Fairfax Classic Open Seat Dressage Saddle.
Famous for its scientifically-researched Performance saddles, the English company recently launched a Classic range of traditional two-flap saddles for discerning riders who want a little extra luxury and comfort from their competition saddle.
The Classic saddles benefit from the technological development and testing that has gone into the Performance range and all feature double-oiled English butt leather with super-soft full grain hide on the seat and knee pads. Following the success of the initial launch, two more styles have been added.
The Fairfax Classic Open Seat Dressage is a great alternative for the rider who prefers 'more room' in their saddle or those who are not blessed with super-slim thighs. The seat is flatter and not as 'forward' as the Classic Dressage or the Fairfax Gareth, which also makes it suitable for riders who prefer a more relaxed position.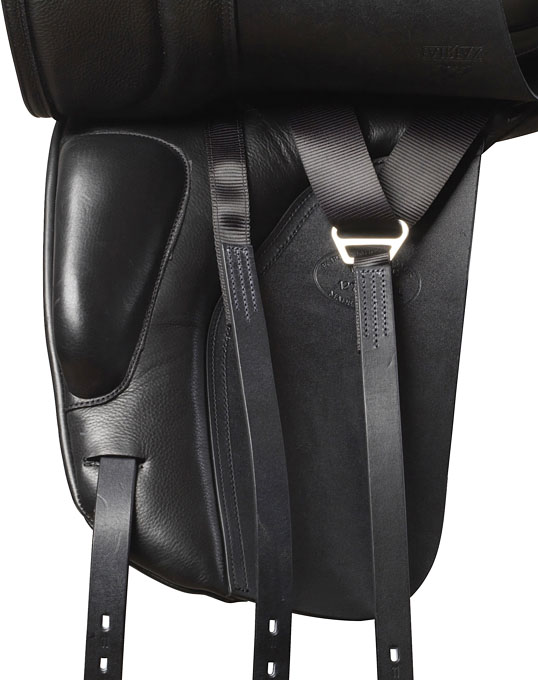 Ghost stitching on the deeply-cushioned knee pad allows it to contour around the stitched-on block so legs of all shapes can be supported comfortably.
Available in sizes 17", 17½" and 18" in black only.
The Fairfax Classic Petite Dressage is created especially for the petite or young competitive rider. The neat and compact seat helps align and support the smaller rider in the optimum dressage position. Instead of the fixed block, the Petite benefits from a small moveable Velcro knee block which can be re-positioned to provide superior support for a variety of leg lengths.
Available in size 16½" in black only.
For more details www.fairfaxsaddles.com
Related Links
Fairfax Saddles Celebrates Success of its Scientifically-Proven Performance Panel
Fairfax Performance Girths Stand Out by Science and Improved Horse Performance
Fairfax Performance Girth Now Available in 20" Narrow
Fairfax Saddles Combine Science and Tradition
The Fairfax Rebecca Combines Exquisite Style with Scientific Success
Fairfax Transit Headcollar, Designed for Horses Traveling
Fairfax Performance Bridle Now Available in The Netherlands