2018 Australian Young Horse Championships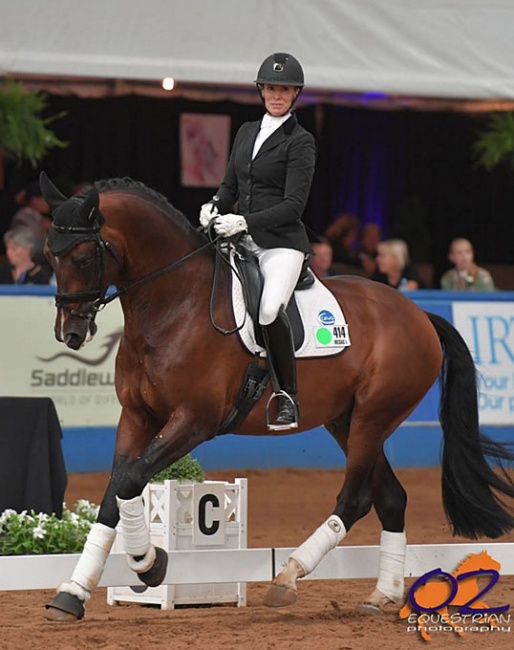 The 4-year olds Aber Halo MI and Yarramee Fonzie, the 5-year old Iresias L, the 6-year old Penny Hill Park Sophia and the 7-year old SPH Renaissance became the winners of their age division at the 2018 Australian Young Horse Championships held at Dressage with the Stars in Werribee, Australia, on 23 - 25 March 2018. Iresias L was proclaimed Champion of Champion as overall young horse winner. 
In the 4-year old division, judges Susie Hoevenaars, Francis Verbeek and Mary Seefried voted for two champion as two horses scored the same winning mark. Riley Alexander and the Australian bred stallion Aber Halo MI (by Aber Hallo x Sir Donnerhall) was the one of them. Owned by Greg and Julie Farrell, Aber Halo MI scored 78.200 in the second round which served as finals class. The pair moved from third place in the warm up round (78.200%) to first in the finals. Aber Halo's dam Sugarloaf Sirhara was the 2012 Young Dressage Horse Champion of Champions. The champion's title also went to Sharyn Mccombe's Holsteiner bred Yarramee Fonzie (by Firestone), ridden by Justine Greer. She was second in the warm up round (78.400) and scored 78.200% in the finals for gold. Amanda Shoobridge and Escala RW (by Escolar x Fürst Heinrich) dropped from first place in round 1 (81.400%) , to a final third place and bronze medal in the finals with 77.600%.
In the 5-year old age category Gina Montgomery steered Sarah Hanslow's Dutch warmblood Iresias L (by Johnson x Ferro)  to victory with an 86.800% total score from judges Verbeek, Hoevenaars and Jane Ventura. The pair was second in the preliminary test with 82.000%. Danielle Dierks and SPH Santarina (by Sandro Hit x Dormello) landed the silver with 81.800% after climbing up from sixth place in the preliminar test with 74.000%. Gina Montgomery also captured the bronze medal aboard the imported Hanoverian stallion Braveaux (by Bordeaux x Don Primero). They were first in the first round (85.400%) but dropped to third place in the finals with 80.800%.
Emma Hayward and  Michelle James' bay Australian warmblood mare Penny Hill Park Sophia (by Sir Donnerhall x Weltruhm) were a league of their own in the 6-year old division, reigning supreme with an 80.000% score for the title. Judges Seefried, Verbeek, Hoevenaars also rewarded the pair with a first place in the warm up test (82.200%). Heather Currie and her own Hanoverian bred Bluefields Honduras (by Hofrat x Rotspon) slotted in second with 72.600% after finished second in the preliminary test with 81.400%. Former young rider Elliot Patterson and the Hanoverian bred Bluefields Doris Day (by Desperados x Florencio) captured bronze with 72.000% moving up from 5th place in the preliminary test with 70.800%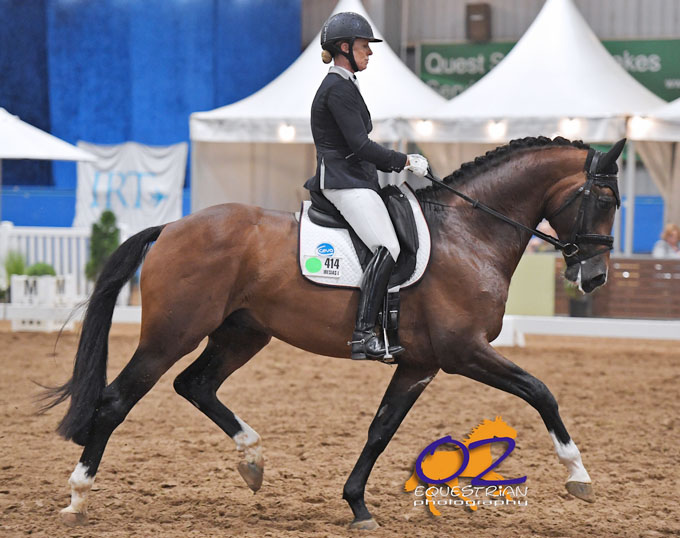 For the first time the Australian Young Horse Championships featured a 7-year old division which was won by Andrea Beatty's Australian bred SPH Renaissance (by Royal Hit x Clintino). Six combinations contested this new division and the top three was the same in round 1 and 2. Danielle Dierks and SPH Renaissance won the warm-up round with 77.336% and the Finals test with 75.900%. SPH Renaissance has now won the Australian Young Horse Championships as a 4, 6 and 7-year old. Elliot Patterson and the PSI bred mare She's Nice (by San Amour x Akribori) landed silver after posting 75.515% in the finals round. Grand Prix rider Sheridyn Ashwood and her home bred Cochoclate Fondue (by Ferrero Chocolate Box x Samboo) scored bronze with 69.572%.
German horse dealing yard and training centre Hof Kasselmann and its annual PSI auction are the long-time sponsors of Dressage with the Stars. The company was represented in Melbourne by François Kasselmann and their assistant trainer Frederic Wandres, who celebrated his birthday on Sunday 25 March. To determine the champion of champions, guest judge rider Frederic Wandres test rode all four champions as well as resver champion Yarramee Fonzie. Aber Halo MI was unfortunately withdrawn by his owner/rider from the finals for the Champion of Champions title. In discussion with the supervising judges, Iresias L was named 2018 Champion of Champions, reclaiming his Overall Champion's title from 2017. The popular bay was a crowd favourite and managed to win the prestigious title back-to back, and achievement that has only been reached by two other horses in the 20-year history of the event (Donner Carina and Shiraz Black).
Photos © Derek O' Leary
Results - 2018 Australian Young Horse Championships - Melbourne
4-year olds - Round 2 (Finals)
1.Aber Halo MI - Riley Alexander  -   78.200%
2. Yarramee Fonzie - Justine Greer  -   78.200% 
3. Escala RW - Amanda Shoobridge  -   77.600%  
4. HV Duke - Fiona Guthrie  -   76.200% 
5. MSJ Tia Fortuna - Charlie Welsh -   72.400% 
6. Warrakilla  - Maree Heading  -   69.600%  
7. Quarterland -  Sally Rizzuto -   69.000%  
8. NEP Bugatti -  Sara Price  - 68.400% 
9. Templeton Royal Indigo -  Christopher Wilkinson  - 65.600% 
10. Mayfield Kindred Spirit -  Victoria Stuckey   -  62.600%  
11. Hollands Bend Secret Agent  -  Justin Hocking -  62.000%
5-year olds - Round 2 (Finals)
1. Iresias L-  Gina Montgomery -  86.800%
2. SPH Santarina  - Daniella Dierks - 81.800% 
3. Braveaux  - Gina Montgomery  -   80.800%  
4. Furst Deluxe - Maree Tomkinson  - 76.700%  
5. Hollands Bend Skyfall - Danielle Ffrench  -  74.200%
6. Staughton Vale Belmivo  -  Katrina Bolmat  -   72.000%  
7. Mayfield Whist - Tori Stuckey  -  70.800%
8. Fairbanks Rolex -  Lizzie Wilson-Fellows -  69.000% 
9. AEA Tuscany -  Rhianon Pettigrove -  66.000%  
10. Rock Royaltee - Melissa Robertson -  54.600%
6-year olds - Round 2 (Finals)
1. Penny Hill Sophia -  Emma Hayward- 80.000%
2. Bluefields Honduras -  Heather Currie - 72.600%
3. Bluefields Doris Day -  Elliot Patterson  - 72.000% 
4. Almania Felix -  Elliot Patterson -69.600%
5. Bloomfield Forrest Gump -  Ian Balfour -  69.200%  
6. BC Sangria  - Katina Smith  - 68.600%
7. Karizmah Billionaire -Danni Walliss  -    67.800%  
8. Louvier -  Kody McAvoy -  65.600% 
9. Avella Fratellino - Melissa Robertson -  62.200%
10. Sugarloaf Fefe - Clarissa Bentley Bell - 61.400%
7-year olds - Round 2 (Finals)
1. SPH Renaissance  -  Daniella Dierks - 75.900%
2. Shes Nice -  Elliot Patterson - 75.515%
3. Chocolate Fondue - Sheridyn Ashwood - 69.572%
4. Widderstein Furst Pharoah - Denise Rogan - 69.371%
5. AEA Twiggy - Dirk Dijkstra  - 65.543%
6. Yarramee Serendipity -  Sharyn McCombe -  62.907%
Related Links
Iresias L, Karizmah Billionaire, SPH Renaissance Win 2017 Australian Young Horse Championships
Freestyle MS, Santiago, Donna Elena Win 2016 Australian Young Horse Championships
SPH Renaissance, Donna Elena, Solo Feliz Win 2015 Australian Young Horse Championships
Three Winners Stand Out in Full Field at 2015 Australian Young Horse Championships
Sugarloaf Sirhara and Rosewater Driving Miss Daisy Win 2012 Australian Young Horse Championships
San Jose, Champion of Champions at 2010 Dressage with the Stars