2018 CDN Hartpury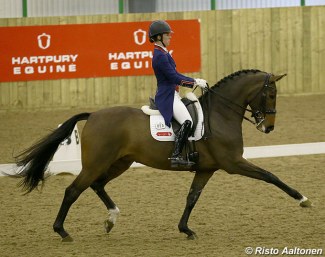 Since retiring her number one horse Valegro after the 2016 Rio Olympic Games, British dressage star Charlotte Dujardin has been strikingly absent from the Grand Prix arena. With a huge string of ambitious sponsors supporting her and some serious investments made in co-ownerships  for other horses, Dujardin returned to the grindstone in 2017 and has worked her way up with young talent. 
On a national level Dujardin pretty much wins every single national class she has entered the past year, no matter at what level. However, now she's back to the big time.
With her new number one ride, Emma Blundell's 9-year old Hanoverian mare Mount St. John Freestyle (by Fidermark x Donnerhall), Dujardin made her national Grand Prix debut at the 2018 CDN Hartpury on Saturday 17 March 2018 and won the class with a whopping 81.1% ! She also brought along Hawtin's Delicate and finished second on him with 76.8%.
Judging in Hartpury were 5* judge Isobel Wessels and national judge Tricia Gardiner, who was a 1988 British Olympic dressage team rider. Eight combinations were originally entered for the "Test of Choice" class, but four only contested it. Three combinations did the Grand Prix test.
"Today was a great day," said Charlotte after her two top placings. "It will go down as a memorable one for the team, as I did my first Grand Prix tests on Mount St John Freestyle and Hawtins Delicato. Both horses gave it their all and I could not be more proud of them with Freestyle gaining a win with 81% and Del coming second with 76%. It was lovely to be riding at the level again."
Blundell is beaming with pride as within five years time she has launched Mount St. John as Great Britain's leading brood farm and her mares have raked in more national titles than any owner/breeder has ever done.
"I couldn't be prouder. The first MSJ horse has debuted at Grand Prix and scored +81%," said an elated Blundell. "Freestyle was the first foal we bought and was the first horse I competed myself in dressage young horse classes, where she took me to my first ever British Nationals. What a fairytale of a horse she is and what an introduction to dressage she's given us!  I'm blown away by Charlotte's performances every time I see her train or compete. I'm grateful she's on Team MSJ."
It is no longer a secret that Dujardin is serious about getting back on the British team for the 2018 World Equestrian Games in Tryon. She will make her CDI debut on Freestyle at the 2018 CDI Nieuw en St. Joosland in The Netherlands in two weeks, followed by the 2018 CDI Hagen "Horses and Dreams" at Hof Kasselmann.
Photo © Risto Aaltonen
Related Links
Mount St. John Looking Ahead to Biggest Foal Year in 2018 after Significant Successes in 2017
Charlotte Dujardin Steps Out with New Ride, Mount St John Kom Fairy Tale
Dujardin Maintains her Dressage Future Elite Champion title at 2017 HOYS