Danish Warmblood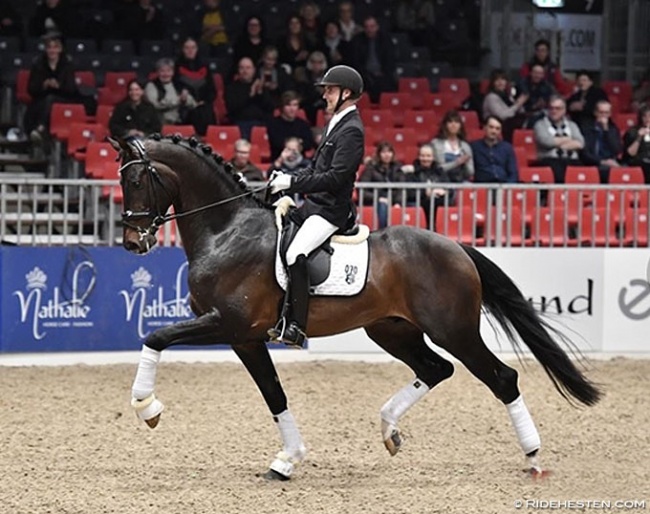 Dutch warmblood bred and foreign bred stallions were dominant at the 2018 Danish Warmblood Stallion Licensing in Herning, Denmark, which concluded on 11 March 2018 with seven colts named premium. Three of them are KWPN registered, two Hanoverian bred. 
Nineteen dressage bred 3-year olds and one 4-year old were licensed and can therefore move onto the mandatory 10-day observation test for their character and rideability under saddle assessment.
Seven stallions were invited to the premium ring and only two of them were actually Danish warmblood bred and registered. 
Jovian (by Apache x Tango) was the only 4-year old in the premium ring alongside the 6 other 3-year olds as he has not yet done the Danish stallion performance test like his younger peers.
Of the 19 licensed 3-year old colts no less than nine are owned by Helgstrand Dressage, Blue Hors stud owns three. 
The premium stallions are:
Schuberts Aston (DWB, by Bøgegårdens Alphabeat x Solos Landtinus) - Owned by  Schuberts & Bøgegården - Breeder: Sara Kliver
Hesselhøj Gnags (DWB, by Grand Galaxy Win x Tailormade Lancelot) - Owned by Cathrine Rasmussen - Breeder: Dorthe & Hans Jørgen Hoeck
Londoner (HANN, by Londontime x Danone I) - Owned by Blue Hors - Breeder: Wilhelm Schwierking
So Unique (HANN, by Sezuan x Donnerhall) - Owned by Helgstrand Dressage & Kleppenhus Invest - Breeder: Willem Klausing
Knock-Out (KWPN, by Expression x Ferro) - Owned by Helgstrand Dressage - Breeder: S. M. C. Bloem
Kremlin MD (KWPN, by Governor x Rousseau) - Owned by Helgstrand Dressage - Breeder: M. Dinnissen
Jovian (KWPN, by Apache/Tango) - Owned by Helgstrand Dressage & Kleppenhus Invest - Breeder: E. T. ten Bosch, Holland
The other licensed 3-year olds are:
Olympus (DWB, by Don Olymbrio x Solos Landtinus) - Owned by Lisbeth B. Andersen & Ib Kirk - Breeder: Lisbeth B. Andersen
Zippo Eg (DWB, by Farrell x Zack) - Owned by Blue Hors - Breeder: Stutteri Eg v/Bonde & Fugmann
For Sure (HANN, by  Finest x De Niro) - Owned by Helgstrand Dressage - Breeder: Günther Lindwehr
Straight Horse Sir Romance (DWB, by For Romance x Jazz) - Owned by Helgstrand Dressage & Straight Horse - Breeder: Straight Horse & Eva Götzsche
Ferdades (OLD, by Fürstenbal x Donnerhall) - Owned by Helgstrand Dressage - Breeder: Limbecker GmbH/Kandziora
Got It (DWB, by Grand Galaxy Win x Don Schufro) - Owned by Helgstrand Dressage & Dressage Arvé - Breeder: Dressage Arvé v/Morten Thomsen
Highfive Fuglsang (DWB, by Grand Galaxy Win x De Niro) - Owned by Ronja Dahlseng - Breeder: Anne Dorte Riis Meyland
Gørklintgårds Shaolin (DWB, by Gørklintgårds Santos x Quaterback) - Breeder and Owner: Gørklintgård v/Jørgen Ravn
Suarez (HANN, by Sezuan x Desperados) - Owned by Helgstrand Dressage - Breeder: Judith & Söenke Schmidt
Hvid's Emperor (DWB, by Zack x Akinos) - Owned by Hvid Horses & Stutteri Hove - Breeder: Langkjærgaard I/S Hvid Horses
Zagori (DWB, by Zack x Sir Donnerhall II) - Owned by Blue Hors - Breeder: Hans-Heinrich Brüning
Kadans (KWPN, by Franklin x Jazz) - Owned by Helgstrand Dressage - Breeder: G.J. Rijper
Kick Pleasure (KWPN, by Sezuan x Wynton) - Owned by Hestengen Dressage - Breeder: W.L. Plaizier
Related Links
Fredensdal Fifty Cent, Favourite of the 2017 Danish Warmblood Stallion Licensing
Foreign Bred Colts Dominate 2016 Danish Warmblood Stallion Licensing
Sixteen Colts Approved at 2015 Danish Warmblood Stallion Licensing
Eleven Older Dressage Stallions Approved at 2015 Danish Warmblood Licensing
Galaxy Win T, Champion of the 2014 Danish Warmblood Stallion Licensing
Zee Me Blue, Champion of the 2013 Danish Warmblood Stallion Licensing
Zorba Hojris, Champion of the 2012 Danish Warmblood Stallion Licensing
ERA Dancing Hit, Champion of the 2011 Danish Warmblood Stallion Licensing
Soreldo, Champion of the 2010 Danish Warmblood Stallion Licensing
L'Espoir, Champion of the 2009 Danish Warmblood Stallion Licensing
Blue Hors Doolittle, Champion of the 2008 Danish Stallion Licensing
Develino, Champion of the 2007 Danish Warmblood Stallion Licensing
Schufro Hit and Krake, 2006 Danish Warmblood Licensing Champions
Valløs de Baron, Champion of the 2005 Danish Warmblood Stallion Licensing
Blue Hors Leredo, Champion of 2004 Danish Warmblood Stallion Licensing