F.O.C.U.S.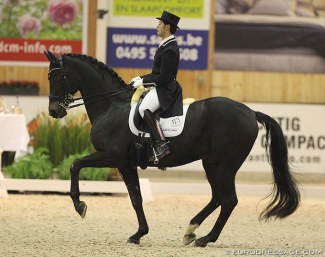 Japanese dressage riders and their sponsors are heavily investing in high quality horse stock to support Japan's presence for the 2018 Asian Games in Jakarta and the 2018 World Equestrian Games in Tryon this summer. They want all the parameters set right for a 2020 Tokyo Olympic dream to come true in their home country. The highly experienced Grand Prix horse Rubicon D has been the latest purchase by Japan's powerhouse sponsor Unitechno as a Tokyo hopeful. 
The 15-year old Rhinelander gelding Rubicon D (by Rubin Royal x Larome) has been highly successful in the international Grand Prix Sport with Polish rider Beata Stremler. In 2014 they represented Poland at the World Equestrian Games in Caen, France, and in 2015 they were ranked 42nd on the FEI World Dressage Ranking. They went on to compete at the 2016 World Cup Finals in Gothenburg. 
German based horse dealer Bernhard Ix, head of BIX International Consultants in Ratingen, Germany, was well aware of the high quality and raw talent that Rubicon possessed and he saw the perfect opportunity to match this proven Grand Prix horse to the 36-year-old Japanese Olympian Masanao Takahashi.
"We have sold many top horses, but from the quality Rubicon really belongs to the very best ones," said Bernhard Ix. "I have seldom seen such an honest and ambitious Grand Prix horse. For piaffe and passage, you just push a button a little bit  and he does it like the best Lusitano's or Andalusians."
Ix presented Rubicon D to Japanese scout Yoko Shinohara, who was looking for a horse for Takahashi. At that time owned by Manfred and Regina Loose-Büttner, Rubicon D was based in a private barn near Viersen, Germany, where Shinohara and Ix tested the gelding and realized he would be ideal for the ambitious Japanese rider. BIX International Consultants Ltd. bought the horse and then sold it to Takahashi's sponsor Unitechno.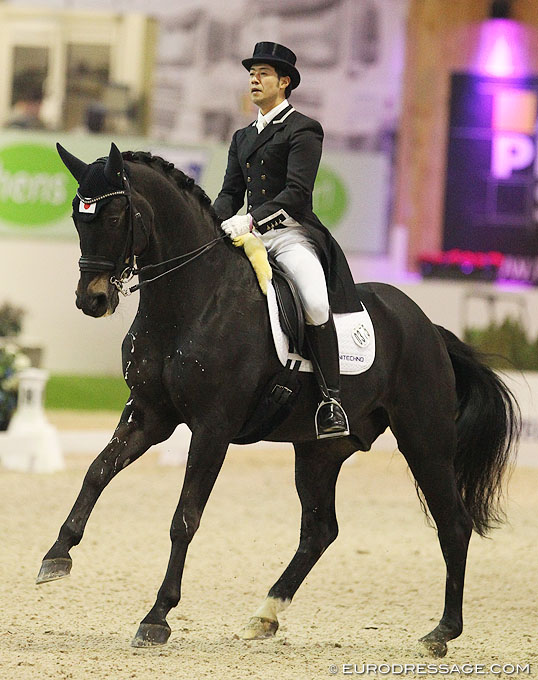 Trained by Jonny Hilberath in Germany, Takahashi competed at the 2016 Olympic Games in Rio on the Hanoverian stallion Fabriano. 2018 will be a very busy year for the 36-year old rider,  has been competing in the Japanese Dressage Championships since 2006. With the now 18-year old Fabriano he is aiming to compete at the 2018 Asian Games in Jakarta in August, and with Rubicon D he wants to go to the 2018 World Equestrian Games in Tryon, U.S.A. in September. 
Rubicon D has been renamed Unitechno Rubicon to promote the company of Takashi's sponsor. Unitechno sells semiconductor package materials worldwide.
"Rubicon has an outstanding piaffe and passage tour, and no weaknesses in the Grand Prix," Ix added. "He has an unconditional motivation."
The new pair made its international show debut at the 2018 CDI Lier in Belgium on Friday 2 February 2018, and immediately scored its first WEG qualification score with its 66.674% and 12th place in the Grand Prix. The pair went on to place fourth in the Grand Prix Special with 68.957%.
Photos © Astrid Appels
Related Links
Stremler's Rubicon D Sold to Japan
Eaton H, Tokyo Olympic Hopeful for Masanao Takahashi
Japanese Team for 2016 Olympic Games Selected