2018 CDI-W Wellington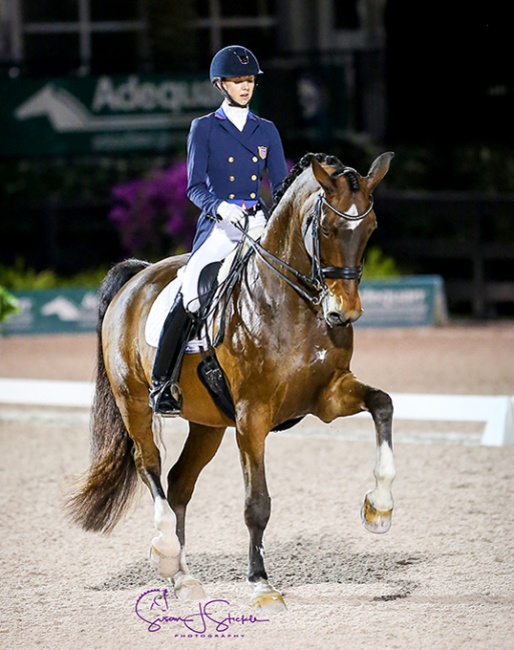 The USA's number one dressage combination Laura Graves and Verdades proved their prowess beyond doubt with an astonishing performance in the Grand Prix Freestyle CDI-W at the 2018 Palm Beach Derby in Wellington, Florida. The class was the final World Cup qualifier in North America, and confirms qualification for both Graves and Shelly Francis. The Dominican Republic's Yvonne Losos de Muñiz has secured the spot for non-league riders.
Graves and Verdades scored 84.975% during "Friday Night Stars" under the floodlights in week eight's headline class of the 2018 Global Dressage Festival. It is the highest score ever achieved at GDF.
Second-placed Adrienne Lyle rode Elizabeth 'Betsy' Juliano's Salvino to another record: the highest score in her long international career, 78.275%. She rode to music made for her former top ride, Wizard. Juan Matute Guimon put a couple of glitches aside to log 73.8%, good enough for third on his father's Don Diego, by Don Frederico. The 20-year-old Spanish rider became a U.S. citizen two weeks ago; he'll remain riding for Spain in 2018 before deciding whether to switch nationalities for competitive purposes.
Graves has now performed an extraordinary 'triple double' on the 16-year-old son of Florett As, having won both the grand prix and freestyle classes in all three weeks they have competed at GDF this season. It came close to Graves' best ever score of 85.307%, achieved to stand reserve champion at the 2017 World Cup Final in April 2017 in Omaha, Nebraska.
"It was fun to come out every ride and have some new things to talk about with my coach Debbie McDonald," said Graves, who is ranked number four in the world. "I had some brilliant lightbulb moments for myself with my own riding tonight, which is super exciting. We don't go in there just to tack on miles; there's always a purpose, and tonight was no different."
Graves is "groom-less" for the week, so her fellow team bronze medalist from the Rio Olympics, Kasey Perry-Glass, has been helping and was awarded the $500 grooms' award.
Graves has fully embraced the FEI's new degree of difficulty calculating system, and her test leveraged the degree of difficulty score to the max. It included four double pirouettes linked together by huge tempi changes straight down the center line. If it weren't for a spook near the judge at C just after one of the pirouettes, the score would have been even higher.
"I'm still learning to ride this horse when he's as hot as he is," said Graves. "He's super duper hot in this atmosphere and it's a bigger atmosphere than some of the indoor shows. And when we do three shows here under the lights, the structure and repetitiveness really gets him fired up. It gives me a lot to work with, but I always embrace difficult experiences because it puts me a little ahead of the game for next time, hopefully."
Lyle was returning to the GDF's "Friday Night Stars" for the first time in four years — the last time she rode Wizard on the circuit.
"I was dying to get back out there," she said. "It was Salvino's first time under the lights doing a freestyle, so that's a big unknown, but I was completely thrilled with how he handled everything — he was probably even more relaxed and easy going than in the [grand prix] test. I wanted to give him a good experience, give him confidence, and make it something he'd enjoy in the future. I think we accomplished that." Click here to see Adrienne's and Salvino's test!
Matute Guimon's bold riding — he began with an extended canter down the center line straight out of the first halt — was richly rewarded, despite a few sticky moments in the piaffe.
"I was surprised and happy with the score and placing; it was quite an electric test," he admitted. "But it felt fresh and active with a lot of expression, and it was a goal to add more impulsion and competitive attitude. We were really trying to go for it."
On the question of which flag to ride under, he added: "It's a huge, emotional decision that will determine the future of my career. It's very difficult because I love Spain and am very attached to it, but at the same time I did grow up here and have actually lived in the U.S more than half my life and have been given so many opportunities here."
'We were going for it' — Juan Matute Guimon (ESP) puts in an electrifying performance on Don Diego for third place. Judge at C Anne Gribbons praised the standard of riding, and the winner in particular: "I was very proud of the two American horses and I think they were outstanding," she said. "In Verdades' first two movements he was tense, but then he was 'on'. I think this was probably Laura's best freestyle overall; in the piaffe the horse got it together, he sat down and really did a good job. And Salvino is amazing for being so green. He's very calm and happy in his skin. This is very promising for the team to have these horses."
Graves and Verdades can next be seen in public during week 12 of the GDF, when they will give a demo of their spectacularly technical freestyle. Lyle and Salvino are working on a new arrangement with Terry Gallo, who is also responsible for Graves' music. If it is ready, Lyle will debut the new routine in competition in week 12.
In the Intermediate I 3* class the top two from yesterday's prix st georges contest were reversed, with victory on this occasion going to the USA's Jan Ebeling on Sergio Leone with 68.529%. Canada's Tom Dvorak was just 0.19% behind on Cyrus.
Ebeling has been competing Sergio Leone less than a year, and they have a dozen small tour results to their name. He is owned by Ann Romney, who also owned Ebeling's Olympic ride Rafalca. This was the 10-year-old Sir Donnerhall x Stedinger son's second international win.
In the Prix St Georges 1* only one combination breached the 70% tidemark; Spain's Pablo Gomez Molina rode the Yeguada de Ymas' 10-year-old mare Finest, a Westfalian by For Compliment, to 70.245%. This was their first ever CDI class. Another European rider, Germany's Michael Klimke, filled second with 68.824% on Harmony Sporthorses' Diabolo, who is just eight years old. The son of Kristina Sprehe's Olympic stallion Desperados was performing only his third FEI test. The top American, Tina Konyot, finished third on Diamantino II, who is also by Desperados. They scored 68.382%.
Gomez Molina, 24, said: "I'm so proud to hear the national anthem and so happy with 'Fifi'. It was our first CDI and what better way too start than with a win?"
by Alice Collins - GDF press release
Photos © Sue Stickle
Related Link
Scores 2018 CDI-W Wellington - Palm Beach Derby