Swedish Warmblood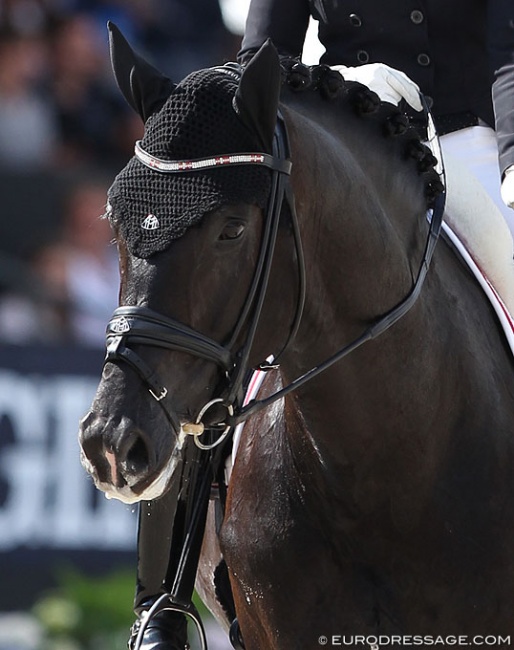 The Swedish warmblood society has decided to approve triple Young Horse World Champion Sezuan for Swedish warmblood breeding and has granted the stallion dispensation from the mandatory health exam.
Owned by Gestut Peterhof in Germany, Sezuan is a Danish warmblood stallion by Zack x Don Schufro.  The Swedish warmblood society (SWB) received an application for dispensation from SWB's health requirement rules on 14 February 2018. 
In the past breeders wishing to register foals by Sezuan with SWB would receive grey instead of green papers because Sezuan has OCD in one of his hindlegs, a defect not accepted with SWB licensed stallions. 
However, the SWB board considered the application for dispensation at its board meeting on 23 February 2018 and agreed to give the stallion dispensation based on SWB's and the Swedish Agricultural Agency's rule that "exceptions may be granted under special conditions for stallions with extraordinary performance and heritability qualities."
Sezuan's oldest offspring is born in 2013. His breeding value index in Germany is 155 points (with a reliability of 77%), in Denmark his index is 177 based on 49 tested offspring. The KWPN society also tracks OCD in its stallions and has an OCD-index but there is no info available as Sezuan is not KWPN approved. However for KWPN bred Sezuan offspring to get KWPN green papers, the breeders need to present a health record of the Sezuan foal.
"A large proportion of Sezuan progeny registered in KWPN has good health status when it comes osteochondrosis," the SWB stated. "It really says very little about Sezuan's inheritance of osteochondrosis, since any offspring with X-ray findings can not be registered for the corresponding green paper in KWPN."
SWB has decided to give Sezuan "conditional dispensation". Breeders of Sezuan offspring wishing to register their foals with SWB will have to provide X-rays at the earliest 12 months after birth of the foal. Grey papered Sezuan offspring in Sweden can retroactively obtain green papers if they present X-rays clean of OCD.
Even though Swedish Warmblood has a strict breeding goal against osteochondrosis, in the their statement about Sezuan's dispensation they seem to downplay their own health policy by minimizing the dangers. They praise OCD positive stallions Kannan and Bretton Woods for their sport and breeding qualities, and cite KWPN policy,  as the Dutch warmblood society has not recorded a significant increase in OCD the offspring of those two stallions.
The now 26-year old Kannan competed at the highest level of international show jumping, Bretton Woods has not competed in the past 3.5 years due to an injury.
Read the official document here.
Photo © Astrid Appels
Related Links
Osteochondrosis, a Growing Pain for Young Horses
Relation Between Foals' Standing up Behaviour and Prevalence of Osteochondrosis
OC-Index of KWPN Stallions Bordeaux and Bretton Woods Released
Dance Royal Not Accepted by Re-Approval Commitee
Bretton Woods Sold to Paul Schockemohle!
KWPN to Publish Osteochondrosis Results in January 2012
Patrik Kittel Assisting in the Training of Sezuan
DNA Research Reveals New Sire for Licensed Danish Warmblood Stallion Sezuan
Gestut Peterhof Acquires Full Ownership of Sezuan