Brandenburger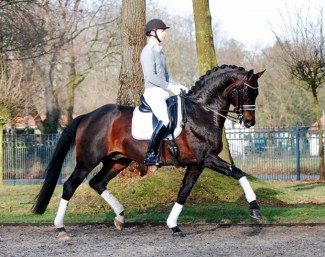 The Dutch owned Brandenburg licensed stallion Samba Hit II has been leased to the Brandenburg State stud in Neustadt/Dosse for the 2018 breeding season.
With the sudden passing of Samba Hit I on 11 February 2018, Neustadt/Dosse was interested in continuing to represent that gene pool at their stud. Samba Hit II is like his deceased full brother by Sandro Hit out of Poesie (by Brentano II x Gotland x Sekurit).
Neustadt/Dosse stated: "With the death, Samba Hit I leaves a big hole behind so we hope that Samba Hit II can pick up again his very positive performance from his first breeding years in Brandenburg-Anhalt and follow in his brother's footsteps."
Bred by the Brandenburger state stud, Samba Hit II  is born in 2002 and was licensed at Neustadt/Dosse in 2004. He won his 30-day stallion performance test in Neustadt Dosse in 2005 by scoring 9.18 for dressage and 7.79 for show jumping. In 2008 he did the 70-day testing there and scored 129.98 for dressage and a poor 81.36 for show jumping, to finish on an index of 114.93 points (6th out 28 participating stallions).
Samba Hit II did not have as big a show career as his elder brother. Nr 2 finished fourth at the 2005 and 2006 Bundeschampionate. He did not show in 2007, but returned at M-level in 2008. His last competition in Germany was in July 2008.
Samba Hit II has three licensed sons (Chin Chan, Samba's Sensation, Sambalito) and sired 7 state premium mares in Germany so far.
In 2010 Samba Hit II sold to Belgium to Lisperhof Horses (Verhesen family) as a junior rider's prospect for then pony rider Charlotte Verhesen. He was briefly shown by Verhesen's coach Mieke Lunskens in 2011, but then the dark bay stallion completely disappeared from the show scene; only to pop up sold and standing at stud at the Dutch stallion station De Ijzeren Man in Weert, The Netherlands.
Owner Bjorn van Kessel has now decided to lease the stallion to Neustadt/Dosse as there is little interest in Samba Hit II in The Netherlands. 
Samba Hit II's full brother number III is in the U.K., while IV is still listed as owned by the Brandeburg state stud (ridden by Jutta Bintru) and V seems to be in Canada with Rochelle Killberg.
Related Links
Samba Hit I Passed Away
Samba Hit II Sold to Belgian Junior Rider Charlotte Verhesen
Scores: 2005 Bundeschampionate
Scores: 2004 Bundeschampionate