2018 New Zealand Dressage Championships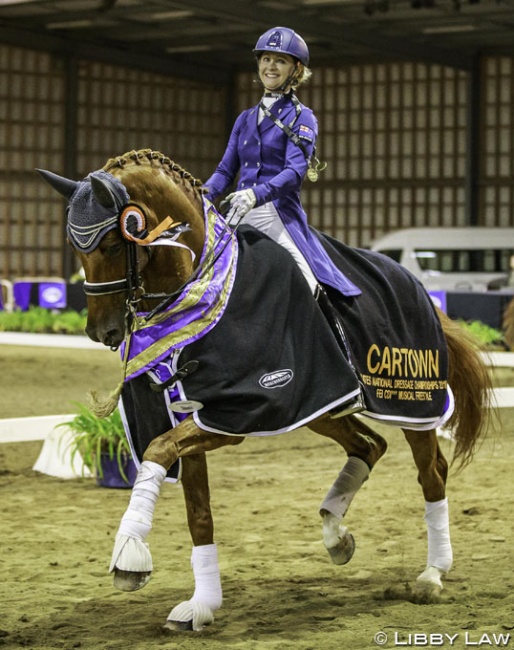 They've won the Horse of the Year title, they've been to Aachen and the Rio Olympics, but until 2018, the NZ Championship title had eluded this spirited pair. This all changed at the 2018 New Zealand Dressage Championships held at Manfeild Park on 15 - 17 February 2018, where Julie Brougham and Vom Feinsten bagged the Burkner Medal as NZ Grand Prix Champions.
The New Zealand Nationals Championships are held in conjunction with the Feilding CDI 3*. The Grand Prix was the qualifying round with the championship determined from the results of the Grand Prix Special and the Grand Prix Freestyle.
Julie and her Rhinelander gelding Vom Feinsten (by Fidermark) won the qualifier with a very accurately ridden test and demonstrating real prowess in the pirouettes for 69.913%, just ahead of John Thompson on Antonello with 68.37%. Unfortunately for John, Antonello tried too hard in the first piaffe causing a major loss of balance so lost marks for the piaffe, the transition out and in the passage. Although they regained some quality passage, the dent in the score could not be clawed back.
Dressage fans were all set for another close fought contest between this pair in the Special and they were not disappointed. The victory for Thompson (70.83%) was far from clear cut with only two of the judges, Ricky MacMillan (AUS) and Eddy De Wolff van Westerodde (NED) having them in the lead. De Wolff van Westerrode was particularly impressed scoring the pair at 70.83%. Brougham had to settle for runner up on 70.66%.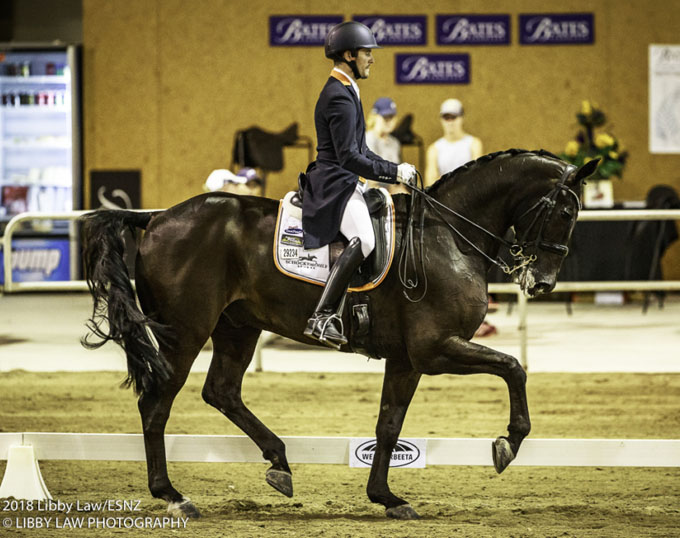 The Freestyle proved to be another cliff-hanger. Antonello drew number five to go but there was some drama in the arena preceding his test. Caitlin Benzie at number four, aboard the gorgeous dapple grey Rosari Royal Gem powered down the centre line and halted and so did her music. Despite best efforts it could not be restarted so they left the arena given the opportunity by the ground jury to return at the end of the class to try again.
Antonello came in with new music and a new routine highlighted by some magnificent piaffe and passage at the beginning. His changes are usually 100% reliable so a mistake in the two's surprised everyone and by his own admission John said afterwards "I lost my calm – my heart rate accelerated. I had to change my plan. It was a valuable lesson not to let that happen – you need to stay cool when you make a mistake" Julie and Steiny were scheduled second last to go. They delivered from the entry starting with happy, light music which truly enhanced their performance in the trot and piaffe/ passage. But then this pair too made an uncharacteristic miscommunication breaking into a couple of steps of canter at the start of the trot half pass.
The cell phones were out in the crowd watching the final results on live scoring and it proved to be Julie Brougham's year for the Burkner Medal taking out the Freestyle with 73.7% from John Thompson's 73.25%. Abbie Deken and KH Ambrose had to be content with third again on the very consistent KH Ambrose who simply gives his all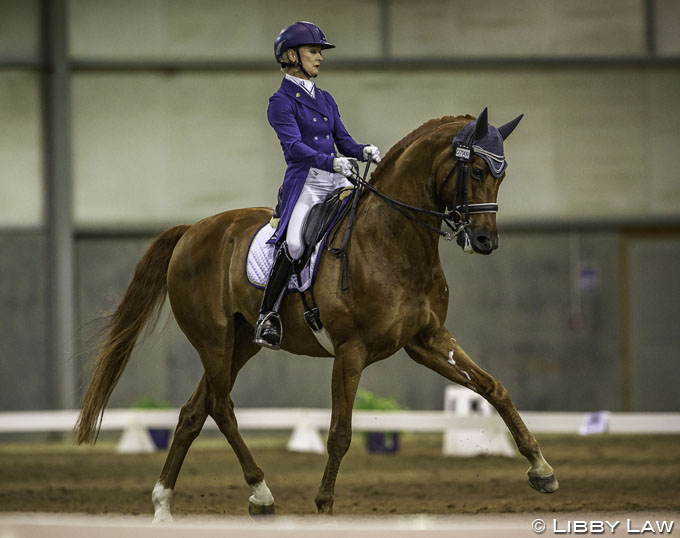 There were several new combinations having their first CDI at Feilding and one to show some huge potential for the future is Wendi Williamson's Don Amour MH. He showed a mix of spectacular and inexperience but so cleverly ridden by Wendi who has been able to concentrate on him while Deja Vu recovers from a minor surgery. It is planned he will resume at Hastings CDI in March.
So New Zealand now has three riders well qualified for Tryon and plans are underway to have them there as a team. The cost to get them to Tryon via a European campaign and home again via quarantine is absolutely enormous by our standards. It is estimated to exceed $120k per combination. NZL is small nation who mostly watch rugby, cricket and netball and golf. Eventing is relatively well known in NZL largely through the efforts of our UK based riders, our showjumpers have just won a nations cup for the first time in Abu Dhabi and now dressage is making a huge effort to punch above its weight albeit at a huge personal expense and commitment by riders and the sport.
by Wendy Hamerton - Photos © Libby Law
Related Links
Scores 2018 CDI Feilding
Brougham on her Way to 2018 NZL Grand Prix Title, WEG Qualification Secure