Germany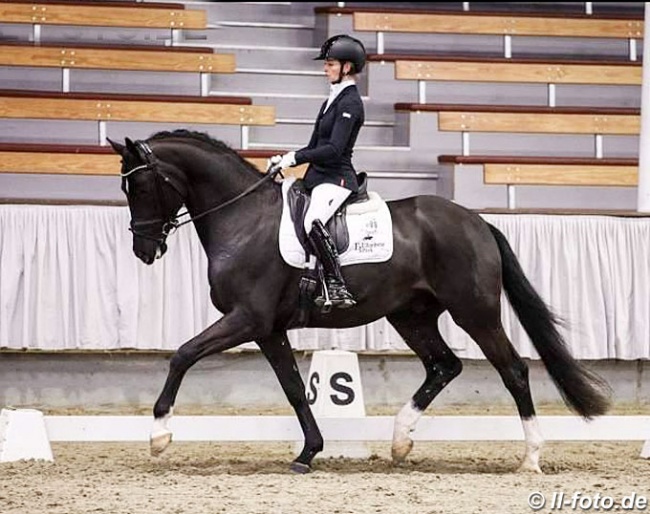 The 4-year old Dante Quando and the 5-year old Bonds became the high scorers at the first Stallion Sport Test held in 2018. Seventeen 4-year olds and twenty 5-year olds participated in the Munster testing, which took place from 13 to 15 February 2018, five dropped out during the tested and five failed to achieve the minimum required score of 7.5 to maintain a "licensed" status. 
The sport test is a mandatory assessment moment for young stallions, ages 4 and 5, to obtain a full licensed status in Germany. With Philipp Ruwe as test rider and Oliver Oelrich as supervisor, the Munster sport test gained major acclaim in 2017 for its outstanding organisation. The interest was, therefore, great for the 2018 February edition. 
Dante Quando Stands out in 4-year old Group
The Oldenburg bred Dante Quando (by Dante Weltino x Fidertanz x De Niro) was the top scorer in the 4-year old division with a total score of 8.93 points. The dark bay got 8.5 for trot, 8.7 for canter, 9.0 for walk, 9.3 for rideability and 9.0 for general impression. Australian Carolyn Welsh owns Dante Quando. She discovered him as a foal at the Borculo foal auction in 2014 and paid 13,500 euro for him. In Munster the black was presented by Eva Möller. 
The second highest score was achieved by the Brandenburger Licensing champion Don Royal (by Don Juan de Hus x Rubin Royal) with  8.61. The chestnut got 8.2 for trot, 8.7 for canter, 9.0 for walk, 8.5 for rideability and 8.8 for general impression. 
The Hanoverian premium stallion Quantissimo (by Quantensprung x Distelzar) got the third best score with 8.55 points. He received 8.5 for trot and canter, 7.7 for walk, 9.2 for rideability and 8.5 for general impression. He is owned by Gestut Staffelde who bought the colt at the 2016 Hanoverian licensing for 200,000 euro.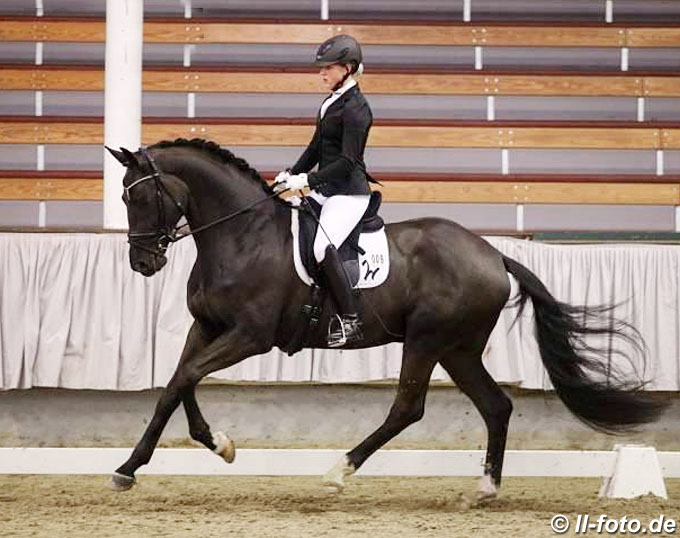 Other 8 scoring horses were Isabell Werth's De Beau (by De Niro - 8.49), Birmingham (by Bretton Woods - 8.34), Damareto MN (by Danciano - 8.24), and Dohanyi (by De Niro - 8.33). 
The 2016 Trakehner licensing champion His Moment (by Millennium) had to scrape to get the minimum score to pass the testing (7.5) as he finished with 7.58 points. The bay His Moment was purchased at the licensing by Helgstrand for 200,000 euro but then returned as he was not fertile enough. Only two months ago the issues around his ownership were solved. 
Twenty-three 4-year olds were originally entered but only 17 participated. Twelve of them passed the testing. Speedway (by Schwarzgold x Anduc) and Kacyro (by Saint Cyr x Freudenfest) were withdrawn during the testing, three failed. Quando Unico (by Quantensprung x Fidertanz), which sold for 280,000 euro to Gestut Sprehe and state stud Moritzberg at the 2016 Hanoverian Stallion Licensing, failed the testing for the second, consecutive year! Also failing were Escurio (by Escolar) with 7.07 and First Sight (by Lossow) with 7.30
Bonds Rules 5-year old Group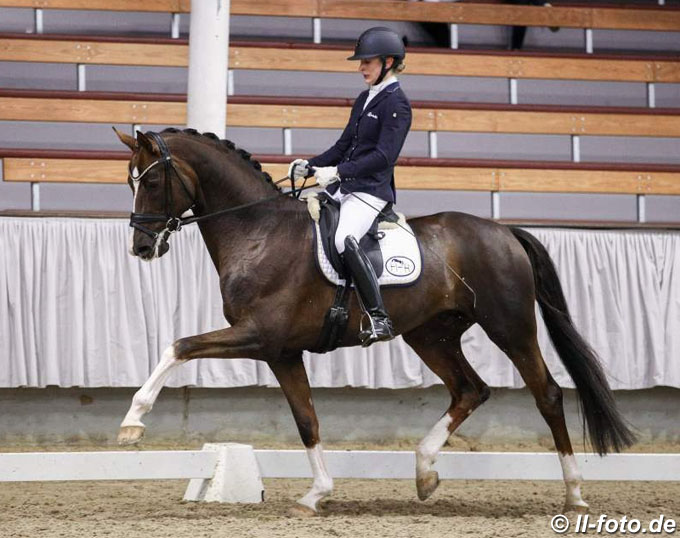 Owned by Anemone Samyn of HC stables, the liver chestnut Bonds (by Benicio x Sir Donnerhall) was the 2015 Oldenburg Licensing Champion, where Samyn purchased the horse for 500,000 euro. Bonds has had a very limited breeding career so far as he suddenly moved to Denmark in the middle of his first breeding season and injured himself during his second season. Bonds was the test winner in 2017 and impressed again this year. He scored 9.28 in total with 9.2 for trot, 10 for canter, 8.5 for walk, 9.3 for rideability and 9.5 for general impression. 
The second highest scoring stallion was Anna Kasprzak's Oldenburg For Emotion (by Foundation x Sandro Hit), who sold to Andreas Helgstrand for 550,000 euro at the 2016 PSI Auction and then sold to Anna Kasprzak after the bay was rejected at the licensing by the Danish Warmblood society. He scored 9.24 in total in Munster with a 10 for trot, 9 for canter, 8.2 for walk, and 9.5 for rideability and general impression. 
Matthias Rath presented Ann Kathrin Linsenhoff's Hanoverian bred Destacado (by Desperados x Londonderry) in Munster and the chestnut achieved the third highest score of 9.23. After winning last year's second sport test in Munster with 9.19, he now got 8.8 for trot, 9.3 for canter, 9.5 for walk, 9.2 for rideability and 9.5 for general impression. 
The 5-year old group included a few "famous" young stallions, such as Sissy Max-Theurer's Dimitroff (by Dimaggio - score 8.63), Lodbergen's Frascino (by Furst Wilhelm - 8.03), Gestut Sprehe's Marc Cain (by Millennium - 8.74) presented in Munster by Kristina Sprehe herself, and the Oldenburg saddle licensing champion Zodiac MDM (by Zonik - 8.17).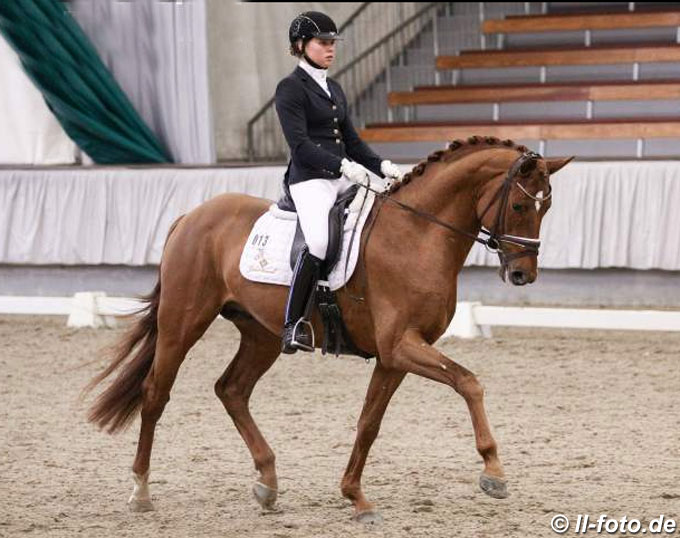 Ben Benicio (by Benicio) and Million (by Millennium) did not complete the three testing days and were pulled out after failing to impress. Lemercier (by Lemberger), who won the 14-day testing in 2016, also dropped out as he became unlevel. 
Axel and Sandra Schürne's Vainqueur (by Vivaldi x Rubioso N) failed the test with a total of 7.27, as well as Fursten Time (by Furstenball) with 7.15. The albino Qaside MD (by Quasi Gold) and Trakehner Intarsio (by Ovaro) barely scraped by with 7.57 and 7.53 points. 
Originally 26 stallions were entered for the testing but only 20 showed up. Drop outs were Belami (by Belantis), De Niro Gold (by De Niro), Don Ferro (by De Kooning), Fellini (by Berlusconi) and Rosendiamant (by Rohjuwel).
Complete results here (pdf file)
Photos © LL-foto
Related Links
Devonport and Don Martillo, High Scorers at 2017 Stallion Sport Test in Verden
Dimitroff and Villeneuve, High Scorers at the 2017 German Stallion Sport Test in Munich
For Final and Dominy, High Scorers of the 2017 Munster Stallion Sport Test
Destacado, High Scorer in Second 2017 Stallion Sport Test in Munster
Bonds, High Scorer at 2017 German Stallion Sport Testing in Munster
Bonds, Champion of the 2015 Oldenburg Stallion Licensing