Austria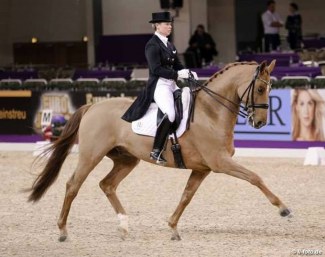 Victoria Max-Theurer, the 13-time, consecutive Austrian Grand Prix champion, has found a new trainer to fine-tune her riding skills and support her at competitions with new ride Benaglio. Her new trainer is no-one other than the world number one, Isabell Werth. 
Victoria Max-Theurer has been the consecutive Austrian Grand Prix Champion from 2003 through 2015. In 2016 and 2017 Belinda Weinbauer won the title. Vici did not compete in the 2017 edition of the Nationals. 
Max-Theurer has been the anchor for Austrian dressage for almost two decades. Continuously coached by her father Hans Max, she was 15-year old when she began competing at Grand Prix level in 2001. She reached a first apex in her career aboard the home bred Augustin, finishing fifth at the 2009 European Championships and 6th at the 2014 World Equestrian Games in Caen. At the time she was briefly trained by Jonny Hilberath and then more closely coached by Wolfram Wittig in 2012 and 2013. She went on to  ride Augustin into the Finals at the 2011 and 2013 European Championships and 2012 Olympic Games.
In 2015 Victoria put in an impressive performance on Blind Date (bred by Wittig) at the European Championships in Aachen, but slowly as of 2016 Max-Theurer lost her grip on a top place at major championships: She opted not to take Blind Date to the 2016 Rio Olympic Games, citing colic issues as official reason, so Victoria finished 34th in the Grand Prix on her less experienced second Grand Prix mare Della Cavalleria. At the 2017 European Championships in Gothenburg she was 34th in the Grand Prix on Blind Date.
Victoria is now focusing on a new Grand Prix ride, the 10-year old Oldenburg gelding Benaglio (by Breitling W x Partout), bred by Bea Baumgurtel. The chestnut has been trained and competed by Kira Wulferding up to small tour level. On Friday 2 February 2018, Vici and Benaglio made their Intermediaire II debut at the CDN Ankum and won the class with 71.49%.
"I'm happy that I've taken over the ride on Benaglio on his way to Grand Prix," Victoria told Eurodressage. "He already had lots of great results in the small tour with Kira. In Ankum it was his first test in that class and I was so happy how he did! We are right at the beginning on this way and we want to develop our steps and strength on that slowly. It's a lot of fun riding him as he is so motivated and really talented for all the challenges of a Grand Prix."
A part-time rider and part-time employed in her family's train building company Plesser & Theurer, Victoria is eager to reconnect with the European top and has sought out a new coach to help her on the way. Two months ago she began training with Isabell Werth in Germany.
"We are happy that Isabell has agreed to help us on this way," said Victoria. "Luckily she also took her precious time to support us in Ankum and it worked out really well. Now we know what we have to do in our homework and are looking forward to get more competition experience!"
Photo © LL-foto
Related Links
Victoria Max-Theurer Not to Compete at 2017 Austrian Dressage Championships
Victoria Max-Theurer Focuses on Blind Date, Augustin on the Back Burner
Victoria Max-Theurer Reclaims Manfred Swarovski Trophy at 2015 CDI Fritzens