Germany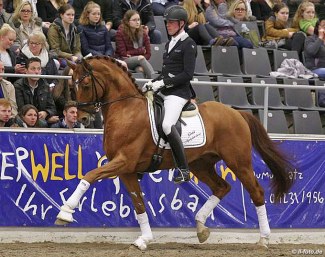 German professional dressage Lukas Fischer has taken over the ride on several of the leading Gestut Nymphenburg horses after Leif Hamberger left the stallion station in Bad Zwischenahn, Germany, as its resident training on 1 February 2018.
The 38-year old Leif Hamberger replaced Nymphenburg's outgoing resident trainer Tessa Frank on 1 October, but only stayed four months on the job. He preferred to move back to the south of Germany and work from a smaller yard instead. 
With Hamberger's fairly sudden departure, Nymphenburg's owner Helmut von Fircks resorted to Lukas Fischer to step in as a substitute. Fischer had freelanced for the station before, presenting stallions at exhibition shows when Frank could not manage all the rides in such a short time span.
Now with Hamberger's resignation, a more long-term collaboration has opened up and Fischer took the opportunity. He has received the rides on Nymphenburg's World Young Horse Championship finalist First Ampere (by Ampere x Weltruhm), as well as on Royal Side (by Royal Classic x Riverside), Flying (by Furstenball x Johnson) and Freiherr (by Follow Me x Sir Donnerhall). 
"There will also be a new stallion by Zack x Londonderry from the Stallion Licensing in Munich," Fischer told about his new string of five horses.
The 27-year old Lukas and his wife Tanja run their own dressage stable in Emstek, Germany, and he currently commutes to Von Fircks' yard. "I ride the horses there, it is only 25 minutes away," he explained.
Von Fircks and Fischer have not yet sat down for a concrete show plan for 2018. 
"I think for plans or dreams it is too early," he quipped. "I am riding them for three weeks now. We will see what the future brings."
Photo © LL-foto
Related Links
Leif Hamberger Leaves Gestut Nymphenburg to Return South
Tessa Frank Leaves Gestut Nymphenburg, Leif Hamberger to Replace Her
Anja Plonzke Returns to Gestut Tannenhof, Hamberger Leaves
Change in Management at Gestut Nymphenburg